The Artist's Perspective - Motivation
For those of you who read this column and who are not artists, this one is especially for you! Certainly, those who are artists will find logic and inspiration, but I know a group of you follow along out of creative enthusiasm, for which I am very appreciative and grateful.
So here goes. I would like to offer up a 24-hour creative challenge. Not a test, no pressure, but a simple have-fun challenge. Over the next 24-hours, I would like you to go a different route, think outside of the box, put your best creative game face on and do something out of YOUR ordinary. I want you to largely or even lightly explore your inner creative spirit to see what happens inside you. Now in past articles, I've shared that reading my book, Live An Artful Life (by Thomas Neel), which can easily be purchased on Amazon in paperback or Kindle versions, would help with this. But that little plug aside, I want you to embark, (oooh, that sounds big), okay, begin finding a new inner you.
Let's start with those wanting baby steps. Drive a different way to work or go a different way to any place you normally go. See what there is to see that you haven't seen because the way you normally go is simply a blur in getting from one place to another. Oh, and stay off the phone. When you drive while on the phone, you are audibly communicating with a person and not visually communicating with your surroundings. Go ahead and try it, it won't kill you, whereas being on the phone actually might! See everything and internally talk to yourself about what you are seeing, what you are hearing, and what you are feeling. Note what is going on around you as you are punching a hole through your surroundings while going from where you were, to where you wish to be. Act as if where you are at any given moment matters, and you care about it. Try it.
If the driving thing is the wrong fit, maybe try beginning with your closet. Where a new or different tie or scarf you haven't touched for a while and build how you look and feel around it. Wear it, don't let it wear you, as my mother used to say! Act as if what you are wearing is a creative exercise and see if you are looked at differently or even complimented. If you have an article of clothing with a tag still on it, make that your focus and wear it, don't waste it. Find the reason it is in your closet in the first place. Just change yourself up!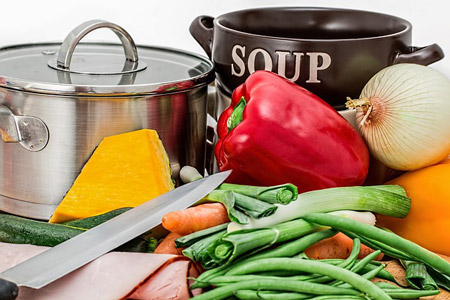 You can also head for the kitchen and try a new recipe, but try ones that are visually stimulating, visually colorful, and attractive. Think of the ingredients as a way of visually painting your dish rather than just mixing it all together as a step by step process. See the end result as something that doesn't just taste good, but looks so good that it heightens all of your senses, not just your sense of hunger. While you're at it, use a plate that you might only use for company. Trust me; the good dishes are good enough for you too! You are worth it, and there's no math that says that you must use the whole 12 piece place setting every time you use them. You can use just one for you or your spouse, at a time. On that note, don't stop there, try setting the most elegant or creative place setting for you, even if there is only you!
Here's one, I would like you to get a piece of paper, copier paper, scrap paper, legal pad, napkin, whatever, and doodle something out. It doesn't matter to me what it is, and it shouldn't matter to you either. Just sit for a few minutes and see what comes out. Don't think about it, just doodle!! It could be a shape, a goofy face, your pet, a car, boat, plane, train, horse, cow, tree, whatever!!! Do not worry about it being even good. Don't feel guilty, don't feel rushed. Don't worry about it at all. Just have a few uninterrupted minutes of creative fun. If you so desire, save it and do it again the next day.
If you're a reader, take a book you are reading and read any one paragraph and then write your own next paragraph based on the paragraph you've just read and see what comes out of you. Better yet, write a letter to a friend or loved one. Break the mold of who you may have become, and find a spark of the you, you once were. You see, properly used creativity is not a pacifier; it is an energy booster. A child, quietly coloring or drawing, may be quiet, and you may feel you have them pacified, but in truth, their brain is highly active and engaged. More important, they are highly active and engaged without stress! Something tells me adults (you) need this state of mind even more. This 24-hour creative challenge is to reintroduce you to yourself. It's meant for you to take one moment, or many if you hopefully choose, to disengage your busy habits, step out of the rut, and see yourself (and life) in a new way. Please give it a try and see what happens. Last, I would like you to actually print this story and place it somewhere it cannot be overlooked for one month, as I intend to give you a part two next month to replace it.
Live an artful life,
Tom
Here are some additional The Artist's Perspective articles by Thomas Neel:
The Artist's Perspective - Improvement
The Artist's Perspective - Creative Types
The Artist's Perspective - Happiness