Weaving Her Way Through Charlottesville
A mild winter rings in the new year of 2016 by allowing what seems like the whole city of Charlottesville, Virginia to be under construction. As we weave our way through lane expansions, endless orange barriers and assorted pieces of heavy equipment, across town, professional weaver Jan Russell's studio could not be more insulated from all the commotion.
Jan Russell in her studio
Jan Russell is quite simply a delight. A talented artist of craft, her half century of making beautiful things is much better described as 50 years of passionate artistry. Driven first by a love of color and pattern, weaving is her gift to those of us who love handmade things. In fact, one of Russell's rayon/chenille scarves against your skin on a chilly day such as this, is a very good thing indeed. She appears in her doorway with an infectious smile and appropriately wearing one of her cowl scarves.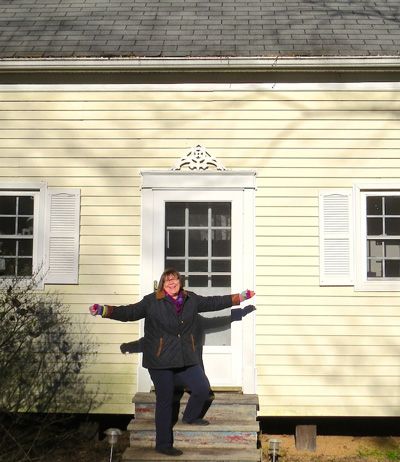 Jan Russell outside of her studio
Nestled behind Jan and her husband Steve's home, is a studio which feels like a little cottage retreat. While its two stories are brimming with efficiency, one step in the door instantly conveys a peaceful creative space. I have the privilege visiting so many artist's studios, each different than the next. Russell's studio shows thought, that of wise years in time devoted placement. A place for everything and a thing in every place. You see, Jan also makes jewelry. Endless little goodies, fill endless little drawers, feeding several work stations. Multiple projects in the stages of their completion, surrounded by those completed and all supported by creative materials acting as items of inspiration.
Jan Russell attended Richmond Professional Institute in the 60's, which became Virginia Commonwealth University in 1968. She started school as an interior design major, but that didn't really take and she "shifted to craft". She says, " I woke up one day and thought, I'm being trained to be a glorified sales person." It turns out she really wanted to be a crafts major anyway. Jan explains, "As a crafts major, I took wood working, pottery, metal and jewelry, textile and surface design."
This education gave Jan a broad foundation to create upon. Yet she gives some real credit to her interior design classes still to this day. Where through using only the primary paint colors [red, yellow and blue], plus black and white, they were given the task of color matching fabric swatches. "That is what has held me, because I love color."
Within her many classes though, she shares her first weaving class was in 1966, thus making this is her 50th year as a weaver. By just the second class she knew this was it, and that life long looming partnership with weaving had begun and is still going as strong as ever.
In the corner of Jan Russell's studio, a narrow staircase leads us up to her land of looms, with its longest walls lined with many cones of colorful rayon/chenille. Chenille has a wonderful velvety hand or feel to it, which is very comfortable against your skin. She chooses saturated colors over pastel hues. Add in her creative patterns and woven accents, and her finished pieces have a rich look that from piece to piece, not only look elegant on women, but handsome on men.
Jan shows us color combinations or what I call recipes, which have been developed over years. Not without artistic frustrations, the main one is the discontinuing of a yarn or color. There are many colors to choose from though and she is inventive and quite inspired. So, the many cones of color surround her in a very friendly way.
Inside Jan's studio
Weaving is a mechanical and even mathematical art form. The loom itself is complex and therefore, just setting up the loom to begin creating can take hours. Long strands or the basic set of threads coming at the weaver are called the warp, which Jan calls her canvas. Those warp threads stay under tension and are each separated with string dividers. In the simplest of explanations; foot peddles separate, as an example half of those threads, half going up, half going down, which then allows the shuttle carrying weft threads or cross threads, to be woven in through that separation. This is done by hand. Moving the peddles again switches up the warp threads and the shuttle is sent back through again in a repetitive process. Weaving can be very complex with many patterns and layers depending on the set up.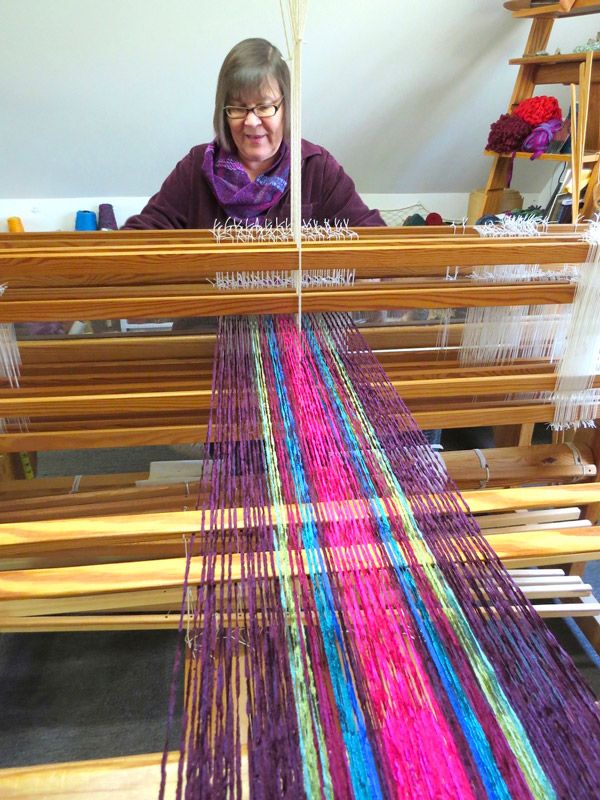 Jan working at her loom
A working loom has a productive sound. Its many moving parts occupy the artist's feet, hands and digits, along with their arms and back, all while sitting on their behind! You can tell that it could be physically taxing. It's a bit like a piece of exercise equipment that can make things. But that which it makes, is very much up to the endless choices of color, as well as the mathematical choices in pattern selection too. It seems though, for the most artistic and experienced, [like Jan Russell] the best comes with improvisation. That ability to not only think but to experiment.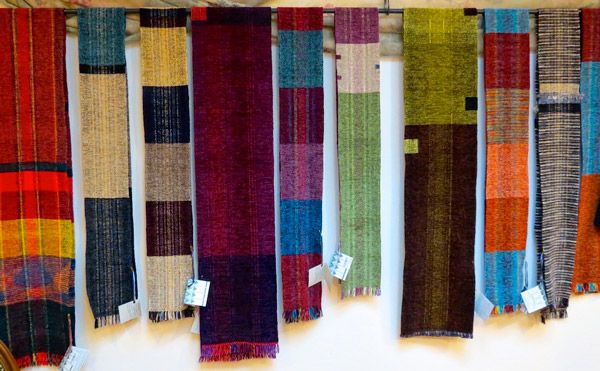 Chenille scarves woven by Jan Russell
Jan Russell's ability to experiment means no two scarves are exactly the same. It would be much easier to create using the same patterns, but it's not for her and hence, she also refrains from commissioning. Through her experience she shares, "I would rather have the vision, make it work and then have it connect with the right person."
We chat a bit as artists about if she listens to music or books on tape while working, but Jan so kiddingly laughs that music just has her up dancing [she's too funny!] and in the end she has found that silence, short of the mechanical sound of the loom working away, has been best for her concentration. Jan says that "Weaving is kind of this combination of left brain right brain. "You know, because you have to do all of this planning and measuring, but there's a point where you can cut free."
It's really a pleasure to talk with such an experienced artist. In the early years there was some waiting tables and she and her husband even had a wallpaper and paint business. But weaving was always there and has been been her primary work for decades. Through that time Jan also taught weaving at The Virginia Museum for ten years, but with her own weaving and jewelry keeping her busy, teaching today is kept to a minimum.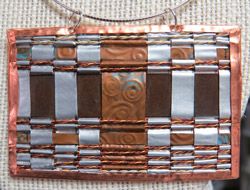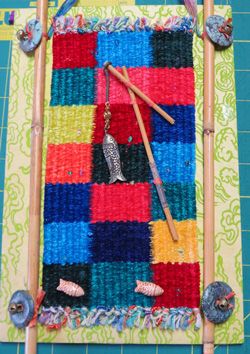 Jan Russell has a nice balance between her two creative voices of weaving and jewelry and their two perspective floors. Her one studio is really two and it seems she can easily separate each, giving her a dose of fresh artistic energy just between floors. It's seems a good life. Jan's mother lived to be 98 and Jan doesn't see herself slowing down anytime soon. Chilly necks everywhere - rejoice!
To see more of Jan Russell's work please go to her FaceBook page.