An Education In Art
Just west of Washington D.C., nestled in the rolling hills of Virginia's Piedmont region, you'll find a very special school. In fact, it is called The Hill School, an independent school delivering an educational experience which they offer up as being defined by the core values of Community, Character and Competence. Those three powerful words could also describe Hill's Art Department Chair, Linda Conti. But one must also include the word Creative!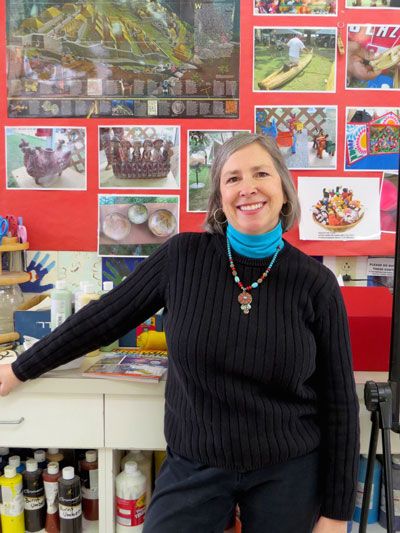 Born in Chicago, Illinois, then spending her youthful years in Maryland, Linda Conti came to Virginia at 13, later earning a B.F.A. Temple University – Tyler School of Art and a M.I.S. Virginia Commonwealth University. In 1996 she came to The Hill School and so she is about to celebrate 20 artful years. Known for lighting that creative fire within her students, Conti is very much part of what gives The Hill School its inspirational edge. She smiles and says, "I have always loved teaching." In a world where art curriculums are suffering, Hill and Conti couldn't imagine such a thing, and you can bet their students are better for it.
But Linda Conti doesn't stop by simply bettering The Hill School and its students. She has long served and is now active President of the Virginia Art Education Association, whose mission is to promote, support and advance visual arts education in the state overall. This through professional development, leadership, research, and service. Conti is not sitting on her hands!
Deep down though, Conti is not only an art and cultural educator, she is a deeply passionate artist in her own right. One with an incurable appetite for anything and everything creative. There seems almost no form of artistic expression that escapes her immensely active, creative brain. She began with clay and ceramics, but photography, sculpture, painting, mixed media, book making, sewing, jewelry, knitting, felting and even singing are constantly on her mind. Seemingly what isn't created in her own time, is only inspirational fuel for the young minds she teaches all the time anyway!
Like dry little sponges, Conti offers her students a deluge of projects to fill them. Not just childlike projects, but those spanning art history, cultural influences, and ones which explore and push their creative boundaries.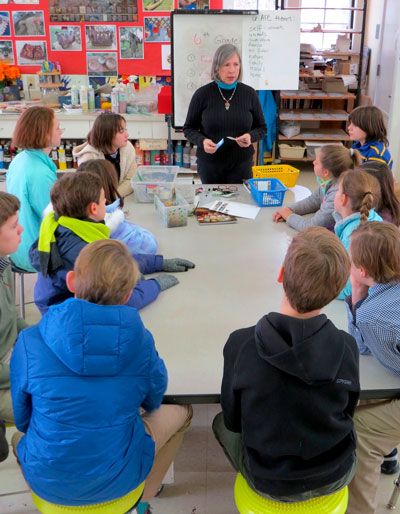 Visiting Conti's classroom, it is filled with energy and project chatter. [she teaches 4th through 8th grade] She shares, "So this is a 6th-grade class and they're in process. I'm okay with some noise, because they're working, they're thinking and talking. It's like the sound effects of being a young person. It's part of how they engage with the world. So some will work quietly, but many will be chatting with their friends and I let a lot of that happen because I want the engagement. I want them to feel this is their place, their world and they will find their way around in it." One of the luxuries of Hill is that Linda has known these kids since kindergarten and being a mother of three herself, she has all of the trust and discipline bases covered.
Linda tells me of teaching, "I always think of it as taking the children from something they know to something they don't know. You have to start them somewhere that they know and then lead them through steps that are appropriate for their age, to something they don't know." In the end, she wants her students to know, "That there's a joy for them in art, that art is for them, art is in them and they have things to say through their art."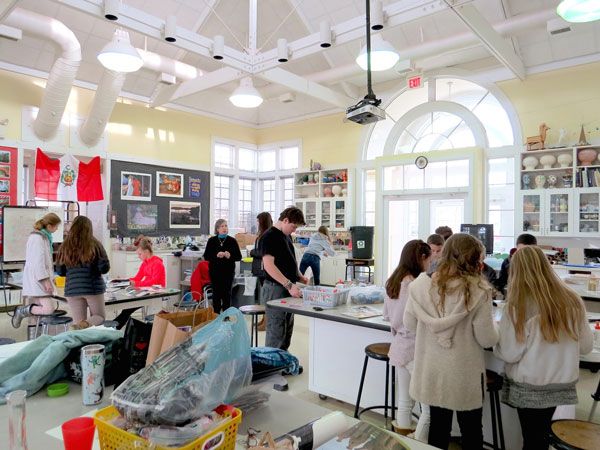 When we touch on some of the differences between public and private, or independent schools, at least with respect to art, she points out that public school teachers are given a big idea and have to find a way of fitting their passion within a framework and really good public school teachers do that. Linda has far more flexibility at Hill and goes on to say, "I love that independent schools hire scientists to teach science, writers to teach English and artists to teach art."
One interesting spin of Linda being an artist herself is the interplay of what it gives to them and what they give to her. She shares her art with her students and not just the pieces she's happy with. "And so my work informs my teaching because of my own struggles. So if I'm trying to create this sculpture form and I've worked on this for days and it's a nightmare disaster ... I'll bring it in and show the kids and I'll say, I have to show you this, it's just awful. I learn so much and I talk about what I learned and why I thought it was going to work and where we ended up, and it creates a mindset where people aren't afraid of failure." Children can be good critics. Certainly honest ones!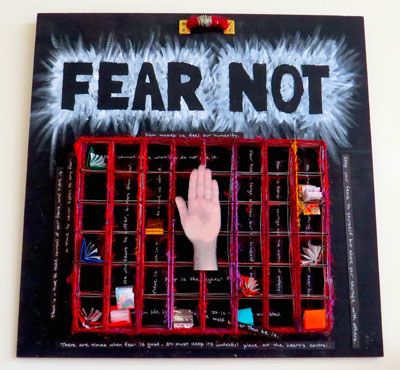 In reflecting about the three major parts of her life as a teacher, an artist and as President of VAEA, "The real story is that they are not different. My art and my approach to my art, is who am I as an artist, where am I coming from, and what do I want to say about the world. My teaching is helping [her students] do that same thing and grow their possibilities as artists. [trying to give them their artistic voice] ...and so what I'm trying to do with the art teachers across the state, is keep them connected to their joy in art and joy in teaching about art. Because I think they get bound up. They get isolated at their schools. So as the only art teacher at their school, people are coming to them to make a poster, [or asking] will you do this or that? Will you do all our sets? So they feel like the creativity department and yet, you need to be engaged with other creative thinkers to feed yourself." In a sense, with VAEA there is not just the engagement side of things, but informational and resources side of things too. The teachers need not feel isolated.
I ask Linda, what is the health of the state of Virginia where it relates to art? She replies, "Tricky. Generally pretty good. The biggest issue in public funding is that Music, Art and Physical Education [called specials] are linked in the budget. So if you have a program to increase the Phys-Ed time for children, your time and your dollars have to come from somewhere, and the only place they are going to come from in the current state structure is Music or Art."
Linda goes on to say, "So one of the things I want to work on in my Presidency is informing legislators about how those programs are linked and that perhaps how those programs should function." This is a very deep topic, but Linda doesn't ever look at it in terms of minimums. Being at Hill has allowed her to see how art can be integrated into history, assemblies, and other areas. She sees an opportunity for artistic abundance.

Linda Conti is, after all, an artist too. As an artist Conti is firm, "I don't want anything to be off limits. My work is always defined by the idea, not the process." Linda doesn't follow any real rules of processes anyway if she doesn't want to. She is more like an artistic scientist in her quest to creatively achieve what she desires. Where clay would be glazed, she might spray paint it. She is completely free in that regard. Her studio is a wonderful space and while I caught it at a chaotic time, in a sense I felt like I was given permission to look inside her mind and see the artistic recipe of a creative cook. Using a massive blender, take every idea you have, 4 cups of inspiration, add in heaping amounts of art supplies and place on mix for enough time that all ingredients have netting desired results or more inspiration. In all seriousness, Conti is a very organized person, with a lot of responsibility and so her studio is the one place she doesn't have to be. I get the feeling she would be very different without it and as she puts it, "My studio is messy, but I'm unrepentant about it, I'm having fun!"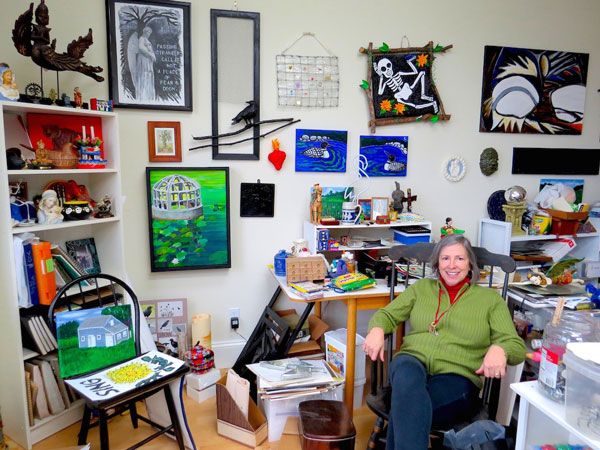 You certainly get a sense that any found object may one day become a piece of art. That piece of art may be of her own making or even collaborative. She leans towards a series, but she is never working on one thing or even one series at a time. She's motivated in many directions, but I felt dimension was a language she loves to speak in, especially 3-D. Her themes can virtually be anything, but emotions such as fear, happiness, love, loneliness show up often.

Crows have been a theme found in Conti's work over the past few years. In case one might think there's a dark side here, she waists no time in sharing her thoughts. "Crows are a symbol of every day, but they are also a symbol of community because they are always paying attention to what's going on and what is safe." Linda passionately expands on her knowledge of crows, but in short says, "They're so smart." and backs her words up with surprising examples, ending with, "I think they are beautiful beautiful creatures." To be honest, I never thought about crows this way, but this is how Linda Conti sees the world. " A lot of my work is about the ordinary. The things that are right around you and that maybe aren't valued. I see value in that everyday moment."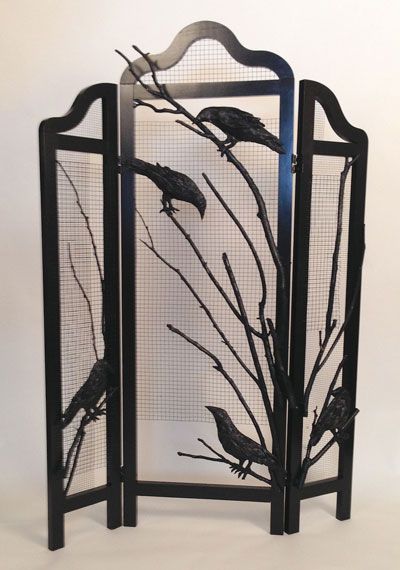 One of the best things about my tour of Linda Conti's studio is being up to my ears in her enthusiasm. She is truly a happy person, filled with a laughter driven seriousness, a student playfulness all her own. It's so easy to see how she inspires her students and even fellow teachers. Finding the best in them creatively and then sharing and showing them all who they can potentially be. All the while basking in that which they give her in return. It's just not a two-way street, it's a community avenue to growth.

To read more about Linda Conti's please go to The Hill School.