Hylton Performing Arts Center
I am standing center stage, looking out towards the over 1,100 seats of the Hylton Performing Art Center's Merchant Hall, which towers nearly five stories to its hammered copper ceiling arches, in a perfect fusion of classic and modern architecture. It is a very exciting place to be.
You can feel the energy left here by each and every talented performer and the wave of applause given to them in return. It is simply magical. My mind places enthusiastic faces to every seat, reaching out and ascending skyward, row by marvelous row. What must it be like to perform in such a special place?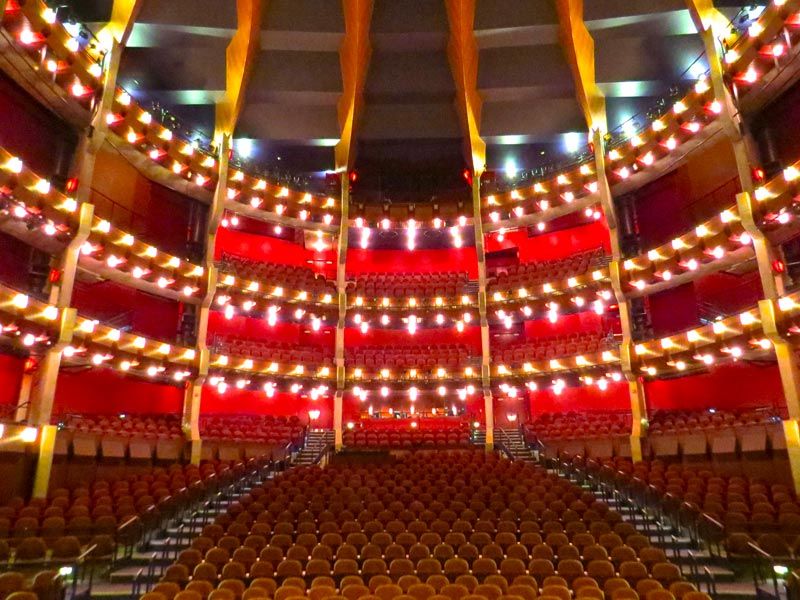 Thankfully, a caring community, George Mason University, the town of Manassas Virginia, the county of Prince William, businesses and corporations, philanthropists and political leaders, all cared enough to want national and international performers to know exactly what it would be like and they built it. To say creating a place like this is the work of many, would be a considerable understatement. To say it is the vision of a few would be true. It always begins with a vision.
When you think of theater, you think of rolls and someone must play the lead. That distinction actually goes to an experienced theatrical director, the Hylton Center's Executive Director Rick Davis. If not enough, this man of many hats, [on this day one embroidered with CVPA] is also George Mason University's Professor of Theater and Dean. By the way, CVPA is College of Visual and Performing Arts. [Please see the sidebar for more of Rick's impressive background]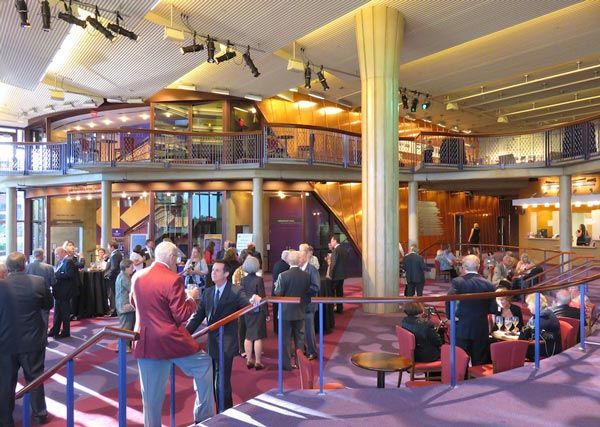 Rick and I meet and begin just inside the doors of the Hylton Center, in The Didlake Grand Foyer, which much like Merchant Hall, rises to the occasion. Elevation seems to be a theme here. The Hylton Center plays to its visual and even acoustic, upward strength, rather than out. The architects, Holzman Moss Bottino, well known for theater design, chose a modern organic approach, tapping into the close by Piedmont [foothills] region of Virginia. Copper is a feature material element, but so is the artistically adapted use of raw concrete. Massive grooved support columns, rise externally and internally to flared capitals, smilingly inspired by tree tops.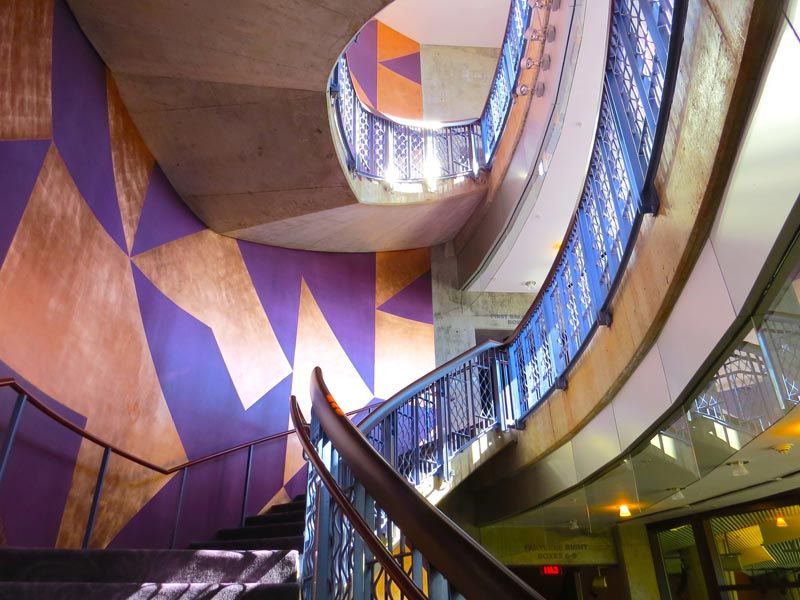 The building is not asymmetrical as much as it is intentionally fluid. Nothing is square, thus stopping the eye. Rather, it is a space on the visual move. Its railings in a constant state of arch, flowing, wavelike, upward, and in some cases even penetrating glass to outside balconies, or criss crossing, as with The Grand Staircase supported by its graphic copper themed mural provided by Assett, Inc. Rick mentions the staircase as acting almost like a beacon or lighthouse through the center's glass facade at night. Abstract patterns are present throughout, as are textures and a plethora of collaborative materials of brick, painted cast iron, corrugated ceiling panels, wood railings and carpeted surfaces.
The Didlake Grand Foyer alone, is a place of function beyond its simple roll of welcoming visitors. On this day 108 will attend a luncheon before a matinee concert piano performance, but cocktail parties and other supportive events are always on the foyer's roster. Always looking up, the room's stairway takes guests to the Buchanan Partners Art Gallery, whose polished copper wall displays the work of featured visual artists throughout the year, I must admit, myself included. But every space is integrally connected. The Hylton Center is the sum of its parts as much as anyplace you could visit. Stand in one place and soon you will find yourself standing in another, like a visual conveyer belt that moves you along.
Rick Davis, Professor of Theater, Dean, CVPA, and Executive Director, Hylton Performing Arts Center. 

Rick joined Mason in 1991 as Artistic Director of Theater of the First Amendment (TFA) and a member of the theater faculty. The company, which presented its final programs in 2012, was nominated for 38 Helen Hayes Awards, winning twelve, and originated numerous works that went on to other regional theaters, television, radio, and publication.

Prior to coming to Mason, Rick was Resident Dramaturg and Associate Artistic Director of Baltimore's Center Stage (1986-91), Associate Director and co-founder of the American Ibsen Theater in Pittsburgh (1983-85), and taught drama at Washington College.

Rick has directed a broad range of professional theater and opera productions (more than forty to date) in venues such as Center Stage, TFA, the Kennedy Center, American Ibsen Theater and Unseam'd Shakespeare Company in Pittsburgh, Players Theatre Columbus, Delaware Theatre Company, Lake George Opera (NY), Opera Idaho, Washington, DC's IN Series, and other companies.
He also has worked as dramaturg on more than thirty professional productions, and has directed dozens of plays, musicals, and operas for college and university programs including the Mason Players. 

From 2007-2011, Rick served as Mason's Associate Provost for Undergraduate Education, working primarily on issues of general and liberal education, international programs, and student academic life.

As Executive Director of the Hylton Performing Arts Center since August, 2011, Rick Davis oversees a new, state of the art venue presenting more than 20 international touring artists annually and serving as home to several resident arts organizations as well as providing a major resource for community educational, business, and social events. He also serves as an Associate Dean of the College of Visual and Performing Arts.

Rick's four books include Calderón de la Barca: Four Great Plays of the Golden Age; his co-translations of Ibsen with Brian Johnston (Ibsen: Four Major Plays, vol. I), which have been performed at leading regional theaters across the country; Ibsen in an Hour (with Brian Johnston), and Writing About Theatre (with Christopher Thaiss). With composer Kim D. Sherman, he is the librettist for the opera Love's Comedy and the oratorio The Songbird and the Eagle, commissioned and premiered by the San Jose Chamber Orchestra. A winner of the George Mason Teaching Excellence Award (1997) and an Alumni Association Distinguished Faculty Member of the Year (2006), he was educated at Lawrence University (BA) and the Yale School of Drama (MFA, DFA). He teaches courses in directing, dramatic literature, theater history, and arts management.
Entering Merchant Hall we talk about wanting people to always feel comfortable and Rick kiddingly says, "Our motto has always been bluegrass to Beethoven." The hall is in the shape of a European opera house, going up rather than back to get its capacity. As Rick puts it, taking the seats vertical instead of horizontal has two major impacts. The first is that no seat is further than 85 feet from the stage instead of nearly twice that of a traditional theater and the second reason it works is acoustic. Davis, an amateur singer himself, belts out a few calls from the stage and says, "This Hall is as acoustically perfect as any hall on the east coast." I will at admit as well, after seeing a performance here, the sound of the applause is wonderful and apparently the performers enthusiastically feel the same way. Davis passionately states, "The greatest maestros in the world, like Lorin Maazel, may he rest in peace, [pause] he just thought this was perfect."
If all of those involved weren't thoughtful enough to all that I have mentioned, ample backstage space has been given, including The Rehearsal Hall a gift provided by Novant Health. Additionally the Hylton Center flourishes by way of the Gregory Family Theater, which is so usefully diverse in its capabilities, it can go from a 180 seat theater to a beautiful banquet hall seating up to 400 for dinner. Many of the children productions happen here, but the room has been a jazz club, rented for weddings and at some point Davis even sees additional seating in the room's perimeter balcony area allowing it to become somewhat of a Shakespearian theater too!
Today, Prince William County Virginia stands at around the 13th wealthiest county in America, but it certainly wasn't always this way. It has exploded in the past decade and while that's not all good news, The Hylton Performing Arts Center is. As Rick puts it, "Back in 1990 the Prince William County leadership and the city of Manassas leadership saw it coming. They had done the demographic research, they had the studies and they said we've got to get ahead of this. We've got to start planning some change that will make us the kind of county that people want to live in and be proud of."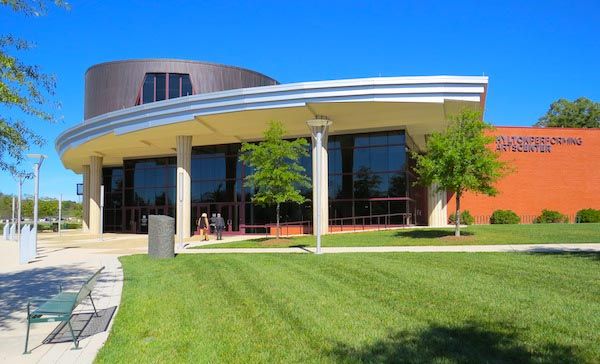 The 44 million dollar Hylton Center was conceptualized while many of us were thinking of the millennium and issues of Y2K. The economy was buzzing along and all was on track. But one must truly understand the long haul commitment that goes into a massive project such as this. Projection time is not counted in months, it's counted in years. As the time to build neared, costs were rising as the economy would be slowing, but Davis states, "The building was getting more expensive everyday we didn't build it. The meter was running." Sure, compromise was a reality, but the group's many partners held together and delivered in a big way. There were details the community would not compromise on, such as the use of the raw material of copper and other such treatments. They wanted a signature place. One which would promote a quality of life through the arts. Now in their sixth season, I'd say they got it!
The Hylton Performing Arts Center which opened May of 2010, is only 30 minutes from Middleburg, located on the George Mason University Science and Technology Campus, at 10900 University Boulevard in Manassas. Just off the Prince William Parkway, this state of the art 85,000 square foot venue is one which features an artistic blend of national and international live performance, family entertainment and visual arts via its Merchant Hall, the Gregory Family Theater, the Didlake Grand Foyer and the Buchanan Partners Art Gallery.

In this special place, center stage, where stars do what they do, I'm surrounded by the many seats of would be performance enthusiasts. My guide, Jennifer Decker, a Lyric Soprano and George Mason University Graduate-Master of Music in Vocal Performance, has performed in this very spot. Her description of the acoustical enjoyment brings excitement to her eyes. One can only imagine and even from a audience standpoint, I am told that no seat is further than 85 feet from the stage. I can safely say, there just isn't a bad seat in the house.

Adding to the delight, Hylton's upcoming performances could not be more artistically diverse. Music, theater, ballet, celebration, dance, are all part of the great talent set to hit its stage. The Midtown Men, opens the season September 19th, followed by the Metropolitan Jazz Orchestra, The Adventures of Sherlock Holmes, The National Circus and Acrobats of the People's Republic of China, Compañia Flamenca-José Porcel, Bollywood Masalsa Orchestra, the Moscow Festival Ballet, Lee Greenwood, and so much more. There's even the comedy of Frank Ferrante and his show "An Evening with Groucho"

The Hylton Center also features the Hylton Family Series, with shows that young theater goers will love like; Peter Rabbit Tales, Clifford The Big Red Dog, Ladybug Girl and Bumblebee Boy: The Musical and even master ventriloquist Kevin Johnson.

You can subscribe for prime seats, savings and personal service or become a Friend of Hlyton Performing Arts Center. For more information visit HyltonCenter.org or call 703-993-7700