Transporting Your Art
Let's face it, as artists we often have to be prepared to carry what we create in our vehicles, be it a simple delivery of a single painting or other goodies, or a show's worth. For this little story here, I'm going to that extreme, where a dozen paintings of various sizes must be taken at one time. In this example, most of them are larger sizes - 30"X40" or 24"X36", not counting their actual frame size.
Now also in this case I'm using what has been a tried and true art carrier, our 2008 Suburu Outback, but many other cars or SUV's will do the trick. I think this is a good example car though because many people have them, it's not the newest version and it's not the biggest car, meaning you must bring your creativity for packing along for the ride.
Two more little details here I'd like to mention. First, in many ways I have the good fortune to have some level of dyslexia, which while having its drawbacks, it also has the advantage of spacial insight. My brain is reasonably good at visualizing how a bunch of things will fit into a space. There's actually a book written on this called The Dyslexia Advantage, but I also want you to think about much more important factors here, such as the weight of each piece and protecting your frames as well as the art itself.
Now unless there is rain or atmospheric events, I most often do not actually pack each piece in bubble wrap. Rather, I more simply layer them using 1" foam rubber which is easy to find at a fabric store. It comes in larger pieces, is often green or white, which I then cut with a utility knife into to 10" squares or longer side strips. This foam is not inexpensive, but I find it to be less expensive and much more reusable than bubble wrap, and frankly, I think it's more effective at protection because it has a very high suspension effect!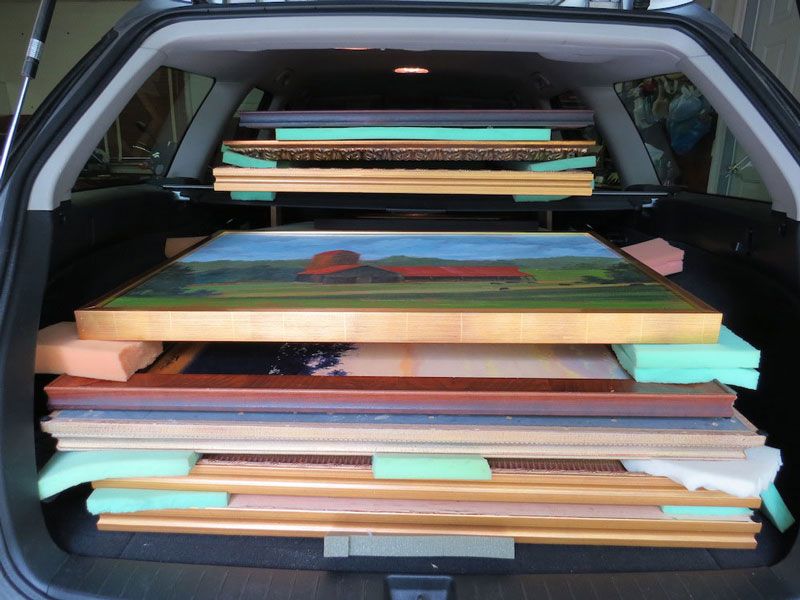 There are only two ways to carry paintings, on edge or lying flat, and most often with larger paintings, unless you have a fairly tall van type vehicle, paintings are going to have to be stacked. Thus, the key to avoiding damage is creating a suspension effect. As you look at the photos, you will notice that most paintings have been placed in what I call a front to front and back to back fashion, this keeping hanging hardware from ever being able to mar the finish on the front of a frame. But, I also not only place foam under the first painting in, it goes between each painting, thus creating a suspension effect. This is what helps the bottom painting to absorb the weight of the others, especially if you hit a bump.
This is done by the placement of foam squares in each corner or also long strips down the sides. It is also important though to place heavier painting and frames at the bottom and like sizes together where possible. You never want a small painting actually resting on a larger piece's canvas, this is all frame lying on frame. Sometimes I also use a sheet of Foamcore to assist at this.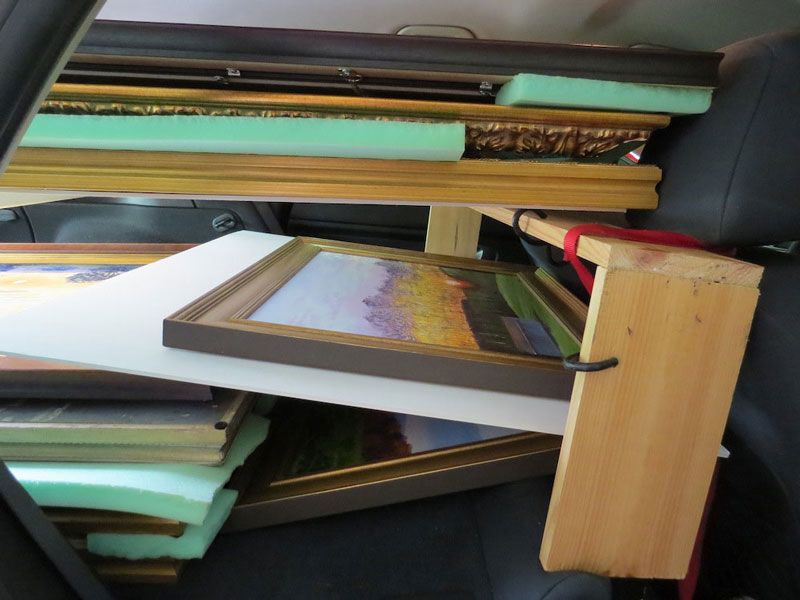 Last, you will note in the photos, that I have also created a second floor by using the cargo cover's crossbar and in the front I built a simple removable wooden bridge out of 1X6 pine with hinges at its corners to allow it to fold flat when not in use. This bridge can be strapped into place around the front seat's head rest and then the two points allow you to stack more paintings in a bridge like fashion. It is important here to A) Not stack above the head rest, so the paintings can't move forward in the event of an accident and B) try to have the placement of your driver and passenger seats in the same place, buy adjusting the passenger seat to match where your driver's seat is adjusted to. This keeps the bridge supported.
Happy packing! Tom