Tenth Annual Western Loudoun Artists Studio Tour (WLAST)
What do you get when you combine the creativity of sixty three artists and artisans, thirty five locations, ten years, a handful of mostly small villages, two hosting arts centers and one half of a county? Well, you get the Western Loudoun Artists Studio Tour [WLAST] of course.
Come with me then, on my recent journey through this hallowed ground of Northern Virginia, via a route paved in all things handmade in America.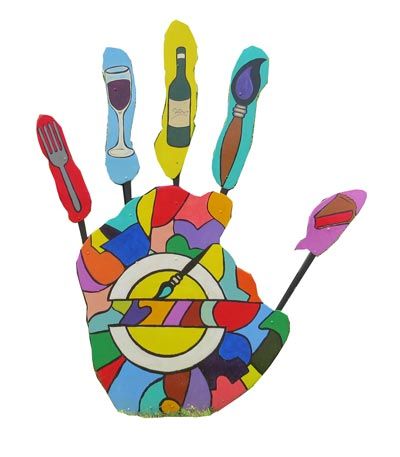 About an hour west-northwest of our nation's capital, bordered to its north by the Potomac River, lies a rolling green county so very rich in the Commonwealth's history. It's a county that has always been prosperous and important. Today this still holds true, with shinning demographics, backed up by a solid service economy, tech giants like Verizon and one of the nations busiest international airports - Dulles.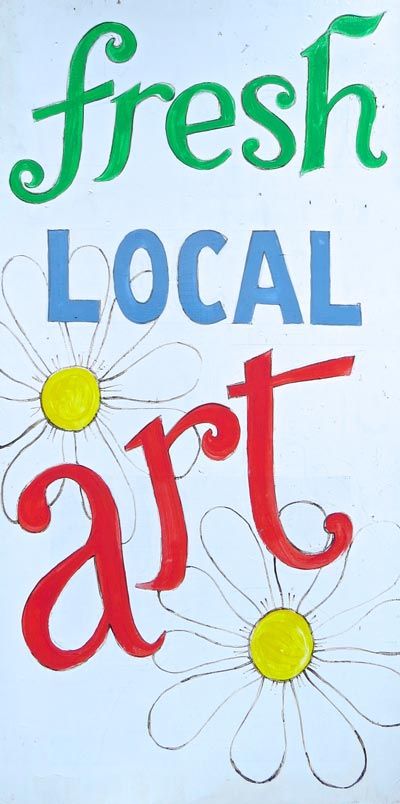 Loudoun is a county with good schools and hospitals, resorts, top golf courses, homes from small to very large, a wonderful cross county bike path and all of those brand names you might imagine. If this wasn't enough, it's also home to a well blossomed wine industry, with the state being the fifth largest in the nation and now it's even sprinkled with micro breweries and distilleries too.
But Loudoun has natural scenic beauty as well and a good level of culture and artistic endeavor in the way of galleries, The Sporting Library and Museum to the south, The Loudoun Symphony Orchestra, The Tally Ho Theater in Leesburg, Franklin Park Arts Center in Purcellville and The Round Hill Arts Center, WLAST'S spiritual center located in Round Hill.
Now looking at a map of the county, one might say that Loudoun looks sort of like a square in which the neighboring state of Maryland has taken a big bite out of its top right corner. The bite nearly hits the county's seat and navigational center of Leesburg, located on the north/south route of 15, and the east/west route of 7. My travels and the WLAST are then basically west of this center. Using Purcellville as a reasonable place to insert your big red push pin into a map, the tour expands in all directions from there. East to Leesburg, north to Lovettesville and the Potomac River, west to Bluemont and south nearing Philomont.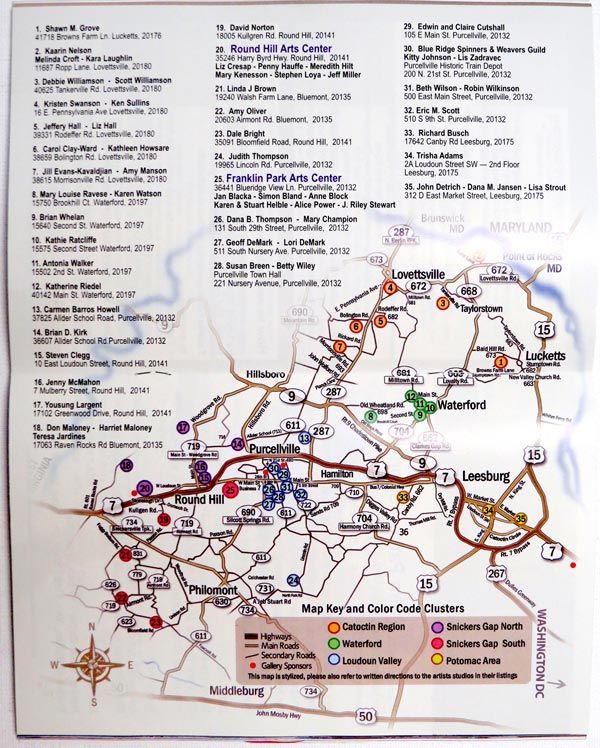 While the way around might at first appear like a plate of spaghetti, it's easy driving, and with Round Hill Arts Center and Franklin Park Arts Center [only a couple of miles apart] hosting over a dozen of the artists, and another 15 of the actual studios hosting at least two artists each, one can see a lot and there's something for everyone. WLAST's website [wlast.org] ,with both a great map and full color artist list, makes it easy to choose by route or by interest, be it paintings, pottery, weaving, sculpture, ceramic, woodturning, glass, photography, jewelry, fiber art and more. Each artist is listed with examples of their work, their website and address, their stop number on the map and ton's of info. WLAST has developed their website to allow you to chart your path in advance and to keep in touch with your favorite artists directly throughout the year. In other words, by all means take the tour, but don't let the tour become your only time to visit!
This is the tour's 10th Annual birthday. Beginning with just a dozen artists and a lot of dedicated hard work, it has always been a team effort and one thing that was consistent throughout my time visiting with artists, was a strong sense of community. These are people who like and support each other and it was a pleasure to experience. The other thing that bubbled up was that many have children and very much include them in this lemonade stand approach to doing business. I mean nothing bad by that comment either. On the contrary, I love it. This is the root of commerce and a wonderful lesson for children. Things handmade at home and sold.
THE BIRTH OF WLAST

Every great idea has a spark and that spark first ignited in Jeanne Niccolls. Niccolls has lived in Loudoun since 1980. She was the Executive Director of the Loudoun Museum from 1980 to 83 and then went on to work for the Fairfax County Park Authority managing their collections. Jeanne shares, " I starting thinking about retiring and what am I going to do?" As a consultant for collections, Niccolls always loved artwork, particularly craft, but she was an art history major and loved painting too.


In 1994 she moved to Round Hill where she attended one of potter, David Norton's early open houses. Having had some experience visiting studio tours and now coming to know David, she thought a studio tour made sense and said to herself, "Wouldn't that be fun!"


So she went to the Round Hill Arts Center and spoke with the Executive Director at that time, Hope Paynes and she asked, "Has anybody ever thought about doing a studio tour?" Hope replied "Yes, but they didn't have anyone to organize it." Well that is all it took and she brought in Jeff Stern, who at the time was the Manager of the new Franklin Park Arts Center, and also Beth Wilson at that time, the President of Friends of Franklin Park Arts Center, a non profit which Jeanne Niccolls still serves as a board member today.


That was 2004 and they planned for an entire year before the first studio tour. They worked very hard putting things together and Jeanne recalls them saying, "What if we give a party and nobody comes?" [laughter] But with a small budget and a simple brochure, art enthusiasts did come and it grew.


By the third year they invited artists to help organize and Jeanne credits jeweler and graphic designer Liz Hall, with coming up with the idea of creating a informative booklet, allowing them to also sell advertising. That was a winning idea and Jeanne further credits Liz with essentially branding WLAST, including creating its artistic hand logo. Along the way Visit Loudoun began supporting the tour through a marketing leverage fund grant which she says they have been really fortunate to have. Jeff Stern also suggested a passport, which also helps them understand where people are coming from and today WLASTS maintains a large mailing and email list.


The tour itself is not a non-profit, rather it operates as a partnership, and while the tour really just encompasses the western part of the county, there are guest artists from all over the county who join in. The rule is an artist must live and work in the county. Its planning committee of about eight, meets monthly. All have tasks, IT, design, etc. and Jeanne passed the lead roll to the very capable Amy Manson, who is now the Chair and also an artist.


So the spark of one has created the light of many, and Jeanne Niccolls is slowly moving towards other areas where she feels she can help promote the arts in Loudoun County and oh, Loudoun be lucky you have her!
Just think, you can take a scenic rural drive, meet artists and even often their family, who through their personal creativity have made something beautiful with their own hands. You not only see where and how they work, you can in many cases learn from them if you wish, and in the process hear wonderful stories about their work and their lives. In our made in China infused world, what could possibly be more refreshing?
Being the tour's 10th year, I made it a point to speak with not only some of the founding artists, but also some of those who have more recently been juried in. That's right, there is a juried process which keeps WLAST fresh and alive. So here's a little taste of my ride through the countryside and enlightening visits with these wonderful Loudoun artists who really do Live An Artful Life! If you visited the tour this year, I'm sure you will again! But if you haven't, please by all means let these introductions offer a warm invitation for doing so in 2016 ... if not before.
Please tell them Live An Artful Life sent you!