"The People's Choice" - Jennifer Nelson
Live An Artful Life Gallery recently had its Miniature Masterworks Show of small paintings sized at 108 square inches or less and in any format. Along with 1st through 3rd place awards, solely judged by Linda Neel, an award was honored to The People's Choice.
The show had a bit more than thirty entrees of varied subject matter and mediums. Linda made her award choices before the show even opened, but decided to keep those paintings, including 1st place "White Stork", a secret until after the people chose their favorite, thus not giving any bias to their choosing.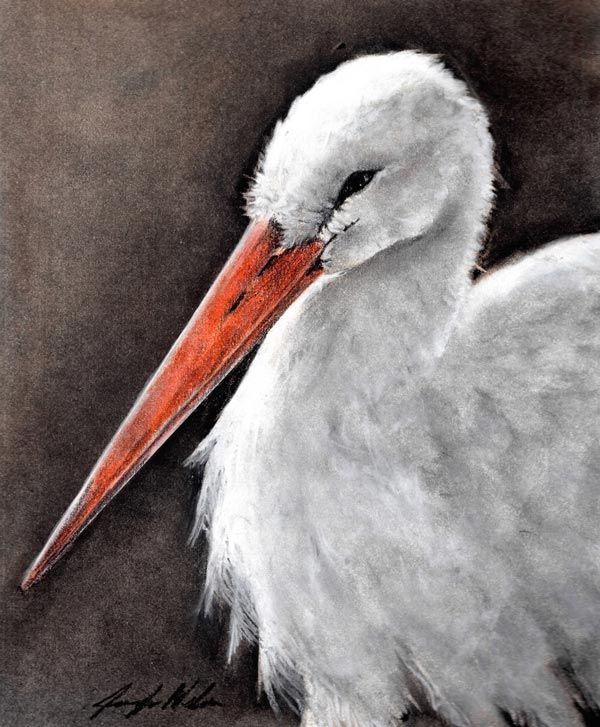 White Stork by Jennifer Nelson
While the ballot box was enthusiastically filled, one painting easily rose to the top as favorite. It was "White Stork" by Purcellville, Virginia artist Jennifer Nelson. A double winner and in this, Jennifer's first show as a fine artist. So, I recently spent some time with Jennifer Nelson at her home and studio and I think her interview will be helpful to emerging artists everywhere.
It's important to begin by saying first that Jennifer seems a very happy person, one who laughs constantly. She comes from a supportive artistic family. While her first love was art, in middle school it actually became music [clarinet] and in fact, she applied to Messiah College as a music major. Serendipitously, a few high school art classes brought on a re-found love of art and that was all it took for her to become an art major. Today, Jennifer is a Senior Graphic Designer at Creative Edge Studios in Sterling, VA., with nine years of experience and I might add, with a very supportive employer named Travis Riggs, who even attended this, her first show. Two big thumbs up for Mr. Riggs!

Jennifer's nook is adorned with a sketch by her Great Grandmother and her Grandfather's sewing machine repair parts cabinet, now used to keep her art materials.
Jennifer's medium is pastel. She takes me upstairs to her tiny loft studio she calls, "her nook". It is clean, efficient and is connected to a small, but comfortable sitting area. Soft music fills the air with orchestrated show tunes, as she begins by telling me, "I love my job." A multimedia company, she loves that she gets to do a lot of really different things. Along with graphic design, she has also gotten nine years of video and photography experience. All of this builds a broader creative foundation, but I also feel it has offered a good sense for business understanding and management.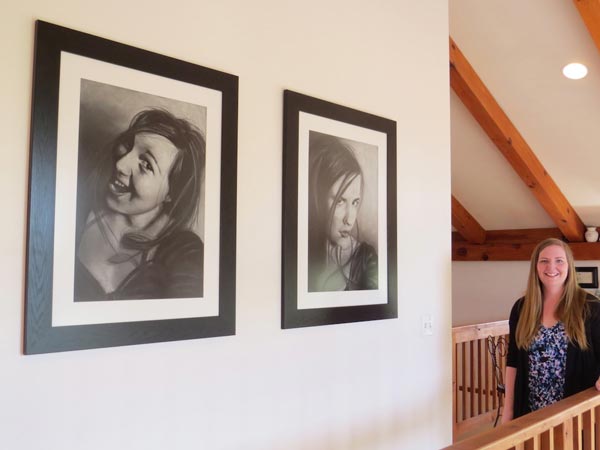 Self-portraits from her senior show where she says, "When your easiest model is yourself!"
Jennifer's recent fine art inspiration is credited to a semi-recent visit to the Torpedo Factory Art Center in Old Town, Alexandria. There, she found a fine art atmosphere and community she had not really felt since school and it motivated her to stretch herself in this way once again. She shares that she told herself, "You know, I have to do this again. It just kind of gave me that spark." She returned home and immediately started looking for shows and further motivation. As she puts it, "I needed a deadline". That's the graphic designer in her. So, having Fridays off, she made that art day.
What I think is so special about Jennifer, is her appetite for information, especially in the business of art. Her nine years of experience working with the needs of clients has again given her that foundation to ask the right questions and seek useful knowledge in framing, pricing and more. While talking about having to learn about framing, I found this comment interesting, "Just researching how to frame a painting. I mean, you don't frame your work in school. You put it up on the board, everyone critiques it and then it goes in a drawer somewhere!" That brings a generous amount of laughter! I will say, she did a great job with framing her work, so her time was well spend in learning.
Then there's building a website and writing her bio and more. As she puts it, "It's been an adventure.", but Jennifer says, "I've got a little fire started under me, I'm real excited." She admits that she is glad she has had the past 9 years to grow as a person and professionally, thus allowing her the time to find her creative voice. That voice is one of a love of nature and she is inspired deeply by it.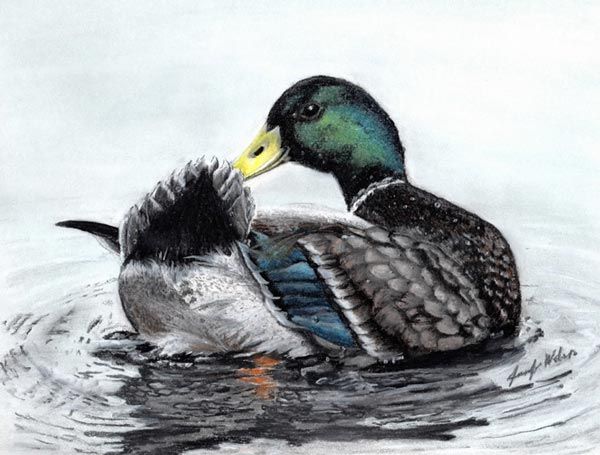 Mallards by Jennifer Nelson
Jennifer is also a photographer and uses her photographs as both an artistic reference and inspiration, but also is now entering photography shows as well. "Pretty much all of my photography is based on nature and wildlife." She further explains, "That's where I draw my inspiration, it feeds me." She always thought she would end up in a city, but this twist in her life has allowed her to find that voice she spoke about. She's grounded and has found a sense of place. One which is now allowing her to grow as an artist. I firmly believe this path was always in her and she's walking it well while stopping to smell the roses and we wish her well!
To read more about Jennifer and find her upcoming show please visit JenniferNelsonArtworks.com