"Form From Within" David Erdman
To meet sculptor David Erdman and to then see his works of art, you might at first see them as a mismatched pair. I think even this large teddy bear of a man would never describe himself as being polished, of flowing form, or even thought provoking, and yet, that is exactly how one might describe his sculpture. But once you get to know Erdman, this artist's inner self easily appears all over his work.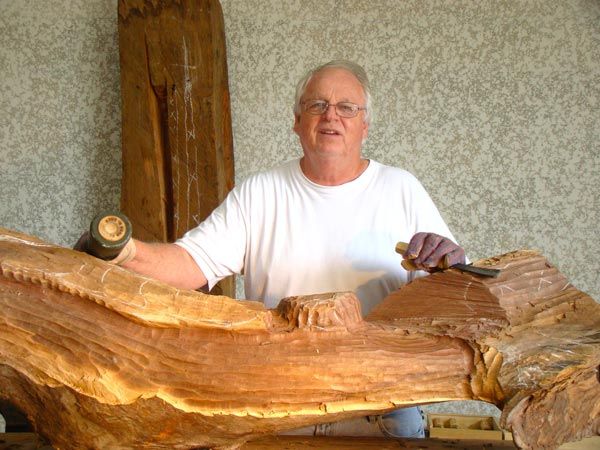 Erdman is a warm soft spoken person, at home in blue jeans, who has always preferred to sail the sea rather than motor his way through it. So it is completely fitting that his medium is not stone, but wood. He is a man of great scale and as such, much of what he creates is too. David doesn't fiddle about with tiny things too small for his hands. His pieces have weight and presence, without having a loud voice. Rather, they whisper in an inviting way, touch me. They ask you to visualize in a 360 degree fashion of thought, which yields each individual often seeing something different than the next.
I see artist David Erdman's approach as one of complete freedom. He visualizes the finished work of art and attempts to free the form from within a massive piece of wood. While some of his pieces are smooth and erect, others can feel like a prehistoric find and yet others can more easily take on a somewhat predictable narrative, such as the wind over a sail. It's easy to find representational movement, but also signs of life and David often references his working with wood, by saying they are communicating with each other.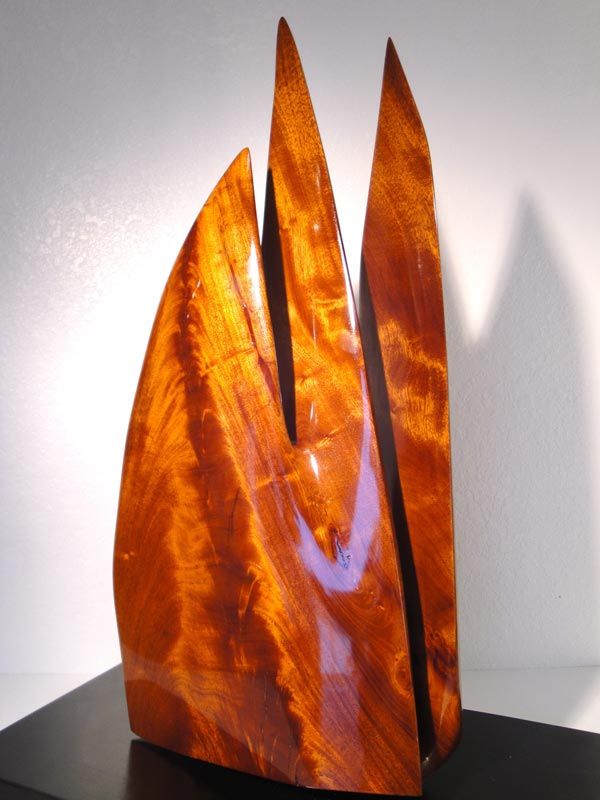 Sails by David Erdman, mahogany
David Erdman was born in Milwaukee, Wisconsin in 1946 and graduated from St. Olaf College in 1968. He continued his architectural studies at the University of Minnesota, but it seems his strongest artistic influence would be Dr. Arnold Flaten. Reading about Dr. Flaten shows he was a larger than life figure at St.Olaf, a professor, pastor, but most importantly perhaps, a multi talented artist and sculptor_of wood.
David's website mentions being - raised in a creative environment of art and building things. A convergence of a lifetime of experiences influence his full time pursuit of wood sculpting in his Florida studio. Sailing and a love of being near the water certainly rank among those experiences and influences. But today he is a full time sculptor and his studio, shared by his also creative wife Patricia, serves as their temple of artistic purpose. The space is industrious and somewhat archival in the sense of the selected woods and pieces [both completed and in process] that live there.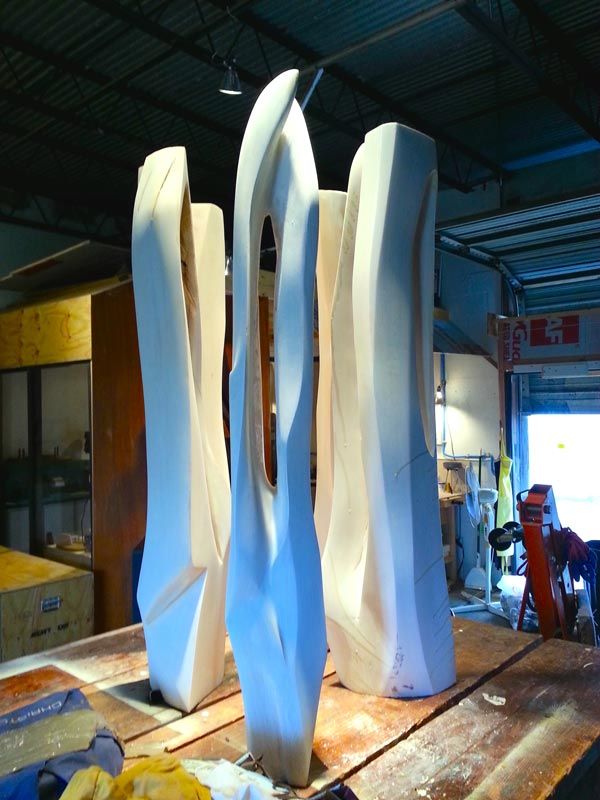 Quintet by David Erdman, linden wood
Just inside the door are his latest subjects. Titled, "Quintet", this group of five made from linden wood, has been finished in a light stain which gives them a feeling of bone, yet together they communicate their own sort of Stonehenge-ish ancient monument character. We moved them to his workbench. There, draped in downlight, their form was magical. David speaks about them in creating "shapes and shadows" and he says, "I wanted them to be fun and to do a series where people could move them around within the series, be it a row or a bunch." Call it a colony.
We then turn our attention to a newly completed piece titled, "Embrace". Made of cherry and stained to a gloss honey hue, you begin to learn of the artistic flexibility and the voice of wood, which has so many varietal properties of grain and carving abilities and all further enhanced by stains and finishes. As David speaks about this "Embrace", he very laughingly talks about how sometimes he'll be working on a piece like this where he has to do "major surgery" and he says he has to go home afterwards "because I need both of us to recover!"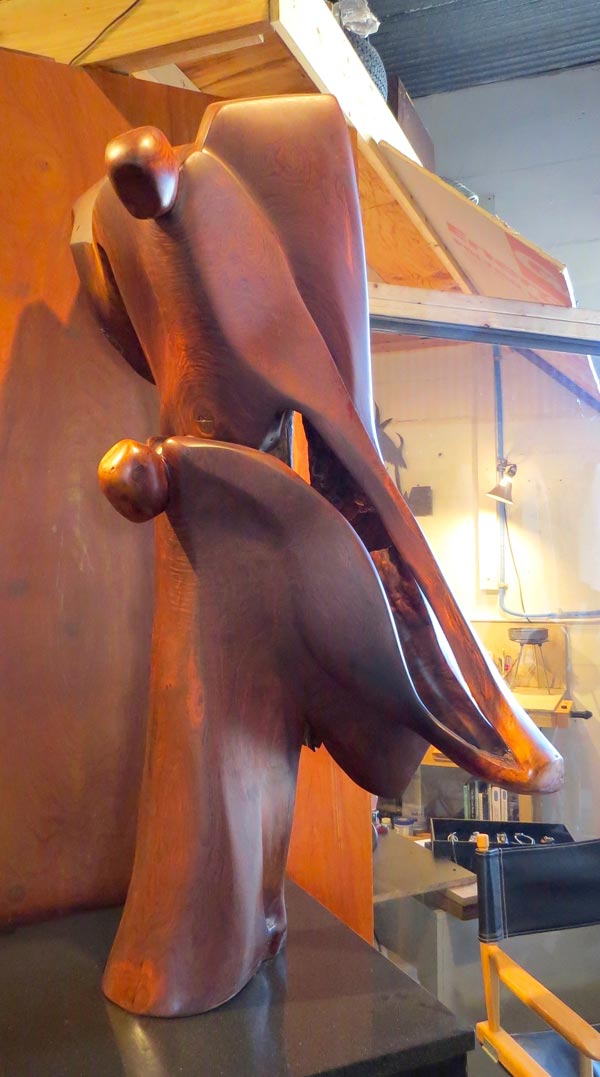 Angles Among Us by David Erdman, black walnut
In talking about wood, David points to a piece made of 75 year old black walnut. I mention it feeling angelic and he tells me that's funny because we call it "Angels Among Us". The artist in him is not only a sculptor of wood, but very much an enthusiast of it as well. He has an unquestionable passion for his medium. Woods such as mahogany, walnut, cherry and even rosewood, are more familiar to most of us than those such as blue mahoe, banyon, linden wood, partridge wood, zebra wood, purple heart and monkey pod. But they are all among the woods that Erdman selects.

Flame by David Erdman, purple heart
He takes us out to the back of his shop and points to a dark log, mentioning to not hurt myself, while in the same breath asking me to try lifting it. I soon discover a wood that appears petrified and more like lifting stone. All hernias aside, I chose to go easy on myself. The wood is Cocobolo from Central America and it's known for uses such as gun grips, knife handles and inlay work, where the pieces are small. For David, it will prove in being the closest thing to stone in carving. David mentions the first time he hit it with a chisel - "It went boing!" and nothing happen to the wood. His chain saws didn't fair much better, but the wood has a wonderful color about it, with a flame pattern that was rich to see and an oily finish which naturally polishes well. It's a $1,000. piece of wood though and as hard as it is, care must be taken in he's artistic endeavor.
In contrast, David also hands us a piece of kauri wood which is almost weightless. This 40,000 year old wood is from trees which have been buried and preserved underground in swamps. I read - Buried just below the surface of the ground and preserved in the water of peat swamps, the Ancient Kauri wood has neither petrified nor turned to coal. This underground resting place, sealed from the air, became a perfectly balanced cocoon that preserved the giant trees. David says, "Think about who was walking the earth when this was around?" These were giant trees and the wood has iridescent properties about it. Very interesting and a future creative expression to be sure. It's kind of funny in the company of all of these select woods, when I point to the old plywood shipping crate lying among his masterpieces!
For collectors, Erdman's works of art offer the warmth of wood and a beautiful sense of form for both your environment and collection. His unique pieces add a strong sense of place and offer an invitation to touch your art and be touched by it.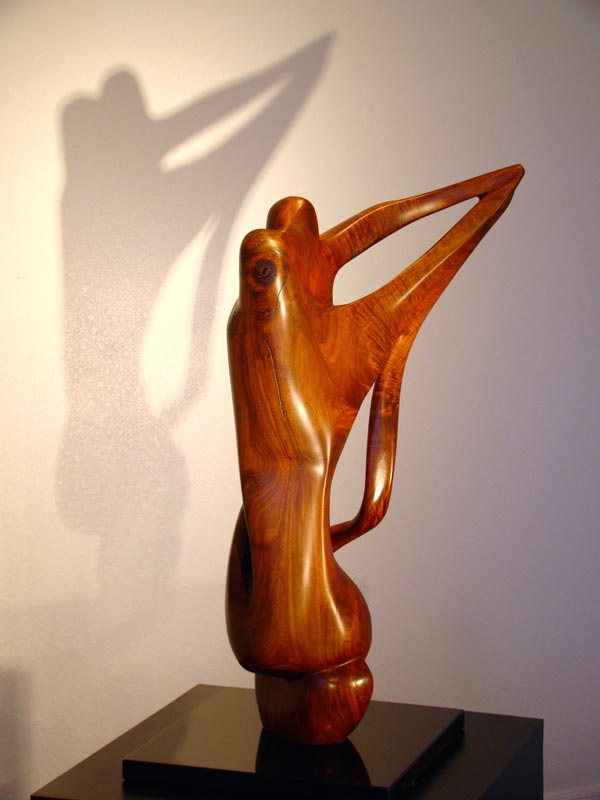 Adam & Eve by David Erdman, black walnut
David Erdman's sculptures can be found at ARTicles Art Gallery, St Petersburg, FL or through his studio David Erdman Sculpture.