Get Fired Up!
Hot words from the Chrysler Museum of Art Glass Studio! One of the unexpected treats of our visit to the Chrysler Museum was visiting their free standing glass studio adjacent to the museum's main building. The Glass Studio's mission is as an educational facility which supports the museum's collection.
Manager and programming Director - Charlotte Potter, leads an experienced team of administrators, staff instructors, faculty and assistants who all play part in educational private and group classes, workshops and studio assistantship programs. But the dazzlement comes monthly with the Glass Studio's - Third Thursday performances.
Billed as After Hours Fun, the Glass Studio comes alive with live music, drinks, food and best of all - GLASS AS PERFORMANCE ART! On the night we attended I'm guessing 150 enthusiastic attendees waited in line like they were going to see a rock star and Charlotte Potter and her team did not disappoint. As Potter became the Ringmaster for the greatest glass show on earth, her heels and feathered earrings no less, didn't hinder her from getting in the action. I should mention that Charlotte's sister is Grace Potter, as in Grace Potter and the Nocturnals, so performing runs in the family.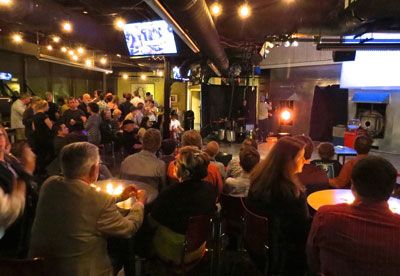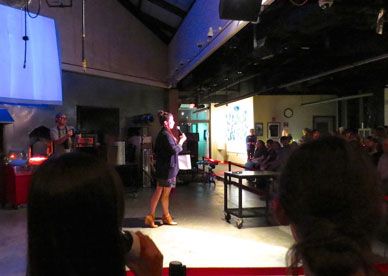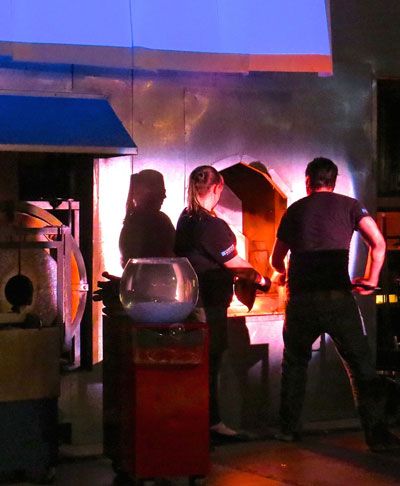 On our night the performance was a magic show, all spun around the fairly complex and might I say, high temp dangerous nature of creating in glass. With music by Joe Hamm with Qadabra playing, the team, working with scorching furnaces and the glowing molten material, then threw a magic show into the mix by FLAMBEAU (AKA Eddie Bernard). What began with a deliberate amount of corniness, truly became a "Holly smokes was that cool" performance ... or did I mean to say hot?!! Either way, it was very visual, very creative and very fun! Bravo to Charlotte and her team!
Performances are each Third Thursday of the month, so plan your visit to the Chrysler Museum of Art accordingly. For more information visit - Chrysler Glass Studio