The Fearless Creator
I like fearless artists and while she may not agree with this description, Jane Guthridge certainly has artistic confidence. From her fashionable downtown studio, Denver artist Jane Guthridge seems to approach her artwork as part designer, part fabricator and with creative prototypical vision. Twenty-five years as a highly successful graphic artist accounts for a lot and the mention of pretty much her whole family being engineers, explains what must be a family gene.
You see, while Guthridge is a master at encaustic and encaustic monotype, [saturating translucent rice paper using melted beeswax], she has no fear in exploring all materials or processes to achieve a desired effect in creating her artwork inspired by nature.
An artist's studio also helps foster their creativity and Jane's has that urban modern feel of trendy meets exposed brick. What's not to love? Jane greets me wearing an apron and no she doesn't look like she's about to make dinner. She looks purposeful, an artist who plans on accomplishing more than an interview with me on this day and I like that.
Graduating with her Bachelor of Arts degree from Kent State University, Jane continued her studies with Armin Hoffman and Paul Rand in Brissago, Switzerland and then later attended the Art Students League of Denver. She shares that her degree covered fine art and professional arts, but she majored in graphic design and this was the path she first followed. But she explains, "The difference between graphic design and fine art is; one, that you're telling someone else's story with graphic design and with fine art you're telling your own and I don't think I had a story to tell then." (She laughs) "I had to live a little to figure out what I wanted to say." I think this is a very important point, especially for new artists, because all too often they think it's all about learning technique and forget that it's really about expressing yourself.
Jane had some beginnings as an oil pastel landscape painter, but with time she, "became more and more interested in the light between the trees ...zooming in to the point where it becomes abstract." Jane shows me that her work, "...is based on dappled light patterns that are on the ground that come from trees." And she obviously searched for the medium to best represent that story she had been waiting to tell. "Encaustic captures and holds light in such a unique way, that's why I was drawn to it. It has a very sensual quality, but it also just holds light in a very different way." While encaustic is certainly one foundation of Jane's creative expression, she's prefers not to be labeled with the medium and this is where I think her fearlessness comes in. She's not anchored to any medium, but rather see herself purely an artist.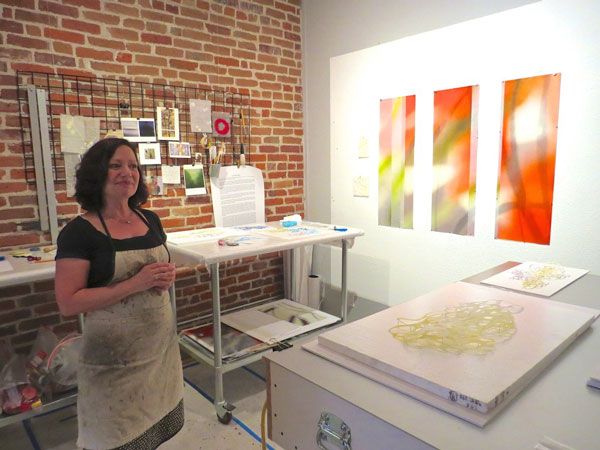 From her transition to fine art less than 10 years ago, Jane needed to not only find her way through the business of art, but even exactly how to present her work. She spent almost 3 years alone developing her framing. Her success comes from determination and taking the right steps to move forward. Not only working with a number of galleries, but also corporations and the agents who represent them. In this light, her work has enjoyed worldly representation and corporate acquisition which includes such notables as Charles Schwab, Ritz Carlton and Kaiser Permanente. She also teaches classes and workshops. Jane shares, "I think every time you teach someone you learn something. Just some odd little thing."
Growing up in Rockford, Illinois, Jane met her husband while attending Kent State, after which the two of them traveled for three months and finally ended up in Denver. The mile-high city offers a unique artistic balance, allowing Jane to have her studio right downtown near Denver's Art District on Santa Fe and as she put it, "In an hour you'll be in the middle of nowhere, that's why we picked it." This allows Guthridge to create in her studio environment, but to easily head to the hills [mountains] for nature's inspiration. "I think as an artist you sort of look at the world differently", says Jane, who speaks of looking at something as simple as a flower as a thing of pattern and color, not just a garden ornament.
Circling back to her family of engineers and that fearlessness, I see in her approach as one of trying different things. Jane offers that, "I'm kind of scientific." She one time even makes reference to her work by saying, "These are all my experiments." Jane also very much works in a way of series, such as her "Water", "Ghost Ranch" and "Asia Series". Her series "Pools of Light", (below) uses a process of layered Dura-lar cut with a wood burning tool, archival inkjet and encaustic on mulberry paper which achieves both dimension and shape, but offers a soft, frosted and translucent feel to the pattern and color. A multimedia artist to be sure and Jane's latest series called "The Space Between", offers its own set of fresh ideas and with little doubt that Jane Guthridge will stop there. Inspiration rewarded by artistic confidence!
For more information visit www.janeguthridge.com