Art A Mile High
A visit to the mile-high city of Denver is one which will enlighten you to a city's approach to public art and the art scene it supports. Some urban areas do very little artistically and yet Denver rarely misses a chance to showcase creativity with examples never hard to find.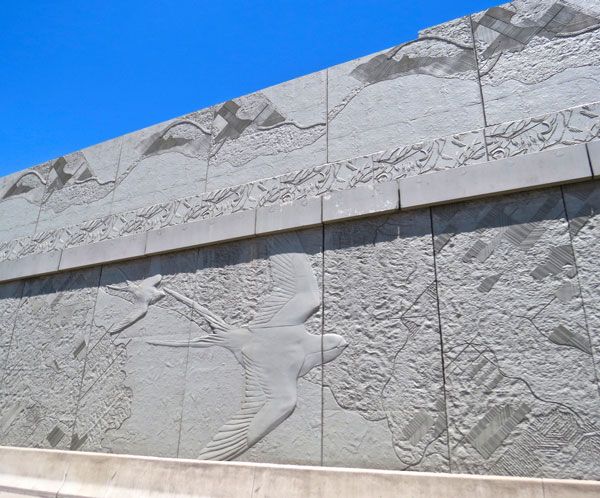 Even a short drive on I-25, the main north/south highway, would make it impossible not to see miles of what I'm talking about. The concrete walls which line many of an inner city's highways, Denver used as an artistic support for narrative textured images, repeating themselves on both sides of the highway. If you wonder if it's worth it, well, I can only say I think it is, as subliminally or not, there's a sort of less hurried pace and a warmer feeling about the road. I-25 has some very scenic mountain views anyway and this just complements that natural beauty. In a sense it's like dining at a nice restaurant with nothing on the walls or one which is adorned with art. One feels empty, the other complements the food and your experience. This is Denver's way and where I think pictures are worth a thousand words, it makes sense to just show you rather than tell you, starting with the message itself plastered right on their public transportation system! ART MOVES YOU! Yes it most certainly does!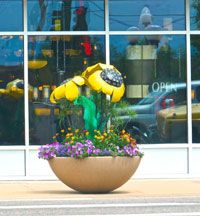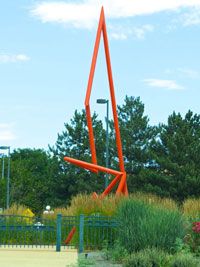 Now a city that has such an artistic philosophy is bound to have a strong arts scene and this city most certainly does. One of the places you'll find that scene is on its western side along Santa Fe Drive.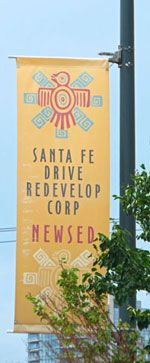 The Art District on Santa Fe defines itself as that which is "... dedicated to promoting public awareness of Santa Fe Drive as a unique art and cultural district, and furthering the arts and art education in the metropolitan community." The district has been featured nationally as an arts destination with First Friday attendances in the 5,000 range coming to support its 60-plus creative industry members.
For a first-time visitor to Denver and Santa Fe Drive, I hope my description will relieve at least a little of what might be called a surprise. This is an area that's been redefining itself constantly. It is dynamic, very much active. Completely urban, it is at this point unpolished and imperfect and the surrounding blocks are the same. Santa Fe Drive is an inner city boulevard with inner city character, where a mishmash of building uses still exist. If you arrive thinking you'll find a beautiful gallery lined avenue, you'll be sorely disappointed. But if you allow its industrial roots to support its creative surge, you'll be delighted. This is a place where you don't judge a book by its cover, get to know what sits below the skin and you'll find its blossoming personality.
One such personality is that of Michael Burnett, owner and curator of SPACE GALLERY. Michael, a native of Edinburgh, Scotland, is schooled in art and met his wife and partner Melissa Snow, a native of Denver, during travels in South America. After then moving to Denver fourteen years ago, he began developing his art career which he laughingly blames, but I'm sure lovingly credits his wife for. Beginning with a studio and then opening their original Space Gallery along Santa Fe Drive in 2003, the experience seems to have served them well. At that time there was no art district, just mixed use retail and vacant warehouses, but on the plus side Burnett credits the small handful that came before him including Spark Gallery, Denver's oldest cooperative gallery which opened in 1979, and Jeanie King's Fresh Art Gallery among others.
He explains that his old space was 8,000 square feet with many attributes, but he felt and had been advised over the years that at some point to get ahead, buying, not renting, made sense for the long run. That two year process of finding a lot, designing and building his new gallery located at 400 Santa Fe Drive, came to fruition for its grand opening on May 22, 2014. The Owen Beard design won best New Art Building by Denver Westword. Beginning with a steel kit, Beard transformed the structure into a piece of artwork itself.
The 10,000 square foot space of Space Gallery serves its name well. It's nouveau-industrial design and materials application is modern and actually quite fitting for the area. Frankly, it may be as much of a showcase to the arts district itself, as it is to the artists it represents. I can't imagine followers not taking notice and this is of course how architectural trends begin. I asked Michael if the city compensated their investment efforts with a tax incentive and was told that he tried and was turned down. Tax incentives don't halt entrepreneurial action, but they sure can make them flourish, and I think Denver should consider this.
Michael Burnett is savvy though and knows his space could offer something more than a place to exhibit fine art, including his own. Utilization can be key to survival of such a large space and therefore nestled above and below the gallery's massive mezzanine are the Diaz Group - offering modern furniture, artist Sangeeta Reddy, plus the offices and studio for Burnett himself. But it doesn't stop there. The main gallery space itself is completely rentable for events with an extensive price list available online. All of these things contribute to the gallery's health and bottom line in what may be the future of high rent and/or property expenses and development costs.
I asked Michael about his years during the recession and life today. He shared that while slow they also had one of their best years and we both agreed the art market is strong now. "Denver is coming into itself and for the first time in a long time, people are really spending money, and I think part of it is our green economy and a lot of money is being pumped in from the medical marijuana industry. A lot of people are moving here just because the quality of life is so nice, retiring from California and New York and they want somewhere else to be. People are deciding to move here from the two coasts and those people may be a lot more cultured." Michael goes on to share that about a third of the art his gallery sells is shipped out of state and there seems to be a strong corporate following as well.
While Space Gallery's new facility is spacious and can handle just about anything that could be thrown at it art-wise in scale, it also does have the ability to keep you doing what it was intended to do - look at art. That is to say, its scale certainly doesn't go unnoticed, but after taking it in, it allows you to visualize artwork in an uncluttered manner. I think in time, as it becomes less brand new, possibly the use of plants and such (it could have trees) will soften things a bit. Possibly the only drawback to a space this size is that it might be difficult for the average purchaser to visualize the art on display as it would be in their home or office, but it's a small hurdle in what is an amazing vision.
Michael Burnett is still an artist whose work can be found among the 40 or so artists Space Gallery represents. His work utilizes the application of epoxy resin which gives the surface and applied paint what I will call a somewhat molded-texture feel. It's done in what feels to be an organized design fashion rather than an impasto approach and nets a somewhat fabric sample result. When I mention some level of narrative in what feels like he's representing nature, he tells me that he doesn't really do this in a calculated manner but says, "To me its like all the experiences I have hiking in the mountains with the kids, the switchbacks, the rain, the leaves falling." We agree as artists that these things seem to come out in your art.
For me personally, meeting a fellow creative type with a business mind is always a great experience, and if you're in Denver, please do yourself a favor and make a point of doing the same.
For more information visit spacegallery.org