Norfolk, Virginia's Natural Harbor for Art ... and Conservation!
When most of the nation, if not the world, hears the word Chrysler, it thinks of one thing - automobiles. But anywhere near the naval city of Norfolk, Virginia they think about their priceless gem, the Chrysler Museum of Art. It is, therefore, sort of ironic, that I'm an artist and writer whose father happened to have worked at a Chrysler dealership, I owned a 1965 Chrysler 300 and one of my closest friends is a retired engineer for Chrysler. Thus proving, the apple doesn't fall far from the tree and I'm here visiting this orchard once again.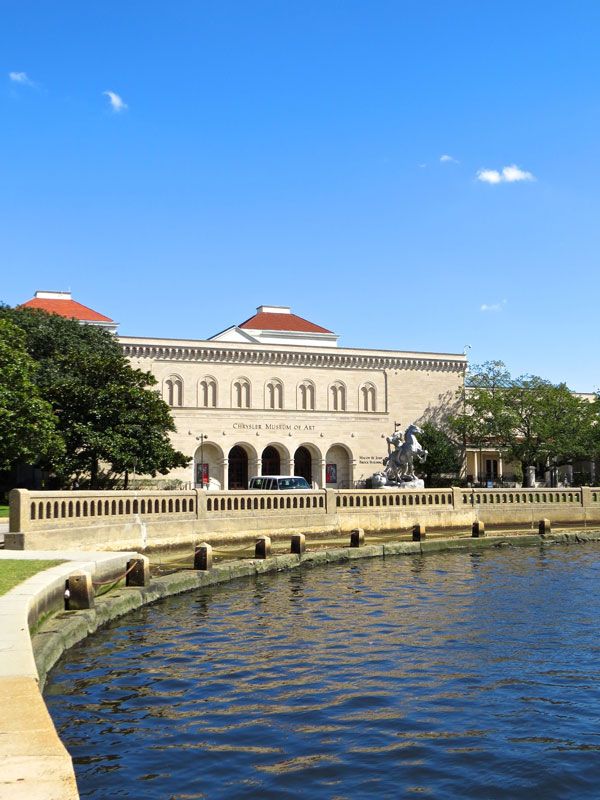 The Chrysler Museum of Art and Conservation
In a sense, this is a museum which could have ended up almost anywhere, if not for and at least in part, the navy itself. You see, Water Chrysler Jr., the son of Water P. Chrysler, who of course gave the automotive company its name, volunteered and became a naval pilot during World War II. During this time his officer training brought him to Norfolk where he met and married his wife Jean Ester Outland, a native of the seaport city.
Chrysler had already established himself as a collector of art and fine objects from a very young age, an appreciation somewhat influenced by his wealthy father. But Walter Jr. would show more passion than many, amassing one of the finest and may I say, diverse collections, over his seven decade long run.
Walter Chrysler Jr., while a 14-year-old boarding school student, bought his first painting, a small watercolor of a nude. A dorm master, believing no proper young man should have a nude in his room, confiscated and destroyed the painting. The kicker? The destroyed painting was a Renoir! (From the Chrysler Museum's website)
It is said of his diversity, that he "bought against fashion" and your imperative visit to this museum will not disappoint on this very point. Room by glorious room, the Chrysler Museum so visually displays Chrysler to be an emotional and yes, savvy collector. I can only imagine that he was having serious fun in the process! He also bought large works of art and so the very scale of the museum's artistic contents feels wonderfully grand and yet, the museum itself feels intimate. Chrysler was also a man of glass and his vast glass collection of some 8,000 pieces clearly enhances the museum's overall collection and brand today. It also means a glass enthusiast could easily spend an entire day on that visual consumption alone, and if you want more, there's the Chrysler Museum's Glass Studio right next door. More on that here!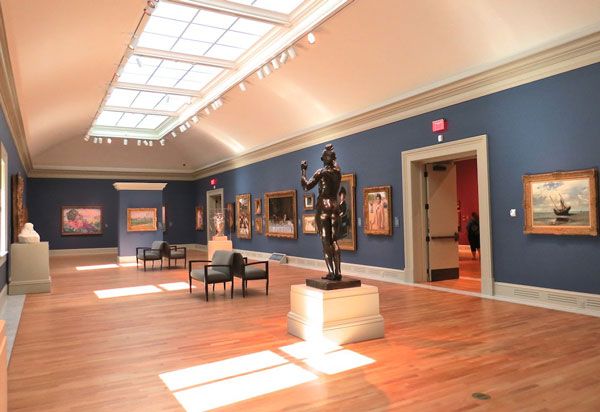 One of the many second floor galleries, this one featuring European and American Art,
19th and 20th Century
Perhaps the best part of a visit to the Chrysler Museum of Art is its ability to be friendly. It welcomes visitors to experience a collection with Southern Hospitality and it doesn't feel institutionalized or cold. Sure, there is a powerful surveillance system in place, but there are not uniformed guards as we know them. Instead there are Museum Hosts, which along with also being watchful eyes, are docents, but even more so, what I feel are experience enhancers. They can help you find your way, answer questions about the art, but most important, you can tell each just wants you to have a good time and appreciates your visit. Go see for yourself and you'll see what I mean.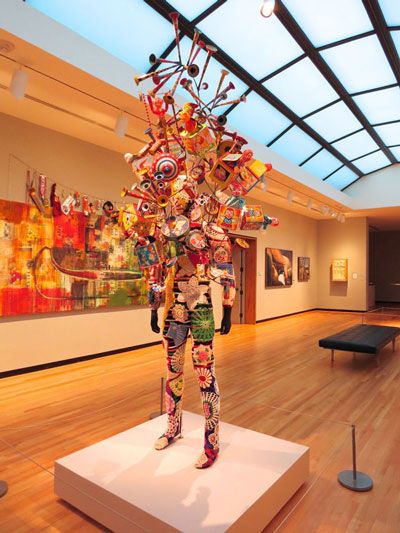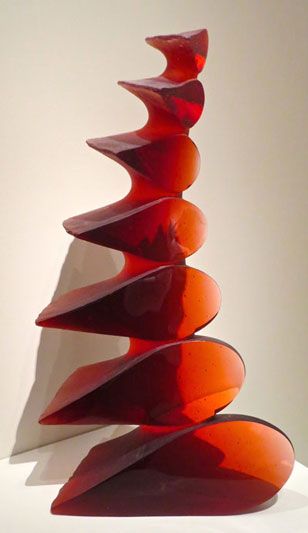 One of the five rooms dedicated to contemporary art "Red Drops", cast glass, 2004, Vladimira Klumpar
Getting back to its naval tie. The fabulous art deco, Chrysler Building in New York City, which served as Chrysler's company headquarters, was sold in the mid 1950's. At this time, Chrysler Jr. retired and moved his collection to Provincetown, MA., but his continued devotion to collecting, in time needed a much larger and dedicated space. In the end, he and his wife's continual ties to Norfolk, had him accept an offer from the city in 1971 to essentially refashion and reconstruct the Norfolk Museum of Arts and Sciences into the Chrysler Museum of Art.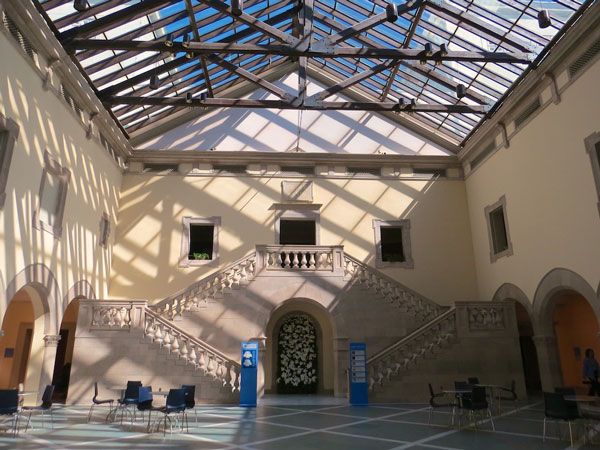 Lobby of The Chrysler Museum
Fast forward some forty years later and my visit comes on the fresh, newly reopened doorstep of a massive 24 million dollar, 17 month long renovation and expansion of this museum. The expansion itself makes room for more of what Chrysler collected to be seen by you and I, and the renovation keeps an old building intact for years to come. Again, I love the irony, because conservation is the reason for my visit. A museum building has many rolls, esthetic presentation and the security of art among them. But most important is its roll in the preservation of art and even with all of the state of the art, light, temperature and humidity control, art conservation around the globe is an important ongoing part of the survival of centuries old artifacts. Please join me as we go behind the scenes to learn about conservation at the Chrysler Museum of Art.
Be sure to visit The Chrysler Museun of Art for upcoming exhibits.

"The Artist's Wives" 1885, Oil on Canvas
James Jacques Joseph Tissot