Taste This Town - Charleston will be happy to feed ya!
For you foodies out there, we just couldn't pass up the chance to tease your tummies! Charleston knows food and delivers it through no shortage of creative culinary kitchens and award winning chefs. It's one place that offers a quantity of quality. Competition seems fierce, netting you,the happy customer, delicious options, with solid customer service, in a wide range of building types, with great atmosphere, all over the city. That's a mouthful in its own right!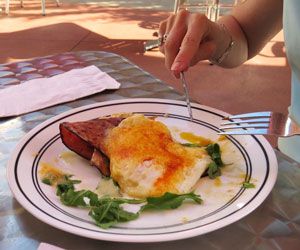 There are no shortages of BEST OF lists online and my guess is all will direct you to fabulous meals. What none of them seems to indicate is how diverse these places are in every way, but especially in location. Remember I told you Charleston can be an Easter egg hunt? Here are a few examples: We found Circa 1886 an amazing experience!
In what I would call a dinner jacket restaurant (that doesn't require one), everything was to perfection! Chef Marc Collins delivers artful food at what I felt was an incredible value (that doesn't mean inexpensive, but it does mean - worth every penny!) and yes, take the recommendation of ordering dessert with your meal for a you-only-live-once experience.
But here's what no review will mention. As an old carriage house, this gem is tucked away behind the historic (luxury) Wentworth Mansion on the corner of Wentworth and Smith Streets. It is by itself, five solid blocks off King Street, in essentially a neighborhood of lovely homes. You won't find it just being hungry or likely even while out taking a walk. But find it you should and take a rickshaw taxi, it only adds romance to the wonderful evening you'll have.
On sort of the other end of the spectrum and oddly also on the other side of town at 18 Pinckney Street, nearing East Bay, there's CRU Cafe. Again, this is another hidden gem, which came in the way of a recommendation from our local friend, Annie. Not only is CRU Cafe off the beaten path, with its understated appearance it would be easy to walk past if you by the smallest of chances ventured this way at all. But make no mistake, (a place where you definitely don't need a jacket - Chef & Owner John Zucker was wearing shorts), venture in CRU Cafe's direction! PLEASE! Great food can often taste even better when enjoyed in a relaxed casual atmosphere. CRU Cafe has that local feel and enjoying a meal here makes you feel at home - someone else's home - one who cooks WAY better than you! Zucker's culinary credentials are as solid as you can find, but perhaps best of all, you feel you know him and thus, I felt more of a personal connection to the food, like it was made for his friends, not just his customers. There's a magic to that and John has it.
The list could be way longer, but hopefully I've made the point. It's no secret that Charleston doesn't disappoint the taste buds. Make reservations in advance of your trip if possible though, for that could throw a fork into things. Some places can easily require weeks in advance reservations! Yikes!