Some Of Charleston's Artist Studios
Not all artists want to work in a fish bowl, but some certainly enjoy it and if watching the creative process is your cup of tea, here are a few places that not only allow you to do just that, they encourage it.
Reinert - LePrince - 179 King Street

The gallery shared by Rick Reinert and Kevin LePrince, is also working studio space for both of these very approachable artists. Their gallery is filled with examples of their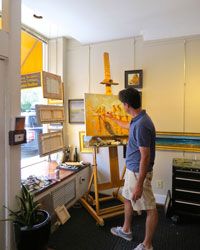 work and they are pretty much always there at their easels! While the gallery is very tidy, I think both will laughingly tell you that their process is less so. Rick seemed to have as much paint on him as his canvas!
Robert Lange Studios - 2 Queen Street
Artist JB Boyd is a resident artist at RLS and dare I say, his studio is the polar opposite of that of Rick and Kevin's. A landscape painter of meticulous detail, his studio matches it by being meticulously clean and perfectly arranged. JB is a smiling, happy guy who doesn't mind guests!
The Vendue - 19 & 26 Vendue Range
The Vendue is a boutique art hotel with an artist residency program featuring both national and international artists utilizing working studio space in their lobby. Additionally, The Vendue offers Art Docent Tours of their rotating exhibits which includes a one-hour, 11am, Coffee Tour.