Christine G. Epstein
From her tropical Oceano studio, based in Rincon, Puerto Rico, Christine Epstein shares her dream come true_living a creative and artful life as a full time jewelry artisan. She shares her childhood as an up bringing in a working class neighborhood of Darby, Pennsylvania.
A southwest suburb of Philadelphia, Darby is a place of hard working, salt of the earth people. No where near the palm draped, salt water beaches she now calls home while hunting for sea glass. "A soon as I was able to get out of there, I did.", Christine chuckles with a level seriousness. She then quickly speaks of family, "It's interesting, you sort of gravitate back when you have children, to what's comfortable." She and her husband Jason, while then living in New York City, wanted to start a family and Philadelphia's Center City district seemed a better choice, closer to their roots. After having their daughter Emily and their eighteen years there, Christine notes the area having become more culturally diverse in the shadow of its more "glamorous big brother NYC". The "city girl at heart" though, admits Rincon is now home. She shares of traveling as a family in search of the perfect beach. "We came to Puerto Rico for a vacation one year and fell in love - the wild ocean, the abundant natural beauty, the friendly and relaxed attitude. And then I discovered the sea glass. It changed everything!" Those are powerful words.

"For the rest of our stay, hunting for sea glass became an obsession. During our third trip to the island in 14 months, Jason and I talked about how wonderful it would be to live here, always framed as_someday. My father died when he was only 38, instilling in me a need to be all in, always, with everything. Later, when the opportunity to be near our favorite Rincon, Puerto Rico beach, most of the time, presented itself, I put aside my worries and our house on the market. More recently, bearing witness to my mother-in-law's long battle with cancer and her passing at age 62, renewed my commitment to make everyday important." While Jason still commutes between the two places in their life, Christine goes on to say, "For me, Rincon provides the fuel for my life and my work and there isn't any place I'd rather be."
Carved from working class people and creatively inspired by both her grandmother and mother, she offers having, "a yen to do something useful with my hands." "At 18, I studied at the School of Visual Arts in New York. For further training, I attended classes at the Revere Academy of Jewelry in San Francisco. Discovering sea glass on a barren beach during a chance trip was the moment my past met my future." Life choices are often about and made by the carrot and the stick intertwined with the preparation of experience. Christen G. Epstein's stick was at least in part a loss of family members and her carrot was finding sea glass. Both powerful motivators, but without her experiences in both school and supporting employment, she and others often can't act on that which motivates them. She comments of, "a lot of it happenstance and headspace, a lot of time working retail and I was happy and always kept time and space to stay creative." The decision to sell their house in PA and downsize, allowed her to begin to focus on what it would mean to be a full time production artist. She had her share of odd jobs, but speaking of the business aspect of it, "Truly, if I had not spent all those years working in various capacities for other designers, retail stores and hotel gift shops_now, almost looking back on it, it comes together so beautifully in terms of the insight and experience it gave really me to hit the ground running. We both agree, all employment gives you two things, compensation and education and despite less than perfect jobs and bosses, Christine found it all as a great asset to her becoming a successful artist and living the life she so wanted. I commented that I feel strongly that even when we may not feel we are going in the direction we want, we are exactly where we need to be to learn essential elements of our ultimate goal and future life.
"I've incorporated sea glass into my jewelry since 2005 and have been a full-time sea glass jewelry artist since 2008. It is the most challenging and rewarding thing I've ever done and I'm utterly passionate about it. Here in Puerto Rico, the search for sea glass happens almost everyday. I love every part of the process: the excitement of finding a piece, washing the salt and sand away, sorting the shapes, laying out a design.
The random, organic shape of unaltered sea glass is so appealing in its natural form, it really prescribes the overall feel and look of the jewelry. And since no two bits are ever exactly the same, the puzzles are constant! The effort it takes to match two chunks of sea glass -- by thickness, shape and color and texture are a notable part of my studio time. But in simply spending time studying the glass, I also get many of my ideas for a design element or overall design concept."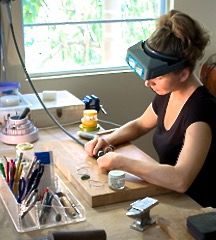 Oceano Sea Glass earrings, pendants, bracelets, rings and other accessories are made of .925 sterling silver and eco-friendly, unaltered sea glass. With an emphasis on meticulous craftsmanship and graceful design, each piece is imbued with a bit of history, a splash of color and the spirit of the sea. "My goal is to create handcrafted, well made, beautiful jewelry that is truly wearable. Sometimes that means sketching out a shape or detail. Other times, the actual piece is fabricated on the fly as I think through the design. I'm always keeping my wearer in mind_she loves nature, being at the beach and seeks out originality and quality in everything. My designs are modern classic, fresh, while avoiding anything trendy. I want the pieces to speak to her as an individual and echo her personality."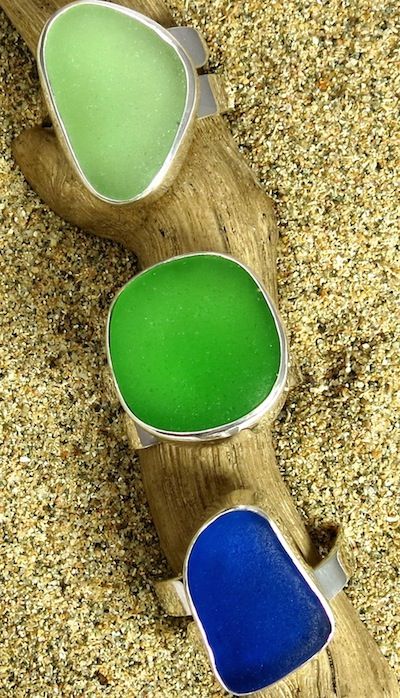 "Cooking is another passion of mine and my philosophy to jewelry and food are pretty much the same_better when made from scratch! I try to design most every finding that is part of the finished piece, to create jewelry that's distinctive. For the same reasons, I'm drawn to spontaneous effect processes: hammering, reticulation, fusing and water-casting, as the singularity of the results reflect the free-form nature of sea glass."
I asked Christine if there's a deeper drive that motivates her enthusiasm, a work ethic and business approach. "Our mother was a wonderful example for us. We learned to persevere and make things happen in-spite of adversity. It has made me very determined in everything I do. I love learning new approaches, new ideas, new techniques and then pushing and honing until it is the very best I can make it be."
Laughter is constant throughout our conversation. She closes with, "It is an unbelievable freedom and luxury to be able to make my living with my art and I wake up each day filled with gratitude and passion. Always hopeful for a day filled with as much beauty and happiness and sea glass as possible!"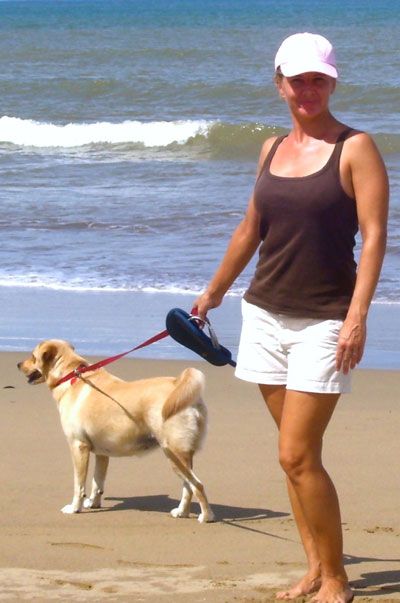 For more photos of Christine and her jewelry go to Oceano Sea Glass.