Doing The Charleston
I recently came to Charleston after a long and overdue absence. No matter, as it seems if you haven't visited this historic downtown city yourself in a little less than a handful of years, you'll see the change too. I came with an artful story in mind, but the plot thickened and Charleston's developing narrative took a turn, becoming what I'll now have to whittle down to a peep show from a massive performance you'll just have to go and see for yourself. In that light, think of this as the program for the production of Charleston!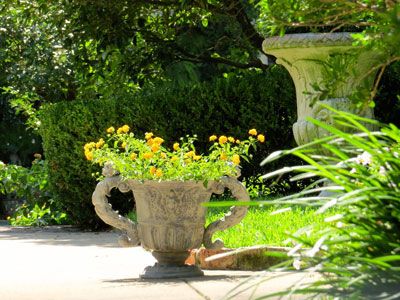 Charleston is a town that is so dramatically drenching itself in its own artfulness, visitors can't help themselves from becoming intoxicated by it. Make no mistake, this is a potent cocktail, a brewing concoction that requires the souls of your shoes to get dirty in an endless series of left and right turns along some of Charleston's undulating, tree-rooted sidewalks.
If you were to only walk a handful of the more polished blocks of Charleston's King Street, you would at least leave whelmed in what it has to offer. Add in the less polished paralleling Meeting Street and that would certainly help fill your cup. But make no mistake in thinking you would have even come close in any sense to the creative character or texture of this overwhelming place. There's been plenty written about Charleston and so not to write a book myself, my focus must be that which is artful and oh my God, there is so much to say.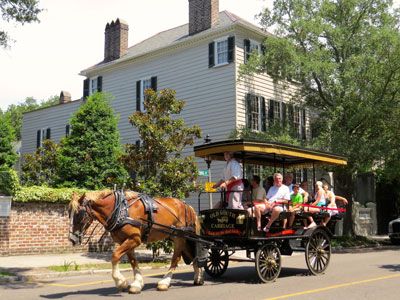 First, this is what an art destination is suppose to feel like, but it is just one layer of its fabric, so allow me to peel away. Charleston is an historic town, a college town, a seaport town, a shopping town, a culinary powerhouse, as well as an art destination. As near as I can tell, it does all of them more than well. If you are looking for modern architecture, downtown is historic, enough said. But if you, like me, think walking into an old building and finding modern interior design is cool, you'll love it.
It's best here to think of looking for galleries and culinary delights like an Easter egg hunt. Sure, you'll easily find eggs as soon as you begin, even enough to fill your basket. But you don't just want quantity, you want the personality of the place and for that you need to be adventurous, extending your reach for the more hidden treasures. There is no one street that delivers everything and the establishments that seem sitting by themselves are often the hidden gems. So allow me to try and offer a just quick novice's guide of Charleston's artful downtown. This guide by no means will cover everything or every part of what Charleston has to offer, but is rather a place to begin.
So grab your map and let's begin at the intersection of King Street and Calhoun. The tone here is set by Marion Square which hosts many outdoor artisan festivals, and the College of Charleston, which gives the surrounding blocks that youthful funky feel. Now on this note, you just have to visit Urban Outfitters location at 371 King. Once the Garden Theater, the massive old vaudeville playhouse turned cinema building, which was built in 1918, went through all the challenges you could image before its final closing in 2003. Walking past it, confusion set in as I tried to comprehend if I was seeing a renovation or an operating business. I walked in and my jaw dropped to find how Urban Outfitters, a college apparel shop, stamped their brand on this place. Their interior design is essentially wrecking ball meets post-apocalypse, and it is so cool. The bones of the theater are there including the mezzanine, but the rest is under destruction, with the racks of hole-in-the-knee jeans and tees. Possibly depending on your age, you'll either be happy or disturbed, but from a creative perspective, this is true vision in play and you'll have seen nothing like it. Trust me.
On Calhoun you can also find the Halsey Institute of Contemporary Art which while there was featuring "The Insistent Image: Recurrent Motifs in the Art of Shepard Fairey and Jasper Johns." Shepard Fairey's graphic murals can be found around town, thus adding to the discovery aspect of our visit.
Now heading south down King, passing the Apple store, the college facades transition to fashion apparel and such. At Beaufain Street, King makes a little turn to the right on its way to the intersection at Market Street. Along that block on the left is the Belmond Charleston Place Hotel with its chic indoor mall; think Louis Vuitton. South of Market seems to have once been the antique district, but the evolutionary progression is towards a deeper presence of art galleries. Notables are the well established -
The Sylvan Gallery, whose owner Joe Sylvan (a great guy) has roots in the west. Joe found his way east a dozen or more years ago after already having been a veteran gallery director. He represents realist painters and masters Scott Burdick & Susan Lyon are among them.
Also in his company is the newer Reinert-LePrince Fine Art. I think Kevin LePrince is the only Charleston-born person I met. Both he and Rick Reinert have businessman pasts, Kevin, as a VP for Wachovia Securities and Rick, an entrepreneur, and both have traded their suits in for shorts! This is a studio gallery, but very presentable, open seven days a week, where you will very likely see both painting. More rare than you would think, even for Charleston.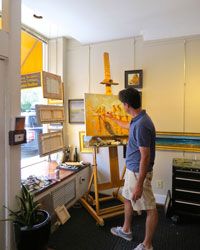 The relatively new Atelier Gallery, is actually not new at all, just formerly found in Asheville. Think diversity, a very enjoyable gallery, their specialty being artists of multiple mediums.
These three aforementioned galleries alone, offer a very wide variety of visual delight, but leaving ground level you also visit the Yellow Door Gallery above Reinert-LePrince and just up the block, Paderewski & The Sportsman Gallery, formerly from Atlanta, where friend Ann Olimpi is employed.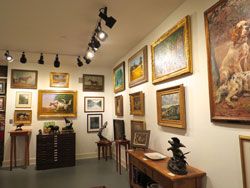 The ground swell of new galleries and especially established galleries moving in over just the last two years alone, is noticeable. It's as though Charleston is telling the rest of the US galleries to please turn off the lights as they leave their old town before moving in.
Continuing our path down King Street, I found some sort of natural tendency to want to turn left at Queen Street, cutting over there to Meeting Street, yet the next block down on King is Broad Street where you'll find the Mary Martin Gallery on the corner. At that point though, turning left on Broad Street has you up to your ears in government buildings. So, for the sake of ease, let's go back and make that left from King onto Queen and cut over to Meeting Street. Once at Meeting Street turning left again heading north you'll find the prestigious Principle Gallery. A fixture in Old Town Alexandria, Virginia, this is owner Michele Marceau Ward's second location and there are actually so many similarities between Old Town and Charleston that her presence is very natural, right down to both locations being just blocks from the water. Michele's over twenty years of fine art experience is evident. Principle Gallery should be on every art connoisseur's list. It's like visiting a fine art museum where everything is for sale.
And speaking of museums, just up the sidewalk you'll find just that, the Gibbes Museum of Art. Created from the trust of local businessman James Shoolbred Gibbs, the museum, located on 135 Meeting Street, began in the early 1900s. Today, along with their extensive permanent collection, the museum is host to rotating exhibits and educational programs.
From this point, let's head south again, casting a net from Principle Gallery at intersection of Meeting and Queen, over to at least East Bay Street and down towards Broad Street again. This area is known as the French Quarter and is even represented as such by its own French Quarter Gallery Association with some 28 galleries!
Moving along Queen towards East Bay offers notables such as the spacious Atrium Gallery, then onto Anglin Smith Fine Art, one of the older Charleston galleries and great fun, as it features not only the work of Betty Anglin Smith, but get this - her triplets Jennifer, Shannon and Tripp! The corner location gallery felt rustically European on the outside and colorfully alive with their contemporary realism on the inside. A lovely gallery.
Venturing further on Queen brings a grand prize in the way of Robert Lange Studios. Oh my heart be still, I love this space.
A place of character, the entrance really offers no hint of the treasure chest once inside. An obvious old seaport warehouse, it has been transformed. Its exposed brick and open rafters offer a textured support to an artistic atmosphere of stunning art. Voted Best Art Gallery in Charleston the last four years by the Charleston City Paper, gallery owners Megan and Robert Lange are not only committed to their gallery of more than a dozen years in existence, they are committed to artists through their residency program and the Charleston art scene as members of Charleston Fine Art Dealers' Association, French Quarter Gallery Association, Redux Contemporary, and Halsey Institute. Don't miss it.
The French quarter having so many galleries to offer, I'll rein myself in by just mentioning two more places of interest. Just feet away from Robert Lange Studio on the corner of Queen/Vendue and East Bay, is the newly renovated The Vendue - "Charleston's Art Hotel." The Vendue states itself as being two unique boutique hotels, located at 19 and 26 Vendue Range. (Note: once crossing East Bay Street, Queen Street becomes Vendue Range.)
Much like its neighbor, Robert Lange Studios, the hotel was formed from warehouse space dating back to the 1800s. The Vendue was renovated and "reborn" in 2014 to create Charleston's first and only hotel dedicated to the arts – in all forms. Over 300 pieces of original art have been installed for our guests to enjoy. Our main exhibition space covers the entire public spaces of 19 Vendue. Additional installations are on display in all guest room corridors, the public areas of 26 Vendue, and within our Gallery guest rooms. The Vendue easily lives up to this statement and I can share it will be the next place I stay while visiting Charleston because of it. It's certainly worth your visit and their rooftop lounge is an additional recommendation.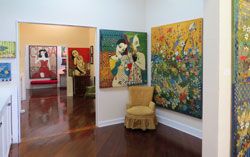 Just two blocks south at 111 East Bay Street, you'll find the DiNello Gallery. Dedicated solely to the work of Laura DiNello, who is known for what she defines as cut canvas art, the gallery and her artwork are both worth experiencing. Passionately operated by her daughter Caleigh DiNello Love, you will see a collection of unique narrative paintings, created in a collage fashion. This is where a picture really is worth a thousand words!
I'll wind down my little tour by sharing with you that Charleston is as hot in the summer as they say "You can wear the air." While strolling about in early July, temps were in the 90s. So if this is your planned time of visitation, bring comfortable shoes, carry a bottle of water and pace yourself. There are fun rickshaw taxis to get you around if you need, but the horse-drawn wagon tours on these blistering days seemed pretty close to animal abuse and uninteresting to me personally.
The spring and fall are likely glorious times of perfection to visit. Charleston is a wonderful find, one you should find on your list of art destinations to visit. There's literally something for everyone and everyone's taste - literally! See you there!