Music Therapy "A Place To Be"
What if I told you there was an absolutely joyous place for children with autism, Asperger Syndrome, blindness, mental challenges, traumatic brain injury and cerebral palsy? You'd likely say, "Wow, now that's a place to be!" And I'd say, exactly!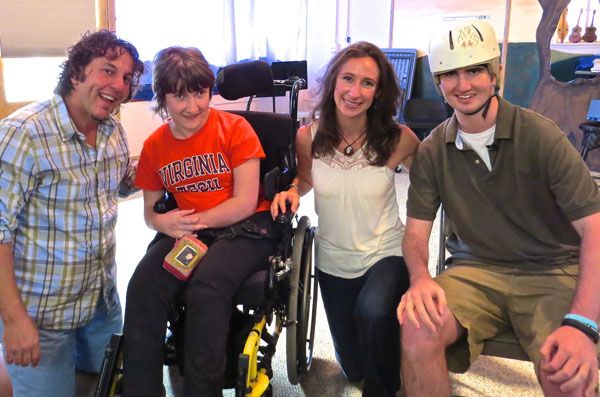 "A Place To Be" is the kind of place perfectly healthy individuals should see when they've finally swallowed all the 24-hour news they can stomach, seemingly sure there's no compassion or good in the world. It's the kind of place that quickly reboots the human head and makes you so completely appreciative of your physical well being and possibly even your materialistic wanderings, that you find any level of personal ailment insignificant. Please allow me to take you to a world you might want to feel sorry for, but where your pity will be replaced with empowerment. Your empowerment.
Most of us can grasp the term disability. What we possibly can't grasp, for lack of exposure, is the shear range of disabilities there are. It is not a salad, it's a salad bar of choices and both the children and parents of children who are afflicted and affected by this range of impairments are not just a few. In the barbaric old days we institutionalized, using a sweep-under-the-rug house cleaning technique. Thankfully, we eventually recognized ourselves as being human. All animals are capable of compassion and we, as a society, knew we could do better. Oddly, we even started redesigning our zoos, both being steps forward for mankind.
Since the enacted Individuals with Disabilities Act in 1975, children and youth - ages 3 to 21, with a wide range of disabilities, are provided a free public school education. But even those lacking disabilities have been known to struggle in the public school system, which, as we know, can vary widely from not only state to state, but county to county. Toss in autism, a speech impairment or other gray areas of emotional trauma and it's the difference between a drive you take on a great day or one in rush hour traffic or inclement weather. One is just fine, the other is slow, stressful and often dangerous.
Okay, enough gloom, let me get back to empowerment. These kids are more often completely aware of who they are than you might think. They know they have a disability, but what they know that you may not, is that they have abilities too and A Place To Be strives to put the point on that pencil. There, their disabilities are downplayed, as APTB focuses on their abilities and normalcies, in a safe environment.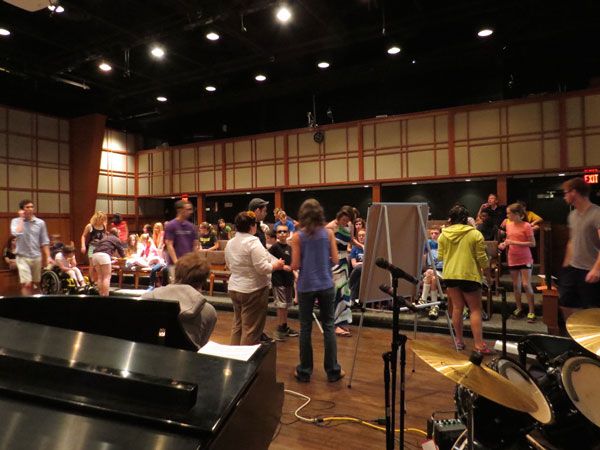 I think humans avoid what they don't understand in almost a contagious fashion. Avoidance is one thing, making fun of it is another. But I could ask; Have you ever found yourself among uninteresting humans considered normal and asked yourself why am I here? Well welcome to the wildlife! No one at A Place To Be can be labeled as uninteresting.
Today I'm a guest of A Place To Be founders, Tom Sweitzer and Kim Tapper, at the non-profit's Summer Music Camp. The camp as a program will serve as a production rehearsal for their upcoming musical, along with time for teaching mentoring, creativity and certainly fun! You may now know Kim Tapper as a contributing writer for this publication. Tom Sweitzer is Kim's creative muse and vice versa. Theatrical performances are possibly what this duo does best. Yet they both are amazing examples of what can grow out of artistry. As Kim's artistry in dance has blossomed into her work as a certified Life Coach, as well as APTB's Head of Expressive Arts, Tom's theatrical background has grown into Music Therapy. Just a taste of that background includes 17 years heading the theater department of The Hill School, in Middleburg, Virginia. Then co-founding The Creative Youth Theater Foundation (also with Kim), and how about we add on writing 35 original youth-based musicals and plays? Tom doesn't sit on his hands much! Proficient in educational theater, he then went on to receive his Masters Certificate in Music Therapy in 2009.
Neither of these personal metamorphoses happened overnight, but the duo's friendship and constant collaboration has always had them closer than arms length. I'm not sure I've met two more mentally connected people, which I think makes for APTB's greatest asset.
While their credentials speak for themselves, I actually think their second most powerful asset is a strong sense of love and compassion. Not just in a hug-you sort of way, but that which says you are special - an unconditional love, the real kind and these children immediately sense it. These two seem to know more about that kind of love than most and it not only makes them a successful duo, it has allowed them to assemble a very able and highly professional team. Everyone knows the mission and that mission is backed by and guided by a very connected board of directors
A Place To Be's mission of helping their clientele face, navigate and overcome challenges, is unique in its multiple pronged, core approach. Tom shares with me, "We want to make sure people know clearly the core of APTB is based on the clinical work of music therapy and we use the expressive arts; of music, movement, visual art and writing, as additional tools for the diverse needs of our clients." Add in community theater productions and recitals and they have amazing creative resources to tailor their team to a wide range of challenges. There's no other facility quite like this.
The camp is full, the demand obvious, the staff attentive. There are mentors too and I am introduced. It's a way of letting everyone know not only who I am, but who I'm not - simply a stranger or an unrecognizable face.
I quickly meet sixteen year old Crystal who introduces herself. At sixteen, her colorfully flowered blue dress, sun hat and chic sunglasses, would have you thinking you are meeting a child starlet. As Crystal paints you with endless dialog from a full spectrum palette vast in vocabulary, she dramatically dangles you with words like "darling" and "awesome-licious". This offered up with her special handshake, with each move followed by "boom, boom, boom," ending with all fingers splayed out and her theatrical voice undulating with "sizzle-n" ... "yeah, OMG, woo-hoo!" Though I actually found her delightfully infectious and infused with endless enthusiasm, her Asperger Syndrome apparently keeps her vocal production in perpetual motion. There is no real off button.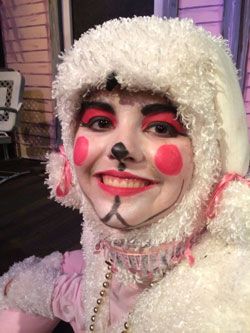 Thinking she was 100% verbal,(wrong), she then shares her portfolio of sketches. A many paged stack of drawings, at a skill level younger than her years, it's filled with imagination, completely narrative including her own languages, all from her story-book personality. I can't help thinking a creative think tank should be tapping her supercharged mind. Hyperactive yes, but it's alive and firing on all cylinders.
I'm then introduced to Amy. Though struggling to make words, Amy knows exactly what she wants to tell me. What I hear is a nineteen-year-old young lady share that she wants everyone to understand she is normal on the inside. What I see are the effects of cerebral palsy. With hands clinched, her torso contorted and eyes looking through the top of her head, she explains how she is both a client and a mentor. In her role as a mentor, Amy says that her favorite thing about APTB is how "Everyone is accepted and that everyone is able to be who they are in a structured environment." Then on the client side, she goes on to say, "I love writing songs and I love to dance and do all kinds of things like that." Take note: Amy's crippled body may be trapped in a wheelchair, which at least gives her mobility, but her mind most certainly is not. A passionate spokesperson, she continues with, "I've been involved with APTB since it opened and one of the biggest things is watching APTB become what it is today." Though she struggles with her words, her conversation is engaging and in the moment and I simply can't think of anyplace I rather be at this moment.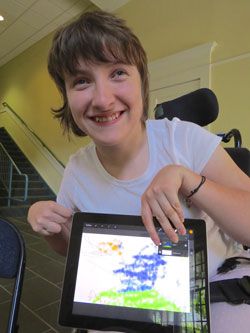 Recently Amy shared that she has been doing physical therapy up and out of her chair with the CEREBRAL PALSY ABILITY CENTER. An exhausting workout, it's also very gratifying. For more info visit cpabilitycenter.org
Being normal, whatever that actually is ... let's just say being able to fit in, is a natural desire for everyone, even the most flamboyant among us. Being an outcast for whatever reason, is lonely and demoralizing. Amy and others like her, seek that place to be, one which sees past the abnormality to that which is normal. This doesn't mean that their disabilities are not recognized, they most certainly are. It means the person inside is recognized equally and this is what fosters ability.
Amy shared with me that when she's nervous her legs tremor. I tell her that makes sense to me as we are all wired with a fight or flight impulse. She can't fight, nor can she run, but her legs attempt to do so anyway. Thankfully they were relaxed as we spoke. As an artist, in my time with Amy I ask if she likes to paint and she shares that it is difficult to hold and control things with her hands. It dawned on me that a drawing app on my iPad may allow her to artistically express herself this way. She paid careful attention and then with only the use of her finger, the budding artist awoke, telling me her favorite color was orange and that she loved the sun. Amy didn't know she was this type of artist. I fortunately knew it was just about having the right tool and must admit I was having the time of my life in the process. Soon after, Kim told me that you are completely present when working with these kids. So true.
At this point the camp breaks up into smaller groups and activities. One activity turns out to be with World Frisbee Champion, Gary Auerbach "The Frisbee Guy." As a guest mentor, Gary fits in so perfectly with kids and APTB because he turns the Frisbee into a learning, exercising and dexterity tool. I saw a lot of smiles.
The primary focus of the camp though is the rehearsal of Best Friend, a heart-warming musical written of course by Tom. An experienced actor himself, there is a depth of experience here hard to match. Working with non-disabled kids and adults is one thing, but as I watch this rehearsal, Tom shares of the kids rehearsing on stage together, "There are three children with autism, one partially blind, one with traumatic brain injury and one diagnosed as emotionally challenged." He also tells me, "There's no place I would rather be." By the time "Best Friend" made its debut on June 27th, I can say for sure that there was no place I'd rather be either.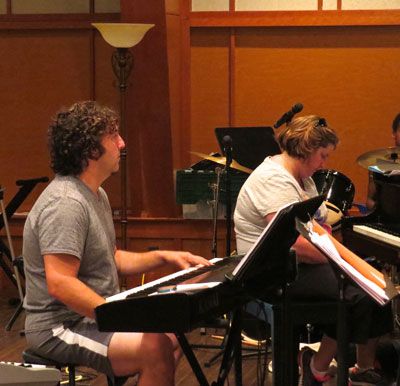 The production had 38 participants, both clients and mentors, including narration by Cameron Friedrich whose been blind since birth and his also blind brother and actor, Brendan. They would have to learn the script using Braille and then memorize it. During time with the brothers, I found that Brendan wants to be a weatherman and when someone asked what the weather was going to be for the weekend, he transformed himself into a full-on weather guy with a report as professional as anyone I've seen on television. My jaw dropped.
Possibly APTB's most recognized client is Forrest Allen, who in the winter of 2011 suffered traumatic brain injury from a snowboarding accident, leaving him in a vegetative state for over a year. Forrest had been a student of Tom's at The Hill School and Tom had continued mentoring him through the years. Six months after the accident, Tom reached out to see if he and his music therapy could be of help. He began the slow and patient year and a half process of working with Forrest who wasn't walking or speaking. What eventually started as just a hum, became his first words in nearly two years - "Good Morning," which they joke finally came at about 5:30 one the evening.
The American Music Therapy Association states that "Music therapy is the clinical and evidence-based use of music interventions to accomplish individualized goals within a therapeutic relationship by a credentialed professional who has completed an approved music therapy program." Music therapy should be thought of as valid and as important as that of occupational therapy, physical therapy, psychotherapy or any other type of therapy.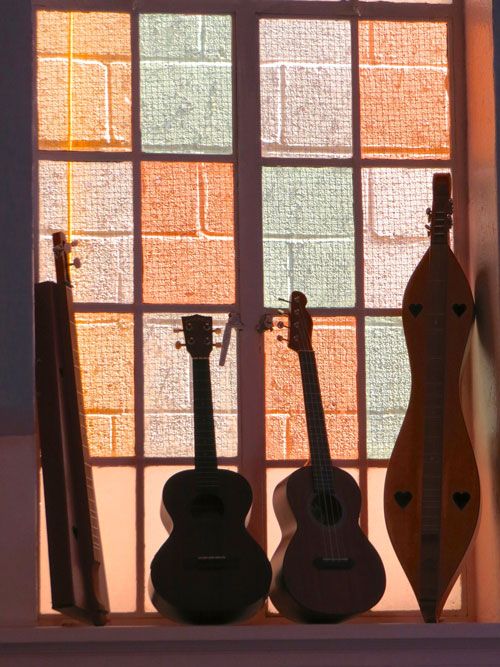 Today, at 21, Forrest is a tall young man, sporting a genuine smile. He walks on his own and speaks, but his voice is soft and lacks inflection. This hasn't silenced the same wit and humor he always had. He's quick with his signature thumbs up and actually the most evident quick reminder of his accident is the helmet he wears to protect his fragile head and brain. It's an ironic reminder too, because not wearing his helmet that fateful day is what allowed a lot of the damage. Today he's a strong advocate for wearing helmets.
The camp is over and it's showtime! The Hill School generously hosts APTB's larger events at this point. As a non-profit itself, the school's beautiful theater and gallery area is a perfect venue for this occasion. With a seating capacity of around 230, you would think they would easily have the demand covered for their three show nights, plus an open dress rehearsal on Thursday.
The dress rehearsal brings in 150 and the rest of the shows are jam packed, sold out at just $10 per person, plus having kids being able to sit on the floor in front of the stage! The demand and support is both a good thing and one that may sadly reflect APTB's true community demand. There are a lot of families touched by those with disabilities.
The show Best Friend is about a boy who needs a friend in the worst way and finds mutual loving affection through a deserted pound dog he adopts. This show has many layers, including its role as music therapy, confidence inspiring, mentor training, community outreach and let's not forget entertainment and enlightenment. Tissues placed throughout the theater was smart, but acted little in stopping the flow of tears - both happy and sad. In case you might think you would be left focusing on actor disabilities, remember who we are dealing with here ... this show was amazing and ability was addictively evident and the cast rewarded everyone with memorable performances.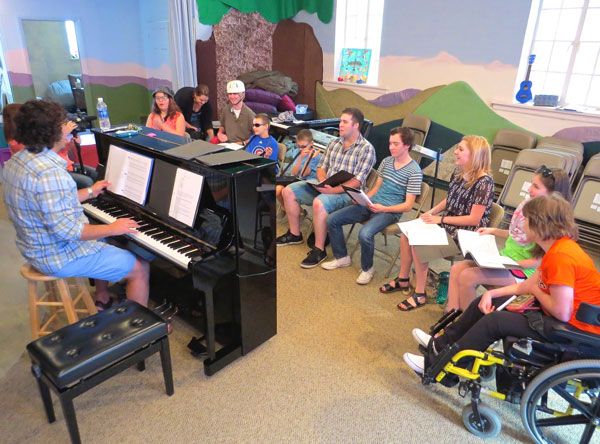 For more information on A Place To Be, or to support their program, please visit http://www.aplacetobeva.org/