Visual Transformation
Art is a personal thing, one where many puzzle pieces come together to create an image to your liking. Within that analogy, imagine if puzzle pieces could be personalized, thus giving different results based on your wishes. In truth, in the world of art they can, and the image or images they become, can transform more than just a wall. They can also transform the room, your home and your life.
That transformation can also be powerful medicine in setting the tone of wellness. Surrounding yourself and your family with images of your liking, has the opposite effect of surrounding yourself with images that are not of your liking. Listen, when we leave our homes we have limited control over what we see, both good or bad. Your home is the one place that can be completely you, and shouldn't it be? You bet it should.
To illustrate my point, I took one wall in our home and transformed it through art. Through the seven photos provided, only the art, or the lack there of, changes. Everything else remains the same. That which stays the same is itself artful too. The cabinet is a custom made piece by Kyle English, made of cherry and spalted maple. There is a handmade wood tray on top by Bruce Cameron, with handmade candles by Rick Faulkner. The rooster was made in Italy by Vientri, and the green glass bowl is antique. The lamp is the only standard manufactured piece and it came from Restoration Hardware. Two other points to mention. This is a kitchen wall, but it certainly wouldn't have to be, and also, I should share that all of the art examples seen here are either created by me or my wife Linda.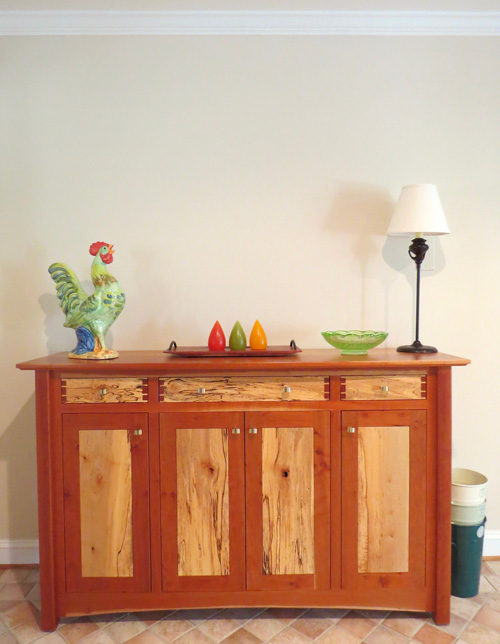 Starting with the first photo, sans art, it truly is amazing to me as an artist, just how many walls I see that look like this. Blank. To make a further point, if some I see are not blank, they have a mirror. I couldn't bring myself to show you that because all you would see of course, is a picture of me taking a picture of a mirror. To be very frank, mirrors in my opinion are functional objects, low even on the decorative scale, especially when compared to art. Mirrors are then perfect to place where you, your family members, or your guests need to look at themselves. I know you're thinking there's possibly one exception, to make a room look larger. Sometimes it works, but more often you are only fooling yourself, and there you are with your reflection saying, surprise!... it's me!
Exploring the mirror topic a bit further, there is a traditional reason why mirrors were placed in places like dining rooms. Before electricity, a mirror placed over a mantel, with a couple of candles or sconces, would make double the light. It's reflection would mean if there were two candles, the candle's reflection would give the light of now four candles. With modern electricity, the need is gone. But for those who choose to still put a mirror in that place, take note at what you actually see. You see nothing, or you, or if the mirror is hung high, like over a mantel, usually all you'll see is the ceiling. Pointless in my opinion, and they say nothing about you, or to you. Okay, I'm climbing off my soap box now.
Truthfully, with a wall like the example seen here, what you want is a focal point. Those that don't feel that art has a real function are missing the point, the focal point. Rooms, though decorative, are very functional places. We sit, we read, we eat, we entertain, we play, and we work. Within your room's interior design, the functional is blended with style. That style may even have a theme, but it without question should represent you, your personal taste, and life-style. Nothing, and I mean nothing, will cut to the chase in representing your personal taste and style as fast as art. I believe the six examples I have here will prove that, even though there are hundred of examples I could have also used.
I can't imagine anyone would truthfully choose the blank wall over at least one of these art choices. Maybe I'm wrong, but if that's the case, there's no sense in reading any further. Second, though I just provided six choices, the possibilities are again, simply endless and some could be way more personal such as nudity, sports, religion, or recreation.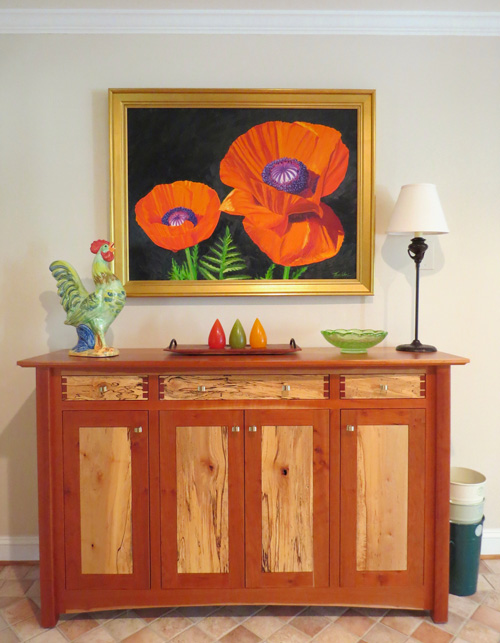 First up, photorealistic, vivid, red, poppies with a simplistic rich gold frame. The appeal here is that red is a passion and power color, POW! A big blast of color representing a love of summer and jazzing things up! You cannot enter this room and not notice this painting. In fact, we had a guest over last night and she was no sooner in the room when she enthusiastically mentioned it!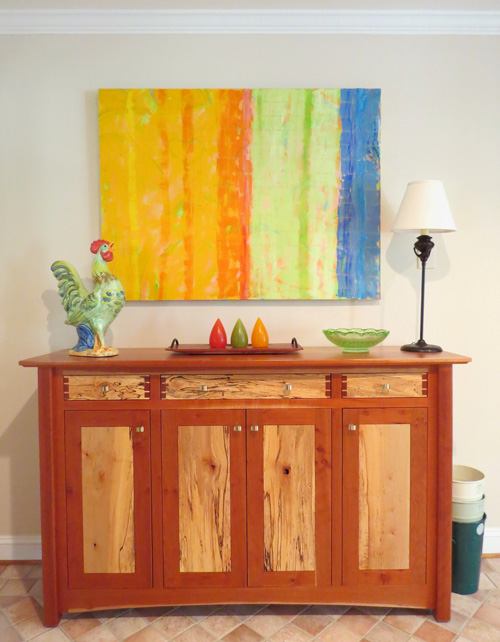 Now the painting that was on that same wall before the poppies, is seen in the next photo. Modern, a spectrum of color applied vertically, though the piece itself is horizontal in format. Frameless, it has a completely different look, but you look none the less. Up close it reveals a lot of texture as well. Like many modern paintings it is open for interpretation.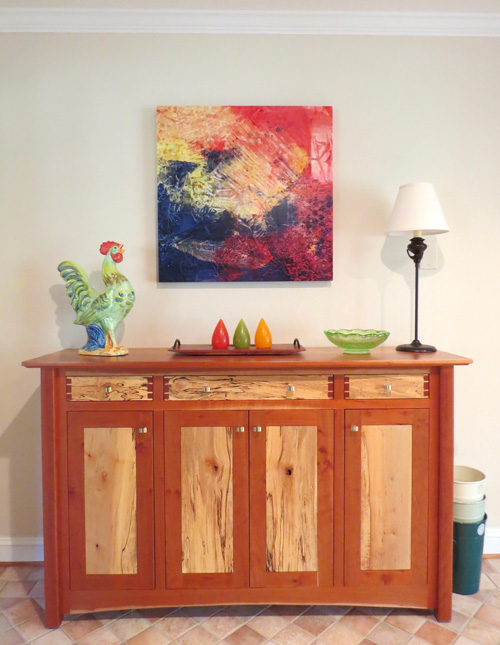 Staying modern in style, a piece by Linda created using silkscreen on silk, then mounted. Frameless, this artwork has strong contrasting color, and though smooth to the touch, presents itself with texture and depth. It's a softer approach.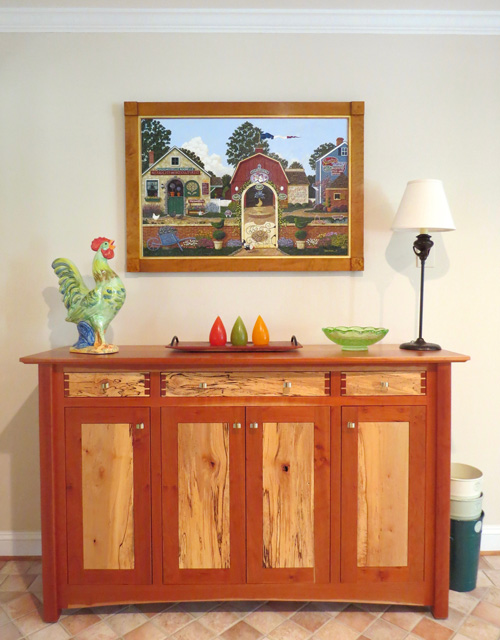 Let's move now to something different, folk art, or what I used to call Whimsical Realism. A highly detailed, narrative painting that truly tells a story. If the other examples were musical in nature, they might be considered to be new jazzy, new age and fusion, whereas this piece is sort of country. I used to paint like this a lot and if you happen to know the 5 Star Inn at Little Washington, I used this style when commissioned to do their 30th Anniversary painting. It's fun and features a handmade birdseye maple frame which goes nicely with the cabinet. It's a very different look, it's like a story being told.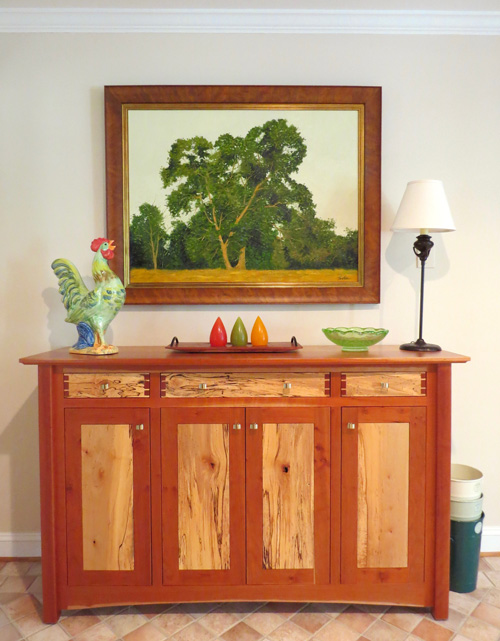 Next, lets move on with the a realism painting. A big tree, in big scale, a burl frame with a rich gold liner, very fitting without being overstated. It simple says, I love living in the country in a big way without over defining it, or often trees ancestrally represent family. Again, a completely different look, yet a very fitting one.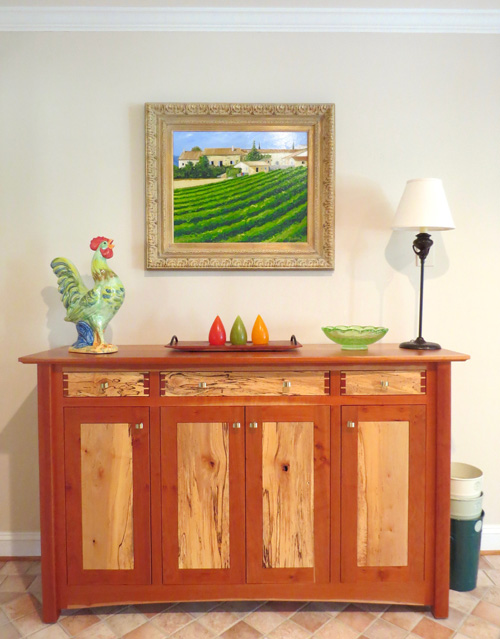 Last we have a painting of Provence, just west of Aix en Provence to be specific. Old stucco buildings - check! Vineyard - check! Blue Provencal sky - check! Ornately framed with a washed gold finish - check! Says, I love France, Europe, travel, or maybe, I enjoy food, a glass of wine and your company!
In my opinion, none of these choices are out of place in this spot, yet there will always be the one that tugs on our own personal like meter more. The point is seeing the flexibility within the function of art and how it can truly make a wall more observational, but also homey. Comfortable, is a word more often associated with something you might sit on, but we've all been in uncomfortable situations and places right? Making your walls comfortable will transform your place into a more pleasurable and stressless environment, which is the key to wellness!