Mid-Century Modern is Artful
Think you have a cool home? Wish you had a cool home? Well, the mid-century modern style is hot in home design! The 50's and 60's are back to the future! It's fun, it's artful, it's plentiful, it's collectible, and best of all, compared to new furniture most of it is even affordable.
When most of us think of antiques, we are left thinking turn-of-the-century and earlier, not mid 20th-century furniture. The first thought, at best, is the stuff our grandparents had, or for many of you even your great-grandparent's old stuff—you know, back before the invention of the television. Ironically, it was the television which brought on a new visual era of home life. Replacing radio, early TV shows like I Love Lucy, Ozzie & Harriet, Father Knows Best, The Dick Van Dyke Show, and Leave It To Beaver all became snapshots of family life in the 50s. Riding this wave of popularity, those shows were then backed up in the early 60s with hit shows like Bewitched and I Dream of Jeanie. The fact that many of these programs have never gone off the air since their inception keeps their wonderful stories—and the visual appeal of life sixty years ago—alive for the now-grown infants and kids of that time, like me. Adding to this, since the programs are being watched again and again, they are being enjoyed again and again by the kids of those kids, mentally embedding that sense of 50s and 60s style and design.
Then came the AMC hit show in 2007, which ran seven seasons until mid-2017. Depicted in the 60s, the show's storyline took it into the early 70s and as such, likely helped recapture some of the cool (or is that kool?) of the time. But it was apparently author Cara Greenberg, who wrote Mid-Century Modern: Furniture of the 1950s, who is given credit for coining the phrase and it has stuck.
Mid-century modern pulls some of its inspiration from Scandinavia. Clean lines and simplistically functional, most of the furniture uses wood veneers of walnuts and teak, but most of the veneers are over real wood such as pine, not junk-like particle board that you find today. The use of veneers allows for stylish book matching, where the natural woodgrain can be repeated across several drawers, doors or a top. This was a time or movement of true artistic furniture design, with notable artists/designers creating pieces or even whole lines for furniture companies such as Drexel, Broyhill, Bassett, Lang, Rway, Young and Heywood Wakefield. There was also no shortage of accessory pieces and art available, too!
Like anything, quality ranges. And as you'll be looking at things 60 years old or better, condition certainly varies. There are refinishers everywhere who have passionately made mid-century modern their schtick! Some do straight refinishing, some have chosen to put a new spin on the theme by painting pieces—as in maybe the body but not the drawers—thus giving this cool two-tone effect. Many of these pieces are snapped up and marked up by pricey designers, especially near metropolitan areas.
I must admit, my brother has been into everything from the 50s and 60s for some time, which includes his '65 Thunderbird convertible. While my wife Linda and I have had a growing interest in modern style in general, the mid-century modern sizzle more recently snuck up on us. One day while visiting a client to hang artwork for her, I entered a room with a few pieces of furniture being more or less stored and there were two nice all-wood end tables made by the company LANG. She mentioned that they were things her parents had given her that she was now going to give her daughter. While she mentioned her daughter seeming reluctant, I loved them and upon returning home shared what I had found with Linda. An online search netted not only information about the 48 pieces of the Lang Furniture "Acclaim" product line of the 60s, but it quickly tapped us into the mid-century modern movement.
We've lived in our home for 23 years. We have made many changes to it over the years, but clearly Linda and I had both brought the distant past of our grandparents' and parents' belongings, along with our own childhood forward. Even in adding new things over the years we hadn't truly made a clean sweep in style. As such, our style—like many others our age—had become of mishmash of things. But the most recent was leaning toward modern, not traditional, and this taste of mid-century modern was refreshing, like seeing history repeat itself. The designs were clean and functional, and especially light in feel. On one hand you are seeing something that is admittedly 60 years old, but also amazingly relevant and without question ahead of its own time. So, a new audience is born, even if some of us are now its same age!
When Linda gets drawn into something it manifests itself as deep hours of online searching in silence, eyes focused in discovery. When she would come up for air with a "look at this" motion, instant enthusiasm collected us both up. We could tell the feeling of being hooked on something fun was happening. We found a world of those who have made homegrown businesses out of acquiring, refinishing, and selling mid-century modern furniture; even dealers of accessories were prevalent. For us, though, the appeal was not in making our home look like a 1950s TV show, but rather exploring and/or exploiting the classical modern qualities of this furniture for a hybrid of modernist style. This classical modern furniture of our youth, blended with some new pieces and our own modern art, was personal perfection.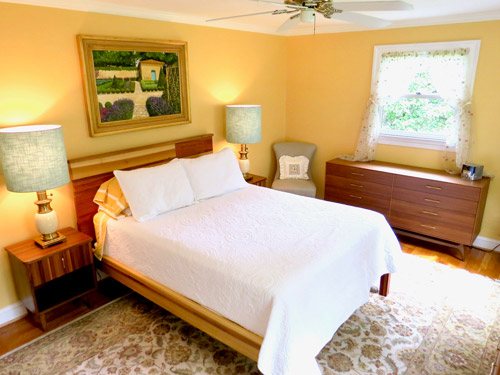 The first and most major change was our bedroom, which was honestly the most troubling collection of hand-me-downs and oddly placed pieces. Literally nothing matched. There were five pieces of furniture in that room, the most recent of which was a 23-year-old reproduction poster bed. The first conversion was me repurposing the bed by removing the posts, then having a woodworking friend strip it, lower it, and make a new headboard for it which I designed. Then the first two beautiful mid-century modern pieces arrived: matching dressers. With our old dressers being sold on Craigslist, we were on a roll. Soon after we finally found two mid-century modern nightstands, which as pairs can be a bit hard to find. We then added a piece or two of Linda's modern art and VaVoom! We were back to the future!
From there came a couple of new credenzas. One of which would replace our massive Drexel, sort of Tuscan traditional TV-in-armoire setup. With TVs now called flat screens, the average size of which is 55", armoires are so out of style you can't even donate them. So I carefully worded our Craigslist ad to reflect how economical repurposing it as a pantry would be, and it happily (for both parties) found a new home and brought in a few hundred bucks in the process. This also opened its space up for one of the two new credenzas to become a very cool TV stand.
That credenza, by Milo Baughman, which was in need of some TLC, was purchased for $260. Some wood putty helped the nicks and such, before adding black accents inspired by the same piece found online in San Fransisco and offered at a whopping $3,800! I went further by removing a replacing the original low, ugly, box-leg setup with a set of vintage peg legs found on eBay for $38. So for about $315 we have something that is quite functional and really feels great with the room and just happens to be over ten times less expensive than one much like it offered online.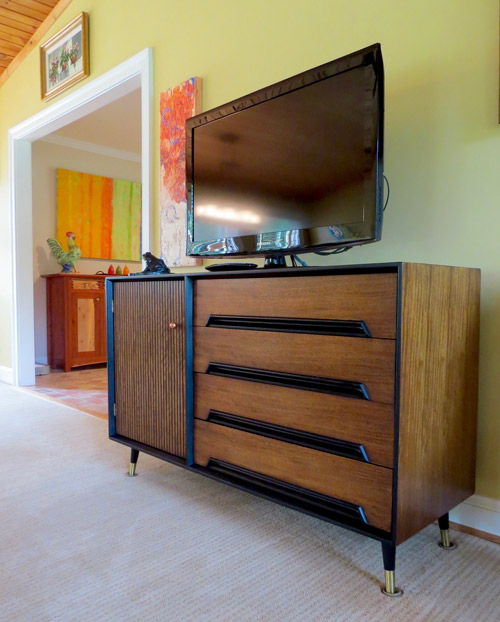 Next to go was a stepback hutch, also by Drexel. It was a great piece of furniture, but now unfitting in style. In perfect shape, it brought in a good amount which has kept all of our changes with no out-of-pocket expense. In other words, belongings sold have netted a new look and money to spare because we are not really buying a bunch of new furniture, but rather vintage things in style.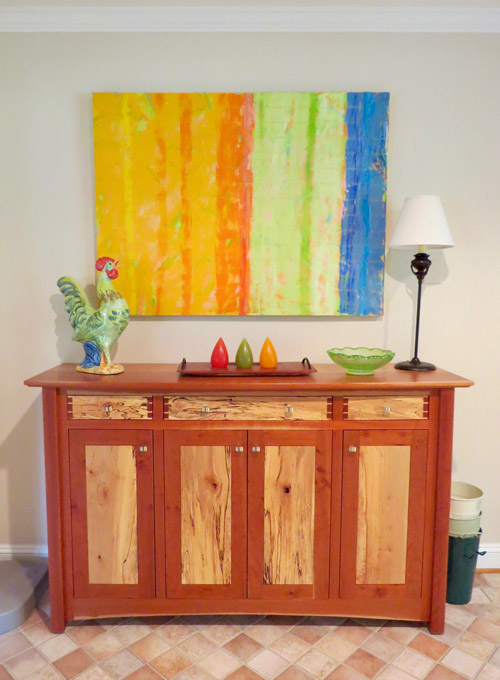 With the hutch gone a good-sized wall opened up, allowing us to place another piece we had custom-made there and place a piece of my abstract art above it. Replacing it in its spot in the family room was the other credenza we had purchased. This is a wonderful long and low piece with three center drawers and tambour sliding doors at each end made by Young. A colorful triptych of Linda's looks great placed above it. The point, again, is not to go back in time but to create a refreshing new look merging modern design spanning the decades. It's been a transformative and artful change. It feels exciting and in some ways it's like having your youth be reinvigorated as your home is rejuvenated!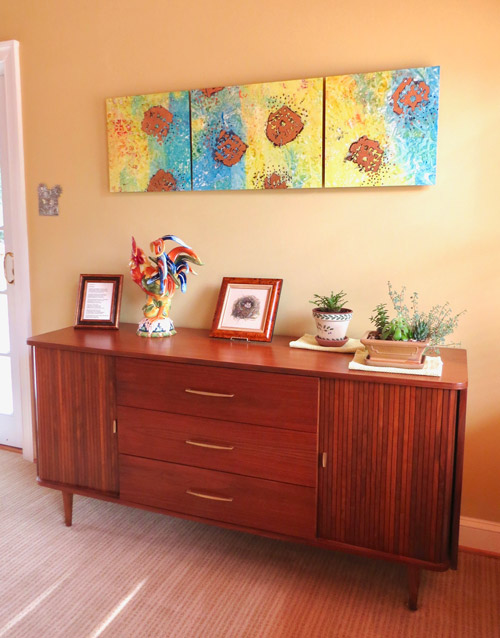 If you want to explore, start with Craigslist and antique shops, especially those who specialize in mid-century modern.
Want to know more about mid-century modern?
A great reference article - Why Everyone Is Obsessed With Mid-Century Modern Design
For a list of Mid-Century Modern designers - New Mid-Century Modern Furniture Designers
More on designers - Mid-Century Modern Furniture
Alvar Aalto. (Finland, 1898-1976)
Charles and Ray Eames. (USA, 1907-1978; 1912-1988)
Paul Evans. (USA, 1931-1987)
Poul Kjærholm. (Denmark, 1929-1980)
Florence Knoll. (USA, b. 1917)
George Nakashima. (USA, 1905-1990)
Gio Ponti. (Italy, 1891-1979)
Hans Wegner. (Denmark, 1914-2007)