What's a Baker's Dozen
| Linda Hendrickson
An extra dose of grace and goodness, not just 12 -- but 13!
How does one get started on a series, blank journal or canvas? Being the visual person I am, one way I start is by creating boards in Pinterest to gather my ideas and inspiration.
1. What images am I drawn too? Tiny Houses, Yummy Food, Mostly Green, Buttons Round and Round, A is for Animals--all these are my Pinterest boards..and there are more!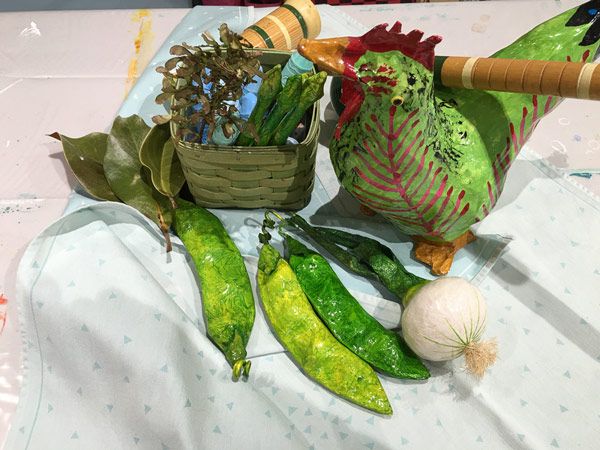 2. Think about your day: What is step 1, step 2...create a sketch of your breakfast, something from your walk, your toiletries, your pet and their food bowl, your desk or workspace.
3. Visit a garden center in the spring. What fresh new plants and flowers catch your eye? Create your dream garden in your journal. How about drawing the bees who keep the pollen moving?
4. Visit the zoo and see the river otters, the red eared sliders, the monkeys, pandas and more! Take a camera...but try to catch the animals in your sketch book (I know, the animals move so fast, my sketches are awful too!--but the inspiration and place stays with you.)
5. Hike a trail near you and carry a camera and your sketch book for break times. Are the Virginia Bluebells, Beargrass, Fireweed or Lily of the Valley in bloom? Maybe there are even Forget-Me-Nots and pink Tulips like Monet grew outside the pink house!
7. Go to a favorite bakery and draw using all five senses or write a detailed description using all the adjectives you can! Of course taste is one of the senses!
8. What has given you joy in the past? How about a symbol series such as hearts. Perhaps chickens with stories all their own! See #achickenstory in Instagram. Amanda Evanston makes up the most amazing stories for her chickens. I admire her talent and giggled through them all!
9. Maybe baby goats could be my "thing", er next subject... they are so funny in the way they bounce about. I once witnessed goats as they saw themselves in a window...what show offs! Actually this reminds me when Pepper was a kitten and saw herself in a mirror. She spent the day going in close to investigate and then every hair on her body stood out straight and she bounced away on stiff legs with her tail strait up. Then she would settle down and stalk in close again to repeat the sequence. I laughed at her all day long! Now that would be a series!
10. Ok animals aren't your thing? What about taking a sketch book journey of your neighborhood or a good old fashioned town center. Give yourself 15 minutes in front of each structure of interest and sketch an impression of it. Make this into a collage of my spaces or individual "map" of your neighborhood.
11. Go to your local ACE hardware store or a farm supply store when the peeps arrive! Take your camera and your journal! Catch a picture of your little one with either the flowers or the peeps!
12. The baseball season has started, go to a game and sketch the people around you. Easier still, go to the local baseball diamond or soccer field and do quick sketches of all the action.
13. The Grace portion, the bakers dozen: Draw what you are most thankful for. Is it the bouquet you bought a week ago that is still in bloom? Is it the best friend who stopped by for a cup of tea?
Share your inspiration, what gets your drawing, writing, or painting juices flowing? This email address is being protected from spambots. You need JavaScript enabled to view it.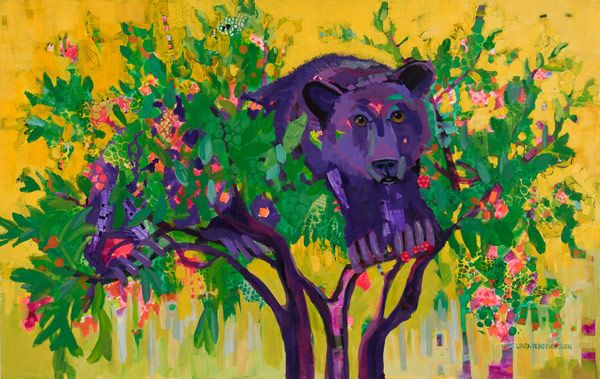 Newest Mixed Media painting by Linda Hendrickson, "Cherry Picker"
Linda Hendrickson is a mixed media artist in Gainesville VA. To read more about her please click here and visit her website