Motherhood: The Catalyst to Creativity
| Aimee O'Grady
As unlikely as it may seem, many new mothers, attuned to their creative interests, are using their children as muses to view creativity with a new perspective and embrace the opportunity to introduce their children to their creative side. Meanwhile, many other new mothers stumble to find a new relationship with their creativity.
Marianne Clyde, Warrenton, VA-based counselor, encourages mothers to "become aware and create based on how one is feeling". In this way, mothers can expose their children to their creative way of thinking and encourage them to be more mindful. Children will then look at the world around them from a creative perspective and parents in turn may have the opportunity to see the world in a new way, enhancing their own creativity.
Clyde suggests that mothers take their children into nature and play games such as a scavenger hunt, "have children look for pine cones, count mushrooms, or listen to birdsongs." This will enhance their skill of being in tuned with nuances, something not provided in a classroom environment.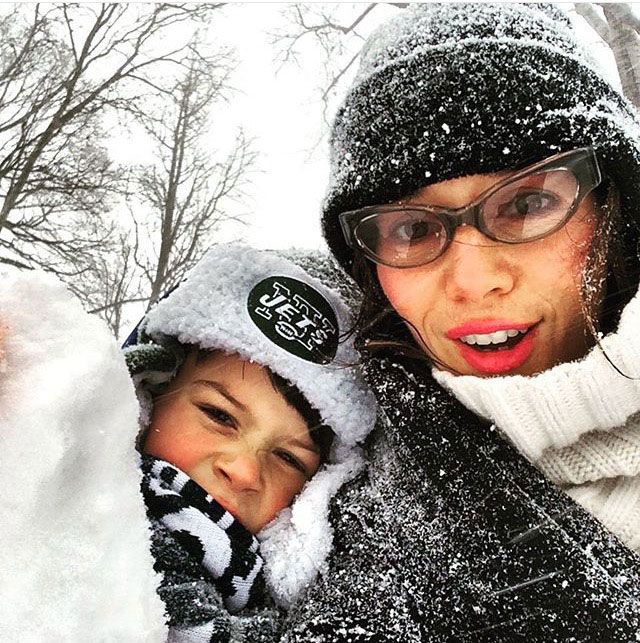 Clyde's own sister-in-law, Maggie Harrer, a director, introduced her daughter, Katie now 26, to concepts from music and exposed her to the opera at a very young age. By sharing her own passion with her daughter, Harrer broadened her daughter's appreciation for music. Clyde suggests making creative interests an event for young ones, "Invite your children to paint lakeside with you and demonstrate your own love for your medium. Don't banish them from your interests," she cautions. By making creative exploration a shared event, mothers will encourage creative passion that can be applied to any creative outlet, even if it is not a shared one.
New York City based artist, Leah Tinari, has always used her life as inspiration for her contemporary paintings. When her son, Mars, was born in 2009, he became inspiration for a new project. "My work is like a visual diary of my life. Before Mars my paintings depicted a narrative of the 30-something lifestyle in NYC, lots of parties, messy hair and flushed cheeks and probably one too many beer bottles or martini glasses. Once Mars arrived my focus shifted to the hilarity of motherhood. It was like I had a new director in my life and I was paying attention to all the new things that come along with having a kiddo."
Tinari recently published a children's book titled, The Magical Fantastical Fridge with New York Times best-selling author Harlan Coben, with Mars taking center stage. Coben saw a painting of Tinari's depicting her family refrigerator and knew there was a story there to be told.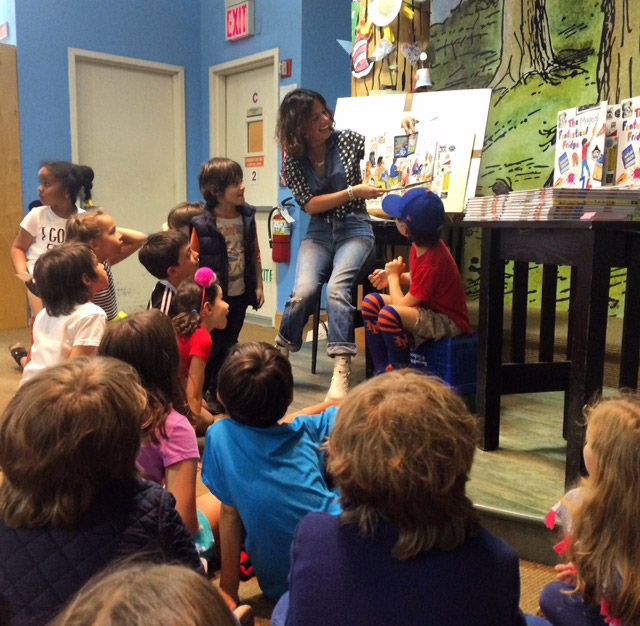 Today, Tinari collaborates with Mars who often requests her to paint images from his own imagination. These painting have now become their own collection in her portfolio called 'Mars' Planet'. Tinari has even had entire shows based on her parenting adventures.
For some mothers transitioning from indulging their creative side to sidelining it, if only briefly, can be difficult. Shelby Low, mom of two and a preschool director, struggled with postpartum depression for a year before learning she was pregnant again. With her children now 6 and 4, she has "found a different way to channel [her] creativity...and loves for [her] kids to help." By sharing a creative passion with children, mothers can forge a bond with them and can relate to them on a new level.
Meanwhile, Katie Bryant, mother of three and piano teacher, feels her creativity flourished after motherhood, "I have always liked sewing, but having kids opened up whole new areas: cloth diapers, dolls, stuffed toys, costumes, things I might not have tried otherwise."
Many mothers who return to careers that do not tap into their creativity simply find it challenging to find the time to engage their creative side. Jen Walker, PhD and mother of three has a full time job at a local University and manages the activities of her three children, "It's less about ideas and more about time. I would love to build, create, sew, and develop but the pressure of getting it all done makes me resort to convenience instead of flexing my creative brain. I still think creatively; I just don't have time to engage creatively."
According to Tinari, "Everyone would like some balance in their lives and it is definitely a struggle to be a mom and also balance a career. However, I think it is important not to put your creativity or art on the back burner. [Mars] became a part of it which was pretty cool. Also painting is like therapy for me, it keeps me happy and sane. I think Mars respects me for working in the studio and he always wants to go there and see my new paintings. I like sharing it with him."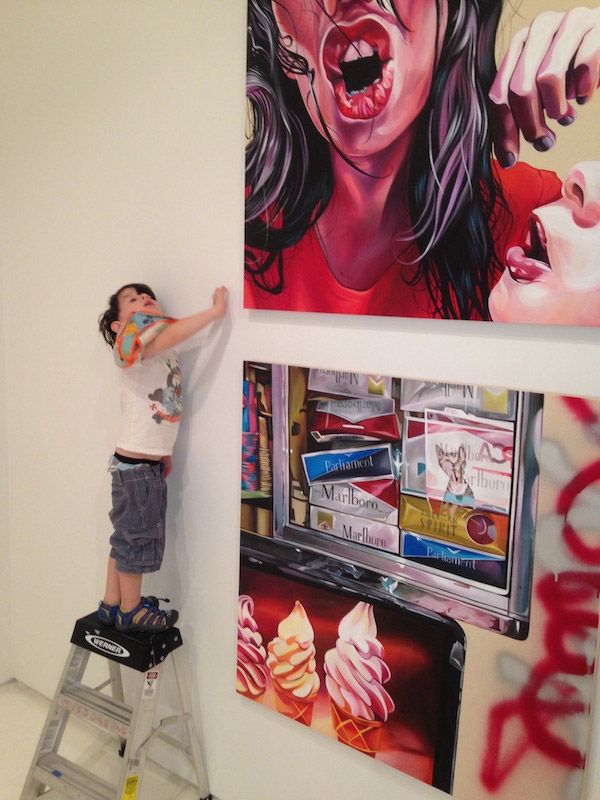 The reality is that everyone is different and exercises their creativity to varying degrees. Whether you are reintroduced to a creative outlet you once enjoyed prior to motherhood or embark on new adventures using your little one as your muse, if you crave creativity, it is important to keep trying new things until you find something that fills your need. Amanda Jens "sought out creative outlets because I needed it so badly. I set out to try new things: baking, writing children's stories, and doing messy projects with my little ones."
And things may continue to change as time passes, according to Jens, her creativity "just shifted and is shifting again now that I returned to teaching and working."
For Tinari, "staying light-hearted and dedicated, making sure as an artist to give yourself time to make your art whether a parent or not it is super important. It keeps me happy and healthy and I have so much fun. Also being able to make a children's book that has my kid and my family in it was pretty rad and if I wasn't a mom, the book would have never come to be. I thank Mars for that and realize that it was a fun collaboration with my child that not everyone gets to do, so that feels special for me and for him. He is very proud of the book, like it was his project too!"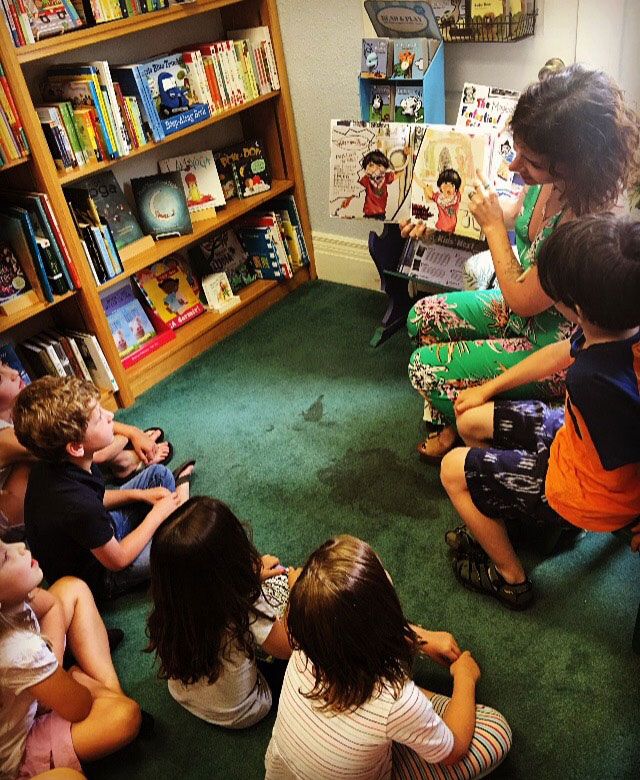 It is important for every mother to embrace all the changes that come with motherhood, from those associated with the baby, to the shifts in creativity and changes in career. Motherhood truly does change everything, but in many cases, those changes are for the best.
Writer's Note: As a mother of three with a fourth on the way, my creative outlet, in this case writing, has helped me latch on to my sanity and hold on tight. In the midst of toilet training, tantrums, school projects, and activities, it is very easy to lose oneself in motherhood. Being a mother has redirected my creativity and focused it in a way it wasn't before. As a writer, today, I lose myself in the element of creating content. Whether it is a personal blog, a lifestyle article, or simply editing an aeronautical piece for a client, the act of setting time aside that is mine, to create, makes me a better mother, better able to focus on my children and their (many) needs at hand.