PeaceLove Studios Shines A Light on Mental Health
| Aimee O'Grady
PeaceLove Studios: An alternative to therapy and prescriptions. Using expressive arts to provide healing qualities for people who are open to exploring their creative side. A place for people free of judgement to work through their problems.
In 2009, cousins Matt Kaplan and Jeffrey Sparr partnered to open PeaceLove Studios an expressive arts studio open to all members of the community. The first studio was opened in Rhode Island, with a second location in Las Vegas which opened earlier this year.
Jeff Sparr
The story begins with Sparr, a textile salesman, who noticed that his anxiety related to Obsessive Compulsive Disorder lessened when he painted. In a desperate attempt to find anything that would alleviate his pain, he followed the advice from a friend and picked up some art supplies. Over the years he honed his new found skill so much so that an art show hosted by his cousin, Kaplan, yielded a $16,000 profit in just one night. Sparr wanted others to experience what he had and set out to create an environment that would encourage people to use their creative senses through expressive arts to optimize mental health. The men took the funds from the show, bought art supplies and headed to the Children's Intensive Treatment Unit at Butler Hospital in Rhode Island. Over the next several months, Sparr shared his experience with hundreds of children and adults. He began to make a difference.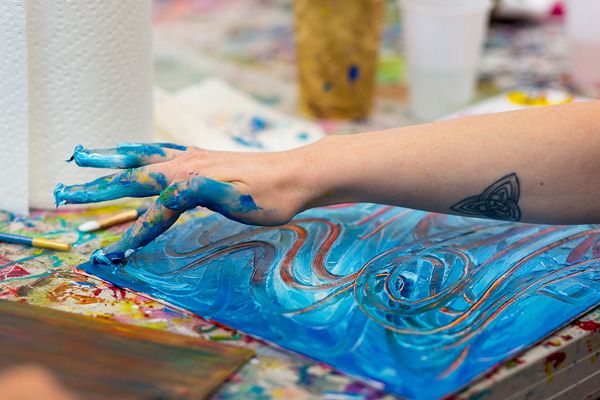 peaceLove painting workshop
Since 2009, Kaplan and Sparr have noticed that the PeaceLove Studio members have achieved more positive outcomes in an environment where treatment is not prescribed but rather they are free to express themselves however they so choose, with no attention paid to the quality of the finished product. "It is the process of creating that is important, not what is created in the end," says Kaplan.
Corporations have taken heed of their approach and turned their focus to mental wellness and are now partnering with PeaceLove Studios to organize corporate retreats and invest more in their employees' total health and wellness beyond just the physical. CVS Health is one such partner and Michaels is the exclusive art supplier for the studio. Thanks to support from corporate partners and the sale of the merchandise, PeaceLove Studios is able to impact people's lives. To date the studio has reached over 20,000 individuals through programs, community events, and studio and event scholarships.
One year ago, the duo added a program called Creators to the studio. The program trains and equips frontline people, such as social workers who work with populations in the greatest need of peace of mind. After being trained, Creators are able to deliver a 6-week series that consists of visual arts, storytelling, sound and movement with the purpose of helping individuals develop skills to achieve mental wellness. Creators can now be found in nine states throughout the U.S. The goal of the Creators program is to continuously engage people in mental health and expressive arts in order to help people lead healthier lives.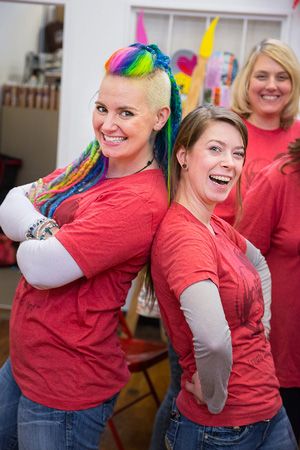 During one corporate retreat hosted by partner Alex and Ani, an attendee uncovered some challenging emotions. The Creator could see the spark as the woman spoke honestly and openly about her situation. She has since moved on and sought further help and has improved her mental wellness.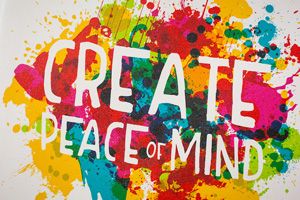 From a children's workshop in Connecticut, a Creator shared on the PeaceLove Blog that "...some of the participants were hesitant at first, their creativity seemed to come alive with passion. They had many questions about what was allowed and acceptable and what the rules were. I had to constantly remind them that they had the freedom to choose whatever expressed how they feel. PeaceLove allowed them to be the funny and engaging children that they are. At the same time, it allowed for them to explore their emotions and was an outlet for expression if they were comfortable doing so."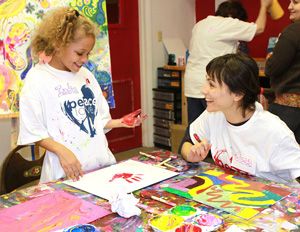 "We have created a safe space for people to talk," Kaplan says. PeaceLove Studios has provided the space, the materials and the encouragement for people to address their mental health issues and start out on the path to wellness. PeaceLove Studios encourages everyone to pick up a brush or pen and explore the expressive arts.
To learn more about PeaceLove Studios or about becoming a Creator visit their website at http://peacelovestudios.com/.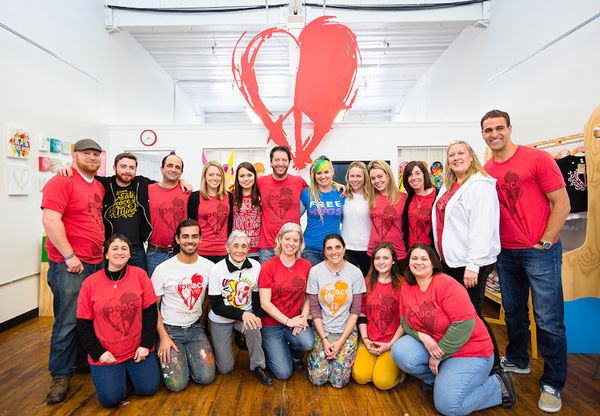 It's all smiles at peaceLove studios creators training!
Photos coutesy of PeaceLove Studios