Inspiration Creation
| Amy Hutto
Inspiration is one of those elusive, fleeting sparks that we as artists attempt to capture. Like a butterfly that lights upon our finger; it is often a flutter, a flit and then we watch as our inspiration floats away, wishing it had stayed a little longer.
Often I find myself having what seems like a great idea, but because I don't do something with it, like the butterfly, it's gone before I had the chance to appreciate it. I had one of those moments while I was working one day during my artist in residency. (I wrote all about artist in residencies in the article "Is It Time to Shake Things Up?" which, if you missed it, I recommend you check out.)


This time instead of dismissing my idea, I impulsively acted on it, and in doing so I stumbled upon a method of working that I truly enjoyed…and have continued since returning to my home studio. I think my flash of inspiration that day actually was long in the works in my subconscious, but it just hadn't come together in that A-HA! moment. In looking back, I think my sudden idea, wasn't so sudden at all. I think it was born out of a lot of little a-ha's that I hadn't taken the time to cultivate.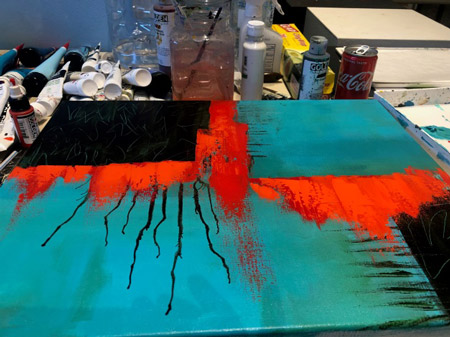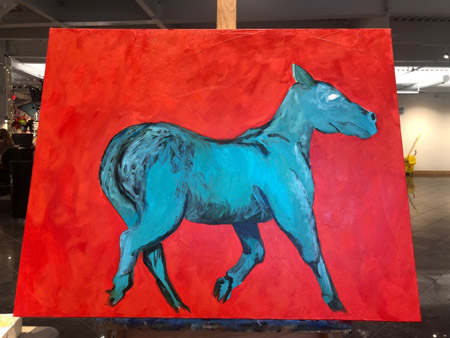 My idea wasn't groundbreaking by any stretch, but it was groundbreaking for me…that's the amazing thing about inspiration. Thousands of artists from all over the world might have the same idea, but it's what we do with it as individuals, which makes the idea unique. My personal groundbreaking idea had to do with my desire to paint a horse, which I had prepped and brought along to work on for the artist in residence, but not really knowing what direction I wanted to take it. I just couldn't decide on what the background should look like, or what colors to use. I set the horse up on my easel and sat staring at it. I was stuck. I decided to distract my mind and work on an abstract instead. I blocked in a few colors, and I really liked the way they looked together, so I leaned over and spontaneously did the same thing on my horse canvas… and then came the A-Ha! I kept repeating that process, first painting on the abstract and then the horse. I allowed the abstract painting to guide the horse painting, and in doing so it was as if they were fueling each other.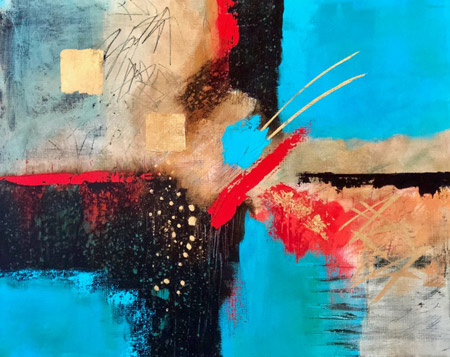 When I created an interesting texture on my abstract canvas, I added it to the horse. When I was done, I had two pieces I was really proud of…and because I had worked on them concurrently, they coordinated really nicely and looked great together. That spark of inspiration I had, led me to another; to develop a series of abstract paintings that inspired a corresponding wildlife animal painting. Thus, the idea of "Inspiration/Wild Creation" was born.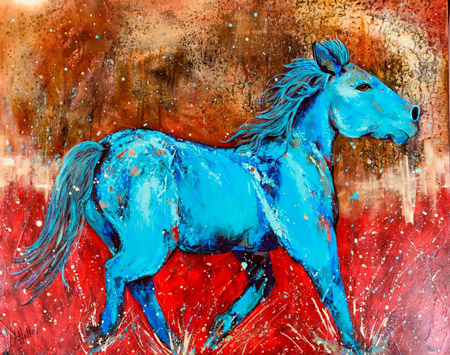 The process of developing a series forced me to continue working towards a goal. Also because it was a series, it forced me to think cohesively; something I have struggled with in developing my work in abstracts. Working in a series is not a new idea to me. I admire the work of Jane Davies, and she has espoused working in a series for years. I've always had in the back of my mind that it was something I should do, but it wasn't until that moment that I thought of how and why working in a series would benefit me. The idea of working loosely and spontaneously has been an echo in my memory from a college drawing class I took over thirty years ago. I'm sure that professor would be happy to know, it's finally sinking in! Why did those ideas finally come together at that moment to inspire me? No clue. (That's a bit above my pay grade) I do know, that what made the difference this time, was that I acted instead of dismissing.
I was fully energized when I returned home and ended up with seven abstract inspirations and seven wild creations. It doesn't matter if they all go to the same gallery, or get broken up into separate categories; it was the process that was so important to me. If you choose to do something like this, one thing you might consider is submitting a proposal of your plans to some venues that might be willing to host an exhibit of your work; such as your local library, community center, bank, hospital… or do it anyway and submit actual images of your work. Coordinating with other creatives in your circle might help round out your presentation; for example, musicians, or other visual artists who would be willing to do their own version of the theme. Some of the best shows I've been to were centered around one idea with individual interpretations and different perspectives. Recently I went to one show in which the participating artists each shared one photo with the group. Each group member depicted the image in the photo in their own style; focused in on what caught their eye, used varying color palettes and different media. It was a really neat experience.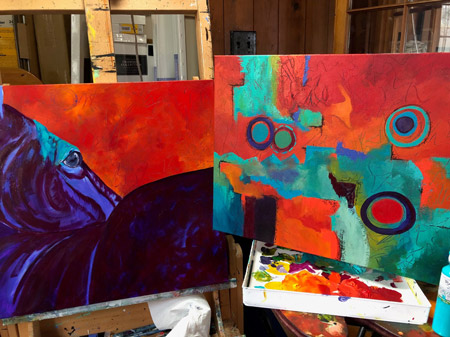 I am happy with the results of my spontaneous action. I am feeling more confident in my abstracts and as a result of the pieces I completed, I've been asked to become a part of a program in a gallery that I am super excited to be associated with. The particular abstracts I painted don't have a home yet, but because of them, I'm off on a new artistic adventure with a gallery in Santa Fe. You never know where a seemingly insignificant idea may lead until you choose to act on it. Be bold, be spontaneous, be willing to act. Until next time-
More articles by Amy Hutto:
Is it Time to Shake Things Up?
Document Your Process - You'll be Glad You Did
Latest Blog Posts
Article Categories