Is It Time to Shake Things Up?
| Amy Hutto
Every now and again it's good to shake things up; in life and in your art practice. Recently I did just that when I traveled to Solomons, Maryland to participate in an Artists in Action program with the Annmarie Sculpture Garden and Arts Center.
There are many advantages to breaking out of your routine and exploring your art through a different lens; via new surroundings, interactions with other artists and encounters with a curious community of art collectors and appreciators, to name just a few.
There are hundreds of artist in residence programs out there, or perhaps I should say creatives in residence, both here at home and abroad. I say the latter because they are not only for visual artists, but many also cater to musicians and composers, writers and other creatives. Some are short term lasting only 1-2 weeks, and others from a month or two and even longer, up to six months to a year, plus. Each program has its own unique requirements and opportunities, with some asking the artist to interact with the public, lead a demonstration or donate a work created on site. Others offer seclusion and the chance for the artist to simply focus on developing their art. There really is an artist in residence program for every type of experience you can imagine, from relaxing to adventurous. I recently discovered one that takes place on a boat at sea, although I'm not sure I have the sea legs for an extended time on the water let alone trying to paint riding the waves rather than rendering them on canvas.
For more information on artist in residencies, check out the following sites, and of course, do your homework and research fully any you may be considering. National Park Service-Arts in the Parks; Call4Entry; Res artis-Worldwide Network of Artist Residencies.
Should you decide to apply for one, be sure your resume is up to date and spiffy, your artist statement is on point, and your portfolio is filled with current work that meets the specifications for viewing of the call. For example, don't send super hi-res files if they ask for 72 dpi. Mistakes like that can get your application booted out as they review them before they ever even look at the rest of your information. Competition can be tough, but that doesn't mean you won't get it. YOU may have just what they're looking for, you just never know until you apply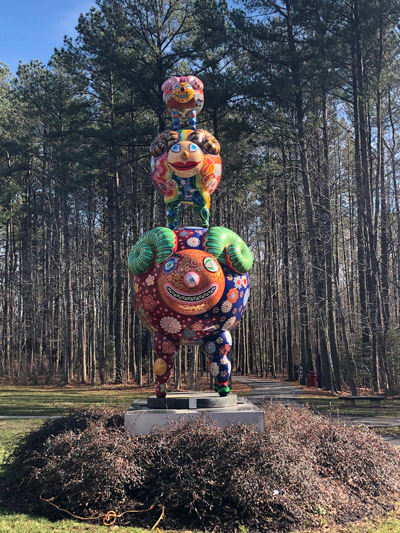 I've actually wanted to do something like this for a long time, but never followed through and applied, until this past December. After having participated in a national show the Annmarie Sculpture Garden and Art Center held a couple of years ago, I have been on their email list of upcoming shows and events. The Annmarie is a Smithsonian Affiliate Member and as such, they have many sculptures on long term loan from the Hirshhorn Museum and Sculpture Garden, in Washington, DC, as well as a lovely permanent collection and pieces on loan from other venues, too.
I received an email all-call for the "Artists in Action" program hosted each year in January and February and decided to take the leap and submit an application. This program offers on-site housing (on a first come first serve basis) beautiful facilities to work in with floor to expansive ceiling window views of the grounds and a rotating roster of artists working in all mediums to interact with.
It was a great experience from start to finish. I was lucky enough to be granted the artist residence to stay in for the ten days I was there; if not for that, I'm not sure I would have been able to do it. The artist residence was fully equipped with a kitchen, bath, and bedroom as well as laundry. Having someplace to stay like that made this very doable for me as I not only brought some tasty frozen leftover meals from home but was able to prepare some simple meals saving me from having to eat out so often. That being said, I definitely enjoyed sampling some of Maryland's famous crab cakes and taking in the local scenery.
If you are interested in an artist in residence but need help with funding there are grants and funding opportunities that can help take the financial burden away or at least lessen it. Here are a few places to check out: The Alliance of Artist Communities is a great resource for residencies and funding resources. Also, check out Format and Go Fund Me which is a free online fundraising site. Many states also offer grants for creatives.
Each day the only objective I had to accomplish was what I set for myself. The center opens at 10 each morning, so I always had time for a leisurely breakfast and coffee before heading in. Once there, all of the artists would say our good mornings and chat a bit before diving into our work. The center did ask that each of us have an activity for the community to engage in, so we all had a little something for people (mostly kids of varying ages) to try. Throughout the day we each took turns going to each other's temporary studios and discussing what we were working on, techniques, materials, and suggestions or comments; all very beneficial and positive. Space was open and inviting and with the outdoors pouring in through the massive windows and the supportive environment, you couldn't help but create.
Along the way, people would come and go, stopping to visit and learn about each of our processes. They asked thoughtful and engaging questions and some even bought prints and notecards. Many took my information and judging by the analytics I've reviewed, also visited my webpage. This experience was definitely great exposure for me and allowed me to connect with people from another part of the country that I might not be able to otherwise.
As the days went by, an artist's time would come to an end and as they packed up we each felt a little sad saying goodbye. Emails were exchanged, pictures taken and social media sites followed; and excitement grew at who the new artist would be. My ten days flew by and I accomplished so much while I was there, in addition to the new artist friends I made.
While I love my studio at home, this is an experience I would not trade. In fact, I'm looking for more artist in residence opportunities already. I came home tired, but invigorated about my art-making, and have an idea for a new series as a result of work I did there. Although I don't see myself trekking to the wilderness and living out of a backpack for a residency (that would be really suffering for my art, as I have a fond appreciation of indoor plumbing) I can easily envision myself in the Tuscan countryside painting sunflowers and gaining a new perspective on perspective. Until next time-
For a list additional articles by Amy Hutto please CLICK HERE
The arts center where we spent our days creating.
Latest Blog Posts
Article Categories