The Up-Side of Flying
| Elaine Weiner-Reed
Can you think of any positive angles of flying these days? Find out what Artist Elaine Weiner-Reed does every January to get her creative juices going for the year ahead. See how this artist finds something positive in "getting there…"
On a recent trip out West, I reconnected with one of the lesser-publicized positive sides of traveling and wanted to share it in the hope it will help others. With all the hassles linked to air travel these days, sometimes it is challenging to think of something positive – except for ultimately "getting there." Sometimes before a trip, I have felt uneasy and occasionally have even considered canceling it merely because of the mountainous list of pre-trip to-do lists. Traveling by plane can be overwhelming, to say the least, and the longer the trip, the more pre-trip arrangements that must be made and tasks that must be tackled.
California, Here I Come. Eventually…
I headed West for my annual art workshop and retreat in mid-January 2019, feeling very fortunate to be able to stay in California for 5 weeks, thereby attending my annual Art workshop and missing several weeks of the cold Maryland Winter. Travel can be daunting to many. I find it even more daunting following September 11, 2001, when the world shifted on its axis and the travel security protocols multiplied. Ever since then, traveling by plane has become cumbersome at best and anxiety-ridden at worst. In later articles, I will share images of artwork created during my great escape, but for now, I wanted to focus on an up-side of flying coach.
That very concept probably comes as a surprise to many, since we have all come to dread the close quarters, lack of leg-room, and non-amenities of most airplanes, but I prefer to look at the bright side of things whenever possible. All trips take planning and some more than others, but the long trips can be especially taxing. First, in addition to planning for my Art life on the road, I also have to plan for my Maryland home life, art, job, and also make arrangements regarding the house itself. Being away during Maryland's winter months means prepping the home to avoid (hopefully) potential catastrophes.
Home-Related Tasks
To that end, my partial winter traveling to-do list included: Shutting off the main water pipe, cleaning the dishes, tidying up everywhere, doing laundry, securing the house and setting the alarm, and more. I had to stop the mail, warn neighbors to look out for the house –especially for wayward packages. I had to pre-pay bills online and anticipate due dates. I also had to arrange for snow removal, so on that score: Big thanks to my neighbor's son!
Art-Related Tasks
My art-related tasks were many and multi-faceted. First, I had to focus on sustaining Maryland-centric art business matters (i.e. upcoming art shows), including maintaining connectivity to diverse Artist-in-Residence activities at Maryland Hall, such as arranging for someone to studio-sit during Open Studio nights while I was away. Such activities and more continued while I was in California, to include responding to time-sensitive emails, scheduling meetings, etc. Next, for the Workshop/Art Retreat itself, I had to consider what I would be working on and what art materials I would need (painting, sculpture) for paintings and sculptures that I wanted to make. I would need to order art supplies while still in Maryland and do so enough in advance to ensure everything arrived at my hotel in California just prior to the workshop. Additionally, I had to pack and ship my own boxes of baseline supplies, such as favorite brushes and sculpture-related tools.
Normal Trip Packing
I NEVER seem to pack the right stuff and have yet to find my perfect set of suitcases. Tell me that I am not alone! Sigh… As a result, this year I packed too many lightweight clothes, arrived in the driving rain with my umbrella packed in a checked bag, and learned (too late) that my carry-on would not attach to my larger suitcases by any straps I possessed. There I was: four bags, two arms, and only one of the four bags had shoulder straps. Argh… Every year I tell myself that I will "nail it." But no… What I really should do is pack one large suitcase the minute I return home from California, and leave it packed and ready for next year's retreat – right?!
This year's list of tasks also included formatting a new laptop and trying to pre-load web links into it so I could "seamlessly" continue my business-related paperwork. Again – not a perfect resolution: I missed some key links and forgot some login information to other sites. Additionally, since I would be away for much of the tax-preparation period, my California pre-trip tasks included finishing data entry for my art business workbook for 2018! Consequently, for many weeks prior to my mid-January trip, I was involved in a multitude of activities simultaneously: dancing between at least 6 different to-do lists laid out on computer and kitchen tables, kitchen island, and even taped to cabinets at eye level. True confessions: I find the "in your face" list is much harder to ignore.
Destination 1: BWI Airport
Finally, my travel day had arrived, and I was on my way. Bleary-eyed, fuzzy-headed, and in the cab by 4:00 AM, I tried to ignore grumblings of the cab driver who harrumphed about the weight of my suitcases. I arrived early at BWI airport considering the government furlough had resulted in many federal workers being laid off for weeks. I was fearful that TSA would be short-handed as a result.
Fortunately, the previous year I had registered for TSA Pre-Check, and I was able to go through the security line with my shoes on and laptop tucked in my carry-on. That morning, I had been pleasantly surprised to discover that there was no one else in the TSA Pre-Check line (an airport miracle!) ahead of me, and I breezed through in under 5 minutes, putting me in the airport waiting area before 4:30 AM.
In dire need of my morning coffee by then, I waited in line until the coffee bar opened. Eventually, armed with a large cup of black coffee, I began to breathe again. After filling my empty water bottle, I was seated by 4:45 AM, awaiting my 6:05 boarding call. Finally, I could begin to unwind...
Planning for Satisfying Trips
A lot of the stress of travel can be avoided with sound preparation and planning. Staging and planning for my art workshops take a lot of time for me, so I prefer to arrive in California a few days early to immerse myself in creativity, determine whether I have everything I need for the workshop week ahead, and to determine my specific focus for the following week of concentrated creativity. There is an ulterior motive in arriving early, also – i.e. extending my stay bypass some of the cold Maryland winters!
One of the myriad challenges facing this artist, who does not travel lightly anywhere anytime, is pre-ordering the correct art materials with which I shall work intensely for the next week or more. What paints should I order? What size canvases? All these practical things take forethought and organization and planning. What also occupies a lot of my pre-flight planning is my focused consideration of what I will be working on for an entire week of intensive creating. This year was complicated by the fact that I was also sculpting again and that meant ensuring I had sculpting materials as well as painting supplies. I knew that I did not wish to go weeks without making sculptures …
Observation on Traveling Alone
Some people detest or fear flying, and many people avoid or are afraid of flying alone for one reason or another. My first flight ever was from Philadelphia to Paris my Junior Year in college, so let's just say I have been practicing flying alone for decades. In fact, I have taken many more flights by myself than in the company of others, namely to Africa, France, Poland, and various other trips throughout the U.S. All my trips have been rewarding in different ways – and not just after I got there.
To people who might find themselves without a travel partner at some point in time, but really have somewhere to go and something to do, there is little choice: we travel alone or decide to simply NOT go at all. Personally, I have never regretted forcing myself to jump through all the hoops and travel by myself. I definitely have feared it at times, but I have never regretted it. To me, not going would be the least desirable option and one I believe would have filled me with a lifetime of regrets. I have experienced that traveling in pairs or groups can be somewhat limiting or insular. While such travel pairings are enjoyable, it can also be limiting in that travel buddies are focused on each other and their personal considerations – rather than the bigger world around them. Regardless, we travelers all need to be organized, prepared, respectful, and alert because airports are hives of activity and noise.
Which brings me to the Upside of Flying.
Personally, I like people and love hearing about their lives and listening to their stories. During this 2019 winter get-away art trip, I felt very fortunate to engage with three lovely people. Conversing with them enabled me to better enjoy the long journey to my destination.
Slices of Life and Chance Encounters
Chance Encounter #1 - Young Engineer-Turned-Product Developer
So, there I was, facing an almost 90-minute wait before the first leg of my trip to California. Armed with coffee and my activity bag, I sat down near a young man who had been waiting behind me at the coffee kiosk. His destination was Phoenix, which was my first leg destination. The chat began as most do at airports: "Where are you going? Is it business or pleasure?" In the course of what turned into a 40-minute conversation, we chatted about jobs, art, careers, and family. Surprisingly, when I mentioned I was working on sculpture assemblages often incorporating plaster, he informed me he currently worked for the company that made the plaster I used! Small world… It also turned out that his Mother-in-Law is also named "Elaine" and apparently also "a character." Together, we laughed, learned, and connected. I will always think of him with a smile, wishing him joy and success in life.
Chance Encounter #2 - Mom-Corrections Department Worker-Business Owner
Once onboard, I took an aisle seat – because I hop up and down several times during a flight and do not wish to disturb sleeping travelers. This time, after two cups of coffee, it was especially necessary! Mid-way through boarding, a young woman (probably early-thirties) asked to sit in the middle seat. No problem. I do not remember how we eventually got to talking, but it probably had to do with our pleasure at soon leaving the Maryland weather in our rear-view mirrors for at least a few days, if not weeks!
In our 20-minute conversation, I learned that lovely young mother worked for the state of Maryland somewhere in the Corrections Department system. We chatted about children, politics, our fondness for our reelected Governor and some of the challenges he faced. Eventually, we talked about art. It turned out that we had something in common: she was headed to a jewelry conference and had her own share of the business, doing quite well in sales by her own admission. Her eyes sparkled as she spoke, handing me a copy of her merchandise catalog. I was pleased that she had her business and a supportive set of colleagues and friends that helped enrich her life. As the airline reached cruising altitude, we smiled as she donned her sleep mask and headphones. We probably could have chatted for the entire flight, but I knew that my companion had planned on napping prior to her conference (business and pleasure), so I cut it short. As she napped, I got busy sketching and problem-solving one of my sculptures in progress, as well as thinking about what I would create in the workshop the following week, and eventually I began to read one of my new Kindle-bound mysteries.
The Long Layover in Phoenix
I do not remember arranging it "by design," but as it turned out I found myself with an almost 4-hour layover in the Phoenix airport. Yikes, I thought… Dragging on my feet, I found a rare sit-down restaurant/bar with an available table. Pleased to learn that they were still serving breakfast, I ordered an omelet and some of the nicest fresh-brewed unsweetened iced tea I had enjoyed anywhere. For the next 90 minutes, I ate, sketched, and read some more.
At some point, a young couple and their toddler sat beside me. It was a tight squeeze, so I smiled, moving the fragile glasses further from their stroller-bound, bottle-holding little boy. Dad smiled, assuring me that his son wouldn't touch things on my table, and I smiled wider in silent reply. I fondly remembered when my son was that age, so wait for it… About a split-second later the boy's free arm stretched like an elastic band three times its length and reached for my glasses and hot sauce bottle. As the surprised Dad began to apologize, I laughed and said simply: "No problem. Been there."
Chance Encounter #3 - Engineer-Stock Market Analyst
Later, finished eating and still with about 45 minutes left until final boarding, I found a seat in the crowded waiting area. I do not remember how the gentleman next to me and I kicked off our conversation as we gazed at the tarmac, but we chatted companionably for over 20 minutes. He was en route to San Jose, I was headed to Ontario airport (California). He was quite nice and within minutes, we were talking about his "left-brainedness" vs my "right-brainedness." Strangers, we connected. We talked about our sons – his studying Medicine, mine, now a scientist specializing in Marine Science. The two of us talked about wellness and caring and "listening" as being a critical skill for doctors to master, and we spoke of our different interests – mine in art and his in the stock market. I explained how art (especially sculpture) requires "left brain" skills given that it requires making things in the physical world where they predominantly MUST follow the rules of physics! I spoke about how one artist and artist-physicist were collaborating on a metal sculpture back home. As the topic turned to finances, he discussed stocks and REIs, suggesting I look into one in particular. Finally, it was time for me to queue up for my flight (Boarding Number A34), so we said our good-byes, wishing each other a good life and safe flights. I told him I looked forward to seeing his photo on the cover of Forbes one day! He laughed out loud in response and we smiled our good-byes.
Destination: Hotel and Workshop Venue
After a 1½ hour flight and a brief shuttle ride from the airport to the hotel with an engaging driver, Hamid, I finally arrived at my California home for the next ten days. Although it was raining quite hard upon my arrival this year, therefore obscuring my view of the distant mountains, the dripping palm trees nonetheless still warmed my weary heart. I began to breathe again, releasing some of the travel-related tensions.
Hotel Reception Staff: Some wonderful people remembered me from previous years and welcomed me warmly, making it felt a bit like "coming home" again. I was checked in by a young woman who best remembered me, and she enthusiastically informed me that she was now the proud mother of a 7-month old little girl! (During the course of my stay, I was privileged to view a few pictures and a video of the little cutie!)
Restaurant Staff: At least three waiters from previous years were still on staff, so we exchanged greetings and caught up on reciprocal life snippets as the week progressed. Everyone there was courteous and nice, including the Housekeeping Staff with whom I engaged. Big KUDOS to the DoubleTree in Claremont, California!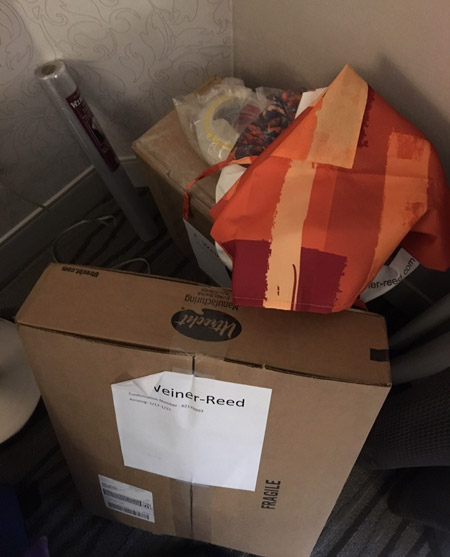 I said "coming home," but is being at a hotel really like being at home? Do we, guests and staff at a hotel, really know each other? No - not in the strictest sense of the word, but over course of the last six years, several of us have shared many smiles, kindnesses, snippets of life, and mutual respect. Those things matter a great deal when we travel and can make us feel as close to being at home as possible while living out of suitcases and off restaurant/store-bought food.
The tricky part when traveling this year was for me to continue making sculpture but making them in miniature. In other words, they had to be travel-size and not too heavy…seeing as how I would have to ship them all back home to Maryland at the end of my California art retreat. As you can imagine, it took me a while to unpack my boxes of 30 x 30 inch canvases and paints that I had shipped to me from Blick's. Their customer service is wonderful, however, and at my request when ordering, they double-wrapped my canvases – to ensure undamaged transit. Whew… Now, let the creativity begin!
Thank you for reading. I hope you enjoyed this article and may all your travels have many UP-SIDES!
In Part 2 entitled "Destination: Art Workshop," Elaine will share glimpses into art workshops. Different than most workshops which focus on technique, demonstration, theme (florals) or medium (oils), the one she attended was called an "Open Studio," where artists specifically focus on advancing their own style and medium.
Be sure to read Elaine's other 3 part series From Artist to Art to Art Shows