Cakes
| Diane Helentjaris
The Tasteful Art Where Sculpture and Eating Collide
Northern Virginia commuters whiz by the featureless industrial park. None would ever guess the goings on inside Suite 112, home of Stacked Cakes.
At Stacked Cakes (or simply, "Stacked"), no rosy-cheeked, pudgy lady stands behind a counter of pastries and cakes. Open by appointment only, the high-ceilinged space looks more like a Hollywood prop room than a bakery. Toward the back cluster tables and chairs, but rather than script reviews, they await the next cake class. The front of the room holds eye candy galore. A human-sized Santa figure, his rolled-up sleeves revealing tattoos, stands beside a workman brandishing a drill. Behind the antlered lamp hunches a circus-garbed chimpanzee. Shelves sport everything from a gilded flower-encrusted tiered cake to a bust of a man turbaned with a snake. Yet each eclectic prop is edible except for the occasional underlying metal armature or food-safe lightbulb. Sugar, fondant, Italian buttercream and baked batter have replaced plastic, wood and glass as construction materials.


Much closer to an art gallery than the pastry display at Costco, Stacked gives visitors a glimpse into the world of high-end, custom decorated cakes. The idea of cake as art has wended its way even up into the rarified air of the Supreme Court of the United States. In their June 2018 Masterpiece Cakeshop decision (on the rights of a Colorado cake decorator to refuse to create a wedding cake for a same-sex couple), much of the discussion revolved around the cake baker's right to freedom of expression. Cake as art was part of this argument. At least one amicus brief to the Supremes included mouth-watering photographs of stunningly complex, handcrafted cakes. While the Supremes may have punted a bit in their decision, they did not refute the artistry of decorated cakes. Cake art controversy over the current inability of cake decorators to copyright their work was highlighted in another Washington-based brouhaha a few years ago. Turns out one of President Trumps' Inaugural parties featured a cake with patriotic icing and sugar bits felt to mimic an earlier Obama cake. Obama's pastry chef was not amused.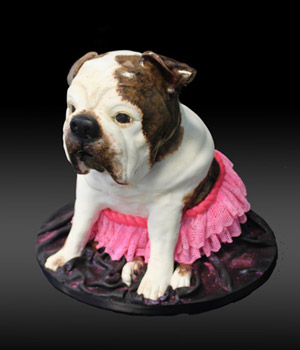 The interplay of baking and art comes up in a discussion with Stacked's Founder Erin Schwartz. Erin's been making fancy cakes since her teen years in New Jersey. Enthralled with embellishing three-dimensional cakes she initially baked in the pans carried by nearly every craft store in America, Erin moved on and up. She graduated Valedictorian at the CIA (Culinary Institute of America, not the other one) with a degree in Baking and Pastry Arts. For several years, she honed her craft working and competing in the world of sugar flowers, fondant and batter. She became the youngest Satin Ice (a fondant manufacturer) Artist of Excellence. Stacked has been featured on major television programs as well. Erin believes her foundation as a pastry chef gives her a leg up over other cake decorators who started out on the fine arts side of life. Simply put, Erin believes cake should look good but taste even better and, she knows how to do this better than, say, a sculptor-turned-baker.

Erin's partner in Stacked is Joe Mariano. In a hipster black t-shirt and jeans outfit, Joe could be a prop man, and, in a way, he is. For Joe creates the "special effects," the "wow factor" to Erin's dreams. He makes the full-size chocolate drill whirl, the music play and the stained "glass" glow with light. Joe's background dovetails well with Erin's. After working as a teen in "all kinds" of restaurants, he joined the Navy as a Culinary Specialist. For five years, he sharpened his creativity cooking in a tiny kitchen in a submarine full of sailors. Few experiences tighten attention to food safety practices like living underwater in a submarine with only five bathrooms, miles and many hours from the coast. Joe's attention to food safety has continued. He is currently a certified ServSafe instructor and proctor, a national accreditation. Joe spent three additional years as a chef at the Pentagon and earned his Certified Executive Chef credential while still in the Navy. Joe "likes to push boundaries." For example, he has made real flames shoot out of a baby dragon cake sculpted by Erin. Disbelievers can check it out on YouTube. As a sideline, Joe has developed a collection of food safe special effect add-ons that spin, move, light up the cakes, and use "magnetic levitation" to allow, for instance, a cake ballet slipper to hover in the air over an elegant tiered cake.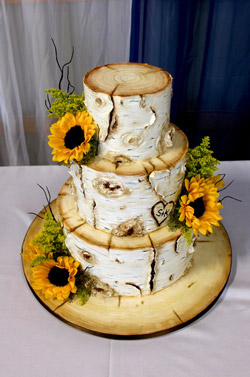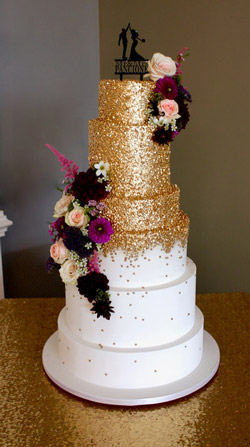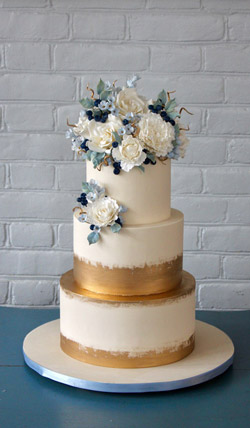 Three tiered cakes with sugar flowers by Erin Schwartz. Photos courtesy of Stacked Cakes.
Humble cake has a place in the world. Proust's mother packed a lifelong emotional wallop with her madeleines. There's nothing wrong with a little Sara Lee pulled out of the freezer for a solo celebration in front of the television. But some events require big deal cakes, spectacular cakes, delicious cakes sculpted into crocodiles or - in the case of the local furniture guru - into a mahogany table with a lamp. Cakes center a celebration. They are ice-breakers and happily star in cell phone photos. A beautiful or unique cake can create a visual memory enhanced by the sensory recall of taste. Cakes message love, hope, celebration of a milestone. promises of a future together, service given, or a life well lived. Nearly three years ago Erin and Joe brought their cake dreams to reality. Strategically choosing the DC area - a land of corporate headquarters, diplomatic missions, and government which expands the hunger for mind-blowing celebratory cakes beyond weddings and birthdays - they set up shop in the Ashburn industrial park.


As expected, Erin and Joe use high-end ingredients, start to finish. No Crisco here to stiffen the icing. Any ancillary supplies are food safe. Stacked prices are competitive - set according to the customer's budget, the number of servings needed and style desires. The more time and labor involved, the higher the price. Cakes with ornate sugar flowers can easily take up to 80 hours to complete. Stacked cakes have ranged from relatively simple ("but delicious!") smaller cakes all the way up to an incredibly complex cake that took over 120 hours to complete with flashing lights and sound effects.

Engaged in what is, at heart, a service industry, Erin and Joe are all in when it comes to meeting their customers' needs. The pair have even made a home visit to meet a couple's dog when it was important to do so. With the attentiveness of a psychotherapist, they spend time with customers, listening and discussing. They value this as an opportunity to get a sense of the customers' style and what would please them. Favorite requests are those with specifics ("I love the color blue") yet are open-ended enough to allow creativity. Erin and Joe also travel to cake shows but now are more likely to participate as a demonstrator or teacher than a competitor. When needed, the energetic couple have driven cakes as far as Boston and Orlando. The two would like "everyone to eat really delicious cake."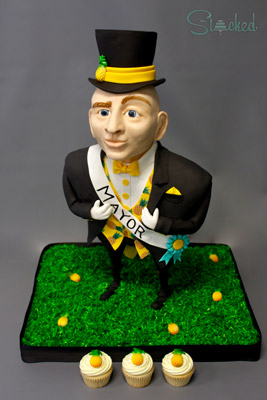 Asked their dreams, Erin and Joe want to do more of the same but would love to be flown to an exotic location to create a very special cake. Someday, no doubt, they will.

You can see Erin creating cake at Stacked's YouTube site. For more information please view Stacked Cakes website.

Other articles featuring creative people:
Survival Secrets of a Southern Woman Playwright
Erin Schwartz and Joe Mariano amide their edible creations. Photo by Diane Helentjaris
Latest Blog Posts
Article Categories