Grief, Loss and Staying True
| Amy Hutto
The holidays are upon us and the most wonderful time of the year can also be a difficult time if you've lost a loved one or are going through tough times. For some, what "should be" happy, joyous days and nights of celebrating with friends and family turn cold and lonely even when our faces don't reflect the deep hurt we may be feeling. Grief is a powerful emotion…
the opposite of joy; and when we start questioning why we aren't as happy as everyone in holiday commercials, self-doubt starts seeping into our inner monologue, and those feelings can snowball and take a grip on not only our creativity and motivation to work but every facet of our lives. How do we manage to NOT go there, to keep going and even thrive when life kicks us in the gut? I don't have all the answers, but I do know how I've been dealing with my own feelings of grief and loss while staying true to myself as an artist.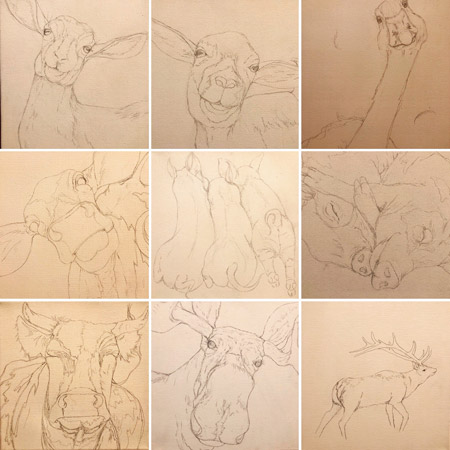 Recently I went back to Texas to be with my family for a couple of weeks, to see my brother who had been diagnosed with a fairly rare and very aggressive cancer this past summer, and to help in any way I could with whatever I could. Although he wasn't well, he seemed stable and was doing as good as could be expected. When I had time here and there I decided to try and do some canvas prep so after I returned home I'd be ready to get back to work. I set up a makeshift "studio" at a desk in my sister's office and spent a short time in the afternoons drawing out animals and applying the texture medium which is the beginning steps to every piece I create. I managed to crank out several small canvases and felt pretty on top of things…I was helping my family, spending time with my brother and being productive. It was good to stay busy with something that was normal and the time I spent drawing took my mind off the real reason I was there. None of us were expecting how quickly things would change, however, and within a week he was critical. Four days later he was gone. My two-week trip turned into almost a month and I packed up my canvases and let them sit.
When I eventually returned home, I did so with a hole in my heart and emptiness inside. My grief was beginning to snowball. I talked about it and cried and lay awake at night reliving it all. Thanksgiving was upon us, family was too and I wasn't feeling like myself. All of the canvases I had prepped still sat in that box, but I had work to do. I had begun a couple of small commissions just before I left for Texas, and in the meantime picked up three more. The first couple of days back in the studio were awkward and stiff. I was literally making myself go in there and do something. The thing is, the more I worked, the better I felt. We went to an art opening at a local gallery in which I had a piece hanging. Yes, it was a bit forced…but seeing people and hearing laughter even for a short while lifted my spirits.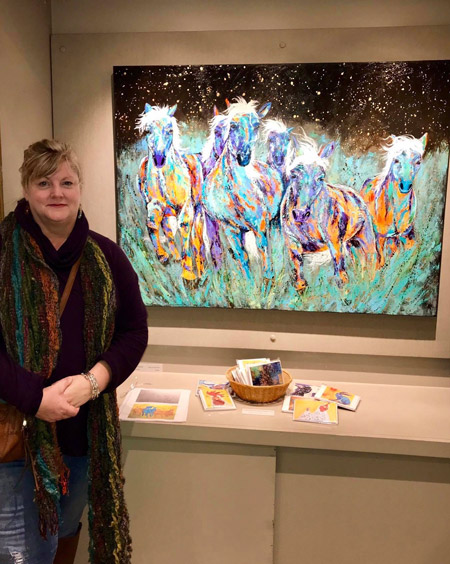 I now find myself beginning to look forward to being in my studio and painting. It truly has been therapeutic for me. If you are experiencing sadness and just don't feel like creating, get in there and do it anyway. Set up a grief canvas. Don't worry about what you're painting, just paint. Let the brush express what you might not be able to with words. Come back the next day and do it again…on the same canvas. Keep painting on that canvas until you've expressed everything your heart has to say. For me, it was the necessity of meeting deadlines that prodded me into productivity and productivity led to an increased desire to create. Writing this article has helped also. I hadn't written anything the entire month of October and most of November until I decided to share this, and once I began the words flowed…so have the memories. Try writing about your own memories, and feelings of loss; but also the good times, the happy times with your loved one and what made them good. Before long, hopefully, the sadness will be replaced with the warmth of the memory and it will bring a smile rather than tears.
Every one of us has or will experience grief and loss, and we each have to find a way to live WITH it. Staying busy with meaningful things has helped me a lot. It's given me purpose and kept my mind busy. If this is not a busy time for you artistically, find a way to make it one. Volunteer at your local gallery or museum, clean out your studio or create hand-made gifts for special people this year. Or, if those ideas are just too much to even consider, pull out a sketchbook and draw; even if it's just some doodles while sipping some wine in the evening. DO SOMETHING RELATED TO ART. You've got to feed your creativity with action or it can begin to wither with your mood. At least do enough to keep the creative fires going so they don't go out.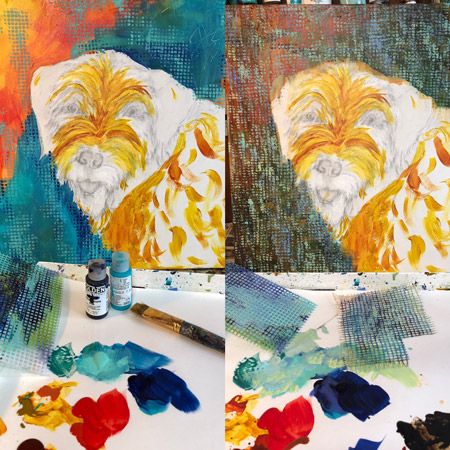 Surround yourself with others; friends, family, even strangers-just hearing the sound of conversations, music, and laughter helps. Be kind to yourself, especially when you're hurting. It's ok to feel sad, but also remember to counteract that with something or someone that brings you joy. Action is what brings change: Volunteer to deliver gifts to those less fortunate; visit someone who can't get out, treat yourself to a special art supply or tool you've long wanted, or take in a show. Do something to change the status quo, even if it's little; little actions add up to big changes.
I began by saying I don't have all the answers, but I do know these things have helped me. I still feel sad, I still wish things were different, but they aren't. What is different is how I'm managing it. I'm staying busy. I'm working. I'm writing. I'm talking. I'm eating. I'm going out. I'm remembering. I'm moving forward. I'm healing. Until next time-
More articles related to wellness:
Master Mark Maker Maneuver the Best Out of Each Other
Bringing Your Vision into Focus
A little doggo therapy helped too. This is my brother's pup, Harley. She was such a little snuggler, which was much appreciated. My niece and her husband have adopted her.
Latest Blog Posts
Article Categories