Keeping Creativity Alive
| Diane Helentjaris
Rebekah Harding is metamorphosing. Shedding the accoutrements of childhood, she's closed down her blog "Beat Bias with Bekah." Rather than online articles like "Weaponized Avocados Break Deli Clerk's Jaw," she has moved on to writing about adjusting to college life in "Away from home, alone" for The Temple News.
Last year she sparred with her Virginia high school administration over censorship. This year, as a Temple University freshman, she's learning to navigate gritty, but urbane, Philadelphia. Already, Rebekah has given an on-the-street witness account to the police after a dust-up between snow cone purveyors and skillfully avoided being peed on by a horse ridden by a homeless man.
Those of us traveling this road ahead of her know she'll be twisting and turning any number of ways through her future, but still, it seems pretty clear she'll somehow be dancing with the written and spoken word along the way. Whether Rebekah ends up writing white papers or standing before a camera, her willingness and ability to clearly share her opinion, to speak up, and to tackle any number of obstacles is already in place. At eighteen, she appears to be among the few who keep a grasp on their creativity.
Each and every five-year-old — with the rarest of exception — will draw you a house, sing you a song and tell you what they think. For most, this charmingly fresh immediacy soon fades. As Picasso said, "Every child is an artist. The problem is to remain an artist once he grows up."
Science bears Picasso out. In their 1993 book, Breaking Point and Beyond, Jarman and Land share provocative research results. Using a creativity test developed by NASA to identify innovative engineers and scientists, George Land assessed a cohort of children. While the test identified ninety-eight percent of the kids as creative at age five, by age fifteen only twelve percent remained so. And, by adulthood, the early results flipped. Only two percent of the 280,000 adults tested had creative characteristics. Land's conclusion: non-creativity is a learned behavior.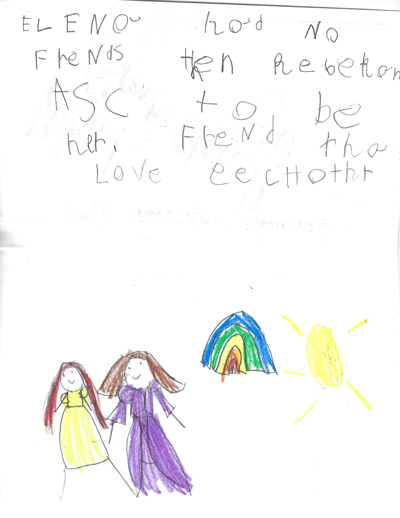 How does anyone survive this? Rebekah and her mother, Susie Harding, both implicate kindergarten. While others may recall this as a time of little boys eating paste or being forced to rest on floor mats, Rebekah remembers "writing full pages from a prompt." Her teacher, Mrs. Valentine, "contributed to me liking to write…It didn't have to be a task, but more of a method of communication." Gwen Valentine set the ground rules early: she would be having the children express themselves through writing. "No matter what," the parents were not to correct their children's work. Instead, families should confine their involvement to encouraging comments such as, "I love the way you wrote what you thought." Even though at first glance, the writing could be tricky to decipher, Rebekah's parents played along. Rebekah has been an enthusiastic writer ever since.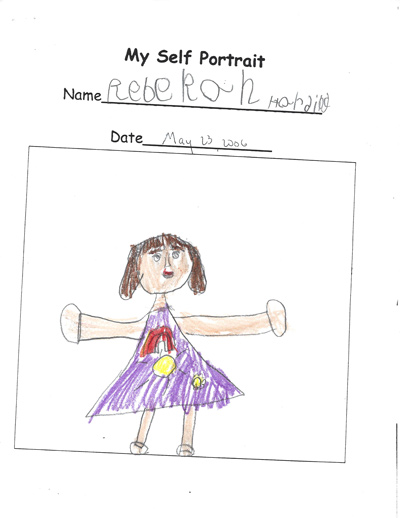 Susie firmly believes Rebekah's academic work flourished as long as she had access to artistic outlets. As early as kindergarten, the Hardings enrolled Rebekah in an "artist circle." Later, she'd spend summers at the public school system's "Summer in the Arts" program. At home, the youngster had a designated space and supplies to make her papier-mache penguins named "Pedro." Rebekah's innovative spirit also fuels her ability to teach herself when formal channels fail.
In middle school, Rebekah befriended a group of Korean students who were temporarily in the US with their families. She picked up a few Korean words but soon wanted to know more. She had become frustrated by her limitations when visiting their homes and meeting family members who spoke no English. Since her school did not offer Korean language classes, Rebekah taught herself. Pulling together online resources, she learned to speak, read and write Korean. After exhausting those tools, she participated in two summertime immersion courses in Minnesota. She now proudly considers herself fluent in Korean.
Eventually, struggles in high school unearthed a new stress in her life. Diagnosed for the first time as learning disabled, Rebekah still bristles at the reactions she encountered from some adults. Thankfully, she had a tool to dealt with this situation: communicating her opinion in writing. And write she did. She had hoped to contribute to a website dedicated to her specific learning disability but found they "only value expert opinion." Rebuffed, but not vanquished, she created her blog, "Beat Bias with Bekah." She set up her website, monetized it, and taught herself enough coding to withstand hacking attempts by other teens. In her blog, she tackled many of the big problems lurking just under the surface of any high school: racism, sexism, depression, suicide, meanness and bullying. Rebekah found herself sparring with school officials and describes a "censorship culture" in which "some topics are off limits." "Don't you think it's a bit bold?" was one response to her blog.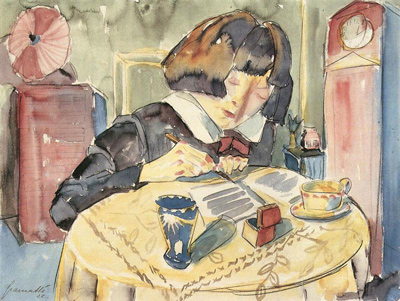 Rebekah began writing frequently for online magazines, often addressing the thoughtless way those who are different are treated. For her birthday, her parents paid for her business card. Rebekah contracted with a girlfriend to design the graphic logo. By seventeen, she became listed in Amazon as the editor for her friend R. M. Evan's book, Quarantine (The Quarantine Trilogy), first of a planned dystopian fiction trilogy. She is especially proud to be quoted, and to have her work discussed, in Ms. Magazine's article, "The Future of Disability Rights Activism is Female."
Rebekah's accomplishments — her fearlessness and thoroughness — are breathtaking. If Land's research findings are accurate, then she is among only two percent of the US population holding on to their creativity. Retaining or rekindling that spark has both philosophical and pragmatic appeal. But one positive experience — like Mrs. Valentine's class — is not enough. Other actions, such as the environment created in the Harding home, are required. Scholars like K. H. Kim, Ph.D., an educational psychologist on the faculty of William and Mary College, have begun to pull together a body of work on promoting creativity and innovation. Dr. Kim has "dedicated her career to the research on creativity and innovators in hopes of helping individuals, especially those who feel different, misfit, or are viewed as troublemakers so that they can use the power of creativity to achieve their dreams." You can find some of Dr. Kim's recommendations — which are specific and doable — at her website https://kkim.wmwikis.net. You can also find Rebekah Harding's latest writing for The Temple News at https://temple-news.com
Additional articles regarding creativity:
What is Creativity and Who Decides
Turning Anxiety into Creativity
Latest Blog Posts
Article Categories