To Tweet or Not To Tweet . . .
| Amy Hutto
That is the question…the answer? Yes. Post on Instagram? Yes. Share on Facebook? Yes. Be visible and proactive on social media sites on a regular basis? YES! Social media is the modern version of the old telephone game.
One person posts something and then (hopefully) it spreads like wildfire, with each user sharing and commenting along the way. Social media often gets a bad rap, and often it's deserved; however, it IS the way the majority of people who use the internet engage with the world around them. That is not to say face to face, in person has gone the way of the dodo, but one can't deny the impact social media has had on broadening our ability to reach wider audiences with the click of a button. There is plenty of controversy surrounding social media, and it is not the intent of this article to ignore the downside of it, but I do want to focus on the positive potential it has in regard to your experience as an artist and the business of art.
Social Media will allow you to not only connect with potential buyers and collectors but other artists; which is one of its most valuable aspects. I love seeing what other artists are doing, and with social media, I can do that every day without leaving my house, or while I'm waiting at the doctor's office. I'm connecting with people older than me and half my age from all over the US and the world. It's great to be able to witness trends in the art world as it unfolds and to be a part of the unfolding process instead of reading about it or waiting to see it in a gallery or art show. I also love the camaraderie between artists; to be able to encourage the 15-year old who bravely posts their work and the pros alike. The thing about social media is, you have to participate actively. Don't be one of those people who just lurk in the background and don't contribute. Be active! You'll get more out of it if you are.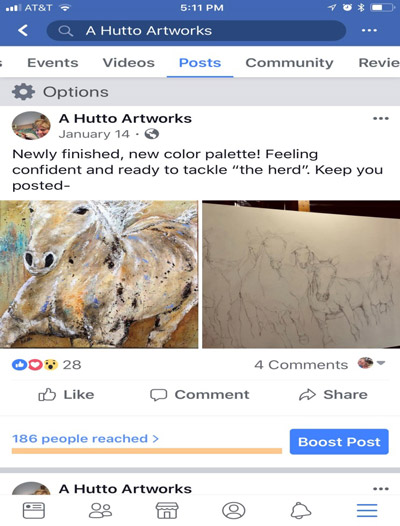 The easiest and by far the most used SMS (social media site) is Facebook. With 2.23 billion active monthly users worldwide, it is the most used SMS with roughly 80% of adults ages 18-49. That's mind-boggling. There are a few different ways to approach Facebook with regards to your work. You could simply post things about your art to your personal page, (but you aren't supposed to promote yourself as a professional or sell things from your personal page…at least that's my understanding) or you can create an additional page targeted specifically to your art and business that branches off of your personal page, or you can create a page completely separate from your personal page that is entirely dedicated to your art and business happenings. I set up an additional page that branched off from my personal page, the advantage to that was I already had a list of friends loaded to invite to view, like and hopefully share my new page. This also allows me to visit other pages and view other profiles, none of which are possible with a business only page. Creating a business only page is much more limiting in what you, and the people who visit your site, can do.
(Note** the following steps are for setting up FB on a desktop. It will appear differently on a mobile device.) To get started on your new page, login to Facebook on your personal page; on the left side of the page under your tiny profile pic and name is a list of options, scroll down to the banner icon where it says pages. Click pages, then a new screen will open with any pages you currently manage and an option in the upper right corner to create page. Select that, then you're on your way! Once you've set up your new page profile you may begin adding photos. Click photos on the left sidebar then an option to create an album (portfolio in art speak) will show on the main part of the page. This allows you to set up as many portfolios as you would like. You can set up by subject, medium, new works, sold works; however you want to organize your portfolios on your page. You can name the albums once they are created by clicking on the edit album bar. Once you've set up your page, which is pretty straightforward, be sure to post regularly. I post progress pics, information about upcoming shows I'm in or demos I'm doing, technique videos (people love to see how things are done) and simple things like studio happenings, my studio dog, new art I've seen, etc… The other advantage of Facebook is low-cost marketing and advertising tools. You can create an ad campaign, choose how large to make your target audience, how long to run the ad and how much you want to spend. At the end of the campaign, FB sends you an analysis of the ad performance telling you how many people you reached, how many engagements you got, clicks, and more. I've used this tool a number of times, always successfully and for as little as $5 a week.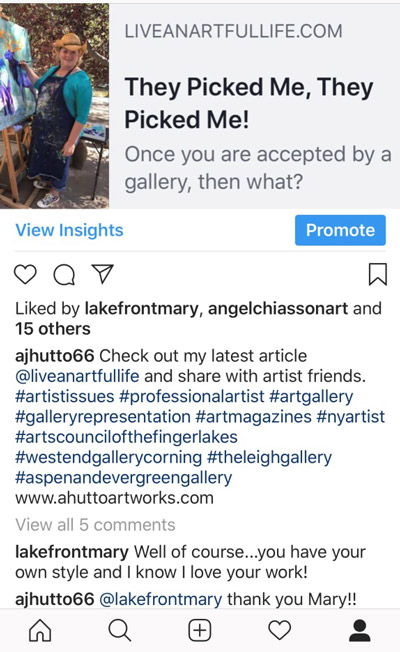 Instagram is mostly a mobile SMS (but can be used on your desktop) and is a natural one to branch into next. It is owned by Facebook, so it is super easy to share Instagram posts at the time to your Facebook page, as well as Twitter by highlighting which ones you want to share to; which will save you some time. Instagram is also a powerhouse player in the SM world, with 71% of younger users in the 18-24 age bracket; about 55% of 25-29-year-olds, and around 40% of 30-49-year-olds using it. This is a younger target audience, but it's good to appeal to a variety of consumers and to connect with all age groups of artists.
To begin, download the Instagram app on your mobile device. Create a profile and you're ready to start posting. At the bottom of your screen are five icons. In the middle (at least on mine) is a plus sign. Click that to create a post. A photo will show up on the next screen. It is usually the last pic you took in your library. If that's the one you want to use then you can reposition or shrink/enlarge by touching the image with your finger. When you're satisfied touch next. At this point, you may choose to add a filter or edit your image. When you are happy with it, choose next again. Say something about the image and be sure to hashtag (#sign in front of a word) to add your post to other posts with similar content. For example; if it's a dog you might type #dog, #studiodog, #cutepups, etc… there seems to be an art form to the hashtag. You might research popular hashtags, and even how many to use in a post…overloading hashtags can be a visual turn off. Next, add your location if you want and if you want to share this post to Facebook, Twitter or Tumbler this is when you select to do that. Then click share. That's pretty much it. Instagram takes a bit of practice, but once you get the hang of it, it's great! I've garnered more followers on Instagram vs Facebook, and have experienced more engagement as well. I think the two go hand in hand and are a great place to start in social media, as they play off each other very well.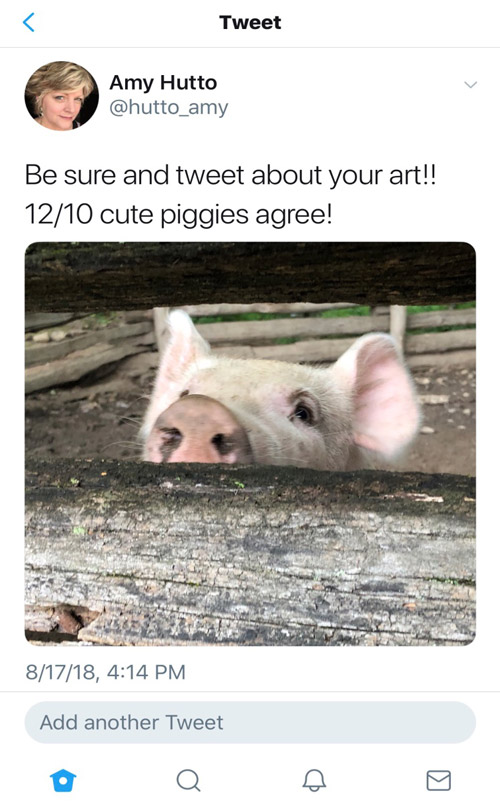 Twitter is another mobile app, similar to Instagram in that you can post photos and videos, but being brief is key on Twitter. Yes, you can type 280 characters and you can add hashtags, but just because you can doesn't mean you should. Twitter is a great place for observations, "deep thoughts" (I say that tongue in cheek) and a little funny sarcasm…NOT mean sarcasm, tossed in amongst and between your more serious art tweets. (Think Jimmy Fallon- I don't think I've ever heard him be mean to anyone, but he sure gets his point across with millions laughing along.) Keep it light and funny when you can. Humor always attracts people's attention. To tweet, click on the home icon at the bottom, then the feather at the top of the screen and you're ready to go.
Despite having moved 1700 miles away from my artist and non-artist friends, I still feel connected to them through social media. I try to ignore political posts, annoying quotes, and the negative tripe that can come along with it. I try to remember that even though someone posts something I disagree with, there's a reason we are connected to begin with. It's good to connect with people who have different views and beliefs lest we only hear and see what we like and the world begins to narrow. I choose to participate for the positive connections I make…the artist across the pond that I might never meet in person, I get to check in with daily and that's pretty nice. Until next time-
Connect with Amy Hutto on Instagram @ajhutto66 and on Facebook www.facebook.com/acrylicgirl
Additional articles by Amy Hutto