The Artist's Perspective - Walking Into Art
View of the magnificent gardens from the Mellon residence.
I have had a long painting career. One with so many wonderful experiences. But I must admit to you now even this far along; I've experienced something on a bit of a different level during a recent tour of Oak Spring Garden Foundation.
The former home of Paul and Bunny Mellon, Oak Spring Farm, which was largely split up after Bunny Mellon's 103.5 years on this earth came to an end, lives on. If I'm being perfectly honest, Bunny does too, as I would swear in being there, she's still very much with us today. Her spirit remains strong, or I was intoxicated with the overwhelming sense of place she's left behind. As an artist, I can share, Oak Spring is quite simply an organic canvas and a living piece of art.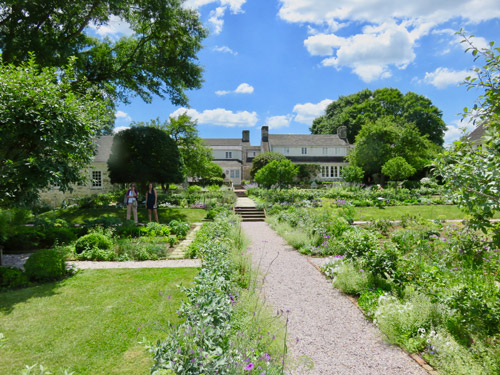 This iconic 700 acre piece of the Piedmont is being preserved by the Oak Spring Garden Foundation (OSGF), whose mission (from their website) is - to perpetuate and share the gifts of Rachel ("Bunny") Lambert Mellon, including her residence, garden, estate and the Oak Spring Garden Library, to serve the public interest. OSGF is dedicated to inspiring and facilitating scholarship and public dialogue on the history and future of plants, including the culture of gardens and landscapes and the importance of plants for human well-being. They continue with - Consistent with the strong and loyal support that Mrs. Mellon provided to many individuals during her lifetime, a major focus for OSGF will be to invest in people and encourage the development of individuals who can be leaders in advancing our mission.
In serving this mission, the facilities at OSGF include meeting and dining space to serve their invite-only workshops, conferences and scholarship programs. OSGF have also tastefully renovated the Mellon Broodmare Barn to provide accommodations for their guests and interns. The renovation includes the Oak Springs Gallery which should come in handy for their new artist-in-residence program. Painters, photographers, writers, sculptors and more, will enjoy boundless inspiration to motivate their creativity.
Perhaps one of the greatest treasures found at OSGF is Bunny's Mellon's personal library. It is, in a sense, a glorious time machine because of the era in which she lived. A time when books were so highly regarded by the wealthy and worldly scholars who collected them. As an example; you simply cannot think of Thomas Jefferson and not think of his library. The same must be said of Bunny Mellon, and in doing so, you also cannot think about Jefferson or Bunny Mellon without being fascinated by their deep horticultural interests. A gift from her husband Paul, Mrs. Mellon's library houses one of the most significant historical horticultural collections anywhere. While the exterior of the building reflects a feeling of Provence, the interior is open and comfortable. You can only imagine the hours she spent here among the passionate treasures of her life.
On a very special note; OSGF is not only preserving the place itself but moreover many of those who served, knew and loved the Mellons. I feel these dedicated people are a visitor's gift, as they share decades of history and stories which live on with them. There's a great sense of spirit and pride in what they helped create. Artisans in their own right, they were and still are the apprentices of a master, whose vision has now become theirs. They are not only still caring for Oak Spring, they are still caring for Mrs. Mellon's legacy. On a human level especially, it's beautiful to see.
My first step onto Oak Spring was many years ago for the Stable Tour. Limited in scope, it was still pretty special. My fondest memory was of a chestnut foal with four white socks and a perfect heart on its forehead. My second visit was around eight years ago when I had the pleasure of visiting the entire farm with a now neighbor and longtime Oak Spring employee and resident. Refreshing I felt, was the harmony created with every structure found there, nothing was overdone. Grand doesn't have to be out of scale, and though the Mellons were financially capable of overdoing anything they wanted to, with Oak Spring, they wonderfully let the land do the talking, and speak to me it does! Their private residence is just that and is not a visual throne on the hill. They could have also so easily curtained off Rokeby Road with pine trees, thus erasing this scenic view for others. But they refrained from such selfishness, so all could enjoy the natural sightline to Ashby's Gap, with its peaceful panorama and spectacular sunsets.
I found this kindness in my only face to face with Mrs. Mellon in my years of living here, and I have to admit, it brings back fond memories. She was so delicately trying perfume at the shop Les Jardins De Bagatelle in Middleburg. Because of the shop's charming, but small size, the two of us were literally face to face. I watched her apply some of the perfume to her wrist with the glass stopper and then smell it. She then looked into my eyes and without a word, offered to share the fragrance by gently moving her wrist to my nose. I accepted and what followed was a fleeting moment of mutual joy. It was quite special and this memory and its intimacy is with me as I enter her garden at Oak Spring. Supported by cozy structures, her garden is casual and unforced in its feel. By its dimensions, it is certainly not what any of us would think as small, but its quiet country character is as if from a novel and reads as such.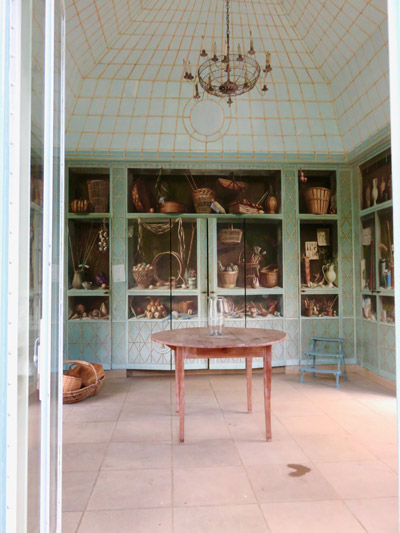 Chapter by chapter, seasonal flowers, and vegetables have their place. All support the story and perspective view from its trompe l'oeil artisan painted greenhouse, back through the allée of Mary Potter crab apples and gardens, to the home French country in feel.
Such a connoisseur of impressionism, I feel as though I have stepped into her greatest work of art. It satisfies this artist's visual appetite, and oh, I felt her there. It was as if she had built a loving vessel to keep her soul afloat. Some have an eternal flame, she an eternal garden. For more information visit - osgf.org