FUZIÓN DANCE ARTISTS - "Hunting For Your Soul"
Lonesome pack-like howls turn hungry. This live performance feels visually and emotionally powerful as the artists of Fuzión Dance, draped in edgy lighting, stalk menacingly low across the stage-less floor invading the audience's space. I feel like pray. My eyes seem focused on defining the alpha among them and then in a wave of energy, Fuzión Dance takes us on a magical journey, deeply tapping our senses with aboriginal sounds, creatively using raw simplistic props and delivering complex narrative choreography.
Artists look for ways of cracking their audience's shell, but Sarasota's first contemporary dance company Fuzión Dance Artists, played us like a drum, bouncing earthy sounds off the skin, vibrating the soul and inner senses with rhythmic interest, before serving up a visual cocktail of human form and movement. It was an intoxicating performance, drenching our minds in primal, yet intelligent thought.
For me personally, this was a dance adaption of the birth of civilization and it may well have been. Regardless, it was the creation of Fuzión Dance Artistic Director and Founder, Leymis Bolaños Wilmott and her co-director and collaborator, Eliza Ladd, inspired by the Dalí Museum's "Picasso/Dalí, Dalí/Picasso" exhibit and brilliantly performed in the museum's Raymond James Community Room.
Between Picasso's cubism, capable of folding his subjects into human origami, and Dalí's altered state of reality, this duo and their fellow dancers tapped into that mind twist and brought all of the energy and creative expression of contemporary dance movement to the floor and left nothing behind in their wake of artistic athleticism. This is the passionate goal of Fuzión Dance Artists and my purpose for visiting the arts destination of Sarasota, Florida.
The Alpha Among Them
Leymis Bolaños Wilmott founded Fuzión Dance Artists with co-founder Rachael Inman in 2002. Sharing an Arabic heritage and collaborative vision, the beginnings of Fuzión came from their graduate school thesis concert and a blending of their dance backgrounds and styles. Later, time was spent developing programming for the Florida State University FSUdanceSARASOTA initiative and Fuzión Dance Artists became the first professional contemporary dance company in Sarasota. By 2006 Fuzión Dance Artists became a nonprofit 501(c)(3) corporation.
Today, while Rachael Inman is no longer with the Fuzión on a daly basis, she is very much so spiritually and for their summer programs. Leymis continues to not only build on the dance company's over decade of growth and her own eclectic choreography, but collaborative performances as well. Her dance company is busy with monthly performances around their home base of Sarasota, a community rich in support of the arts and likely most known for The Ringling Museum which is governed by (FSU) Florida State University.
There is FSU College of Fine Arts and the FSU School of Dance, where Leymis earned her Master of Fine Arts in Performance/Choreography and where Fuzión Dance often performs in the The Jane B. Cook Theatre. FSU's website states;The Ringling cultural campus being home to the Sarasota Ballet, Asolo Repertory Theatre, and FSU/Asolo Conservatory for Actor Training, makes it one of the largest college arts complexes in the country. It is quite a place to visit.
In an effort not to confuse, the plot thickens, because laced to The Ringling campus is also New College of Florida where Leymis is Adjunct Instructor of Dance and also where Fuzión Dance does their rehearsing. This is where we first meet. She and two of the company's dance artists are rehearsing for their upcoming performance of Larry Keigwin's iconic "Mattress Suite" in The Jane B. Cook Theatre, March 12th - 15th.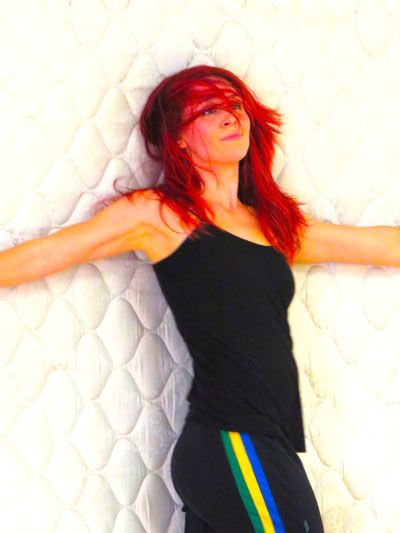 As the dancers do their warm up, Elisha Byerly, with her fiery red hair, pushes a mattress against the room's mirrored wall and in a choreographed passion of love to Etta James' "At Last", she has me feeling my own heartbeat. Her six and a half foot dance partner Jahrel Thompson, Fuzión's Rehearsal Director, prepares as well. With his tall, lean physique, comes big movement with limb extensions that rise, reach and project. The vast scale differences of these two dancer's bodies only adds to the artistic contrast also found in their skin tones and gender. One can only imagine seeing them beautifully lit on stage as their only prop, a mattress, poetically brings them together and seemingly rips them apart as well. My plan is not to imagine, but to be there!

Leymis is a supportive director. You can tell she likes artistically working with dancers rather then have dancers simply work for her. She seems to carry no ego, just the kindness and passion to bring art out of the body through dance. Dancers searching for their creative path have moved along over the years, but Fuzión has a solid core of founding company members, company dancers, project based dancers and apprentices. It's a dozen or so group, diverse in their gender, race and ethnicity and equally diverse in their dance styles including ballet, modern and contemporary, ballroom, jazz, hip hop, along with Afo-modern and Middle Eastern dance techniques. These are professional, highly educated people, all with degrees in their craft, if not multiple or master degrees. Many are teachers or choreographers themselves and several are worldly in their experience. As important to their passion for dance is the drive of several to take that passion to another purpose by achieving or pursuing degrees in healing. Leymis herself was the first to receive a certificate in Dance and Healing from the University of Florida. Fuzión Dance is a family, and bigger than their core, as many of the dancers also have a family of their own with little dancers on the way!
Movement
Movement for Leymis is about communication. She makes the example of saying, "The best way for me to communicate is through my body. My background is cuban/arabic, so I use my hands... I don't think I can talk without moving [laughter], it's something I did in the womb and I kept doing it when I came out so." [her hands still are moving] Dance was part of Leymis' youth, her childhood, her play as a child and she has never stopped.
After his rehearsal I ask Jahrel specifically about movement and even more so about the amazing amount of moves to remember in just one choreographed piece. He tells me, "When you start training to be a professional dancer, you go through years of learning certain types of technique and moves. So there's this huge vocabulary that gets put into your body that dancers relate to." Vocabulary is a great word, as I always speak about finding your creative voice. Jahrel indicates that once you have this dance vocabulary, it becomes part of the language of dance and just like any language there can be different interpretations of it. Jahrel also says, "I've never taught a person for a year and they didn't get better. Even when they don't have the natural knack for it, they learn the vocabulary." He feels almost everyone can learn dance enough to enjoy it.
Injury and Sacrifice
Professional dance is pure artistic movement and while often graceful, it requires athleticism and strength of both body and mind. It seems for professionals it is a life of give and take, with dancers giving their all artistically and dance itself taking its toll physically. I ask Jahrel about injury. He talks first about dancers hurting themselves trying to do moves to quickly without first slowly building on learning technique. Like anything else, you have to put in the hours. He explains, "The longevity of a dancer's life usually depends how injured they've been through their life and how much the pain out weighs the joy." He has dealt with pain. "Well, I went through two or three years where I was just dealing with constant pain, and in the beginning I was like, pain is just a part of dancing, you just keep doing it. But when you walk down the street after you rehearse and you go home and [holding right his foot] it's throbbing and you wake up and you step on it and it hurts day after day after day... like it eats at your brain and just takes away from everything." Jahrel also suffered a freak performance related injury aboard a cruise ship where after three weeks of hard rehearsals to prepare for four one hour shows, his solo at the end would have him exiting the stage in the dark. What wasn't properly communicated is during the end of his solo, an elevated movable stage would be dropping and creating a 16 foot deep pit behind him. So, after a bunch of split leaps and landing, he turned and his dark exit was straight down! "I was happy I finished it right and was leaving and suddenly there was no ground underneath me, and I guess somebody screamed pit!! and I was gone, that was it, it was over. It hurt, a lot."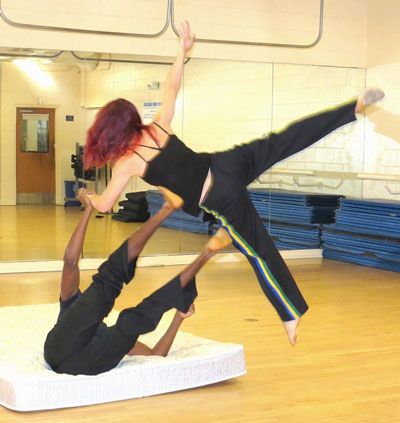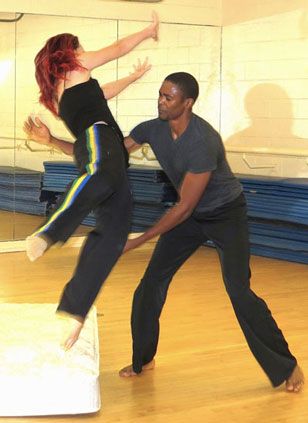 I feel it's important to tell this part of a dancer's story and life, because if you enjoy and celebrate the arts, in this case dance, it's good to also appreciate the sacrifices artists go through away from the lights of the stage. I think it brings a greater appreciation for the arts overall. It's what you don't see in the price of admission that is often the most valuable. The net result of any injury is pain management and trying to balance it to the joy of dance. But dancers want to dance and I can tell Jahrel feels a form of retirement from the performance side of things is underway. But it's not easy to give up something he's so passionate about and considered so very good at. "The Mattress Suite" may very well be his swan song.
Creativity, Freedom and a Dancer's Life
Jarel's partner in "The Mattress Suite" is Elisha Byerly, who joins us. The topic of movement comes up again. I mention it being like your voice and Elisha agrees, "It is, especially when I feel that I can fully express what I'm feeling through it. Which there are two different... [sides], you know there's playing another character, there's when I'm expressing somebody else's feelings through a piece, and I get to speak somebody else's dialog through a piece like this one ["The Mattress Suite"] and I get to tap into that character. But when I get to truly speak my voice through my movement, whether it's improvisation or I choreograph a lot... [she pauses a moment] It's one of the most opening and freeing feelings of expression that I can ever feel."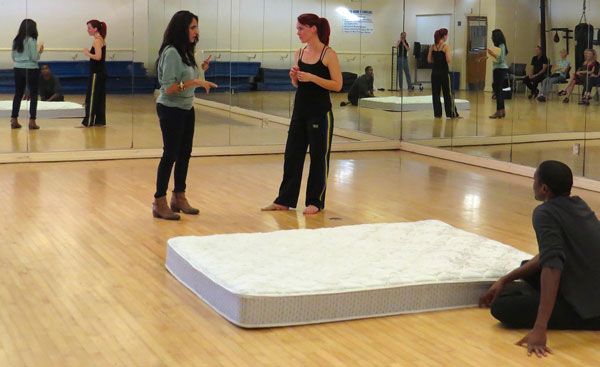 The three of us touch on the freedom found in art and the importance of not only the arts in society and schools, but the importance of understanding and learning creativity. Elisha is both a mother and a busy dance teacher. She says,"I teach almost daily at a couple of different dance schools and something I incorporate in my curriculum with them is improvisation, because I feel like you can teach kids steps and you can teach them technique and how to learn, but to teach them to be able to create and express themselves, that's lacking I feel in the education of dance." Elisha further voices what we often hear about art in general, which is that young children have no problem expressing themselves creatively, but by middle school both she and Jahrel note that kids freeze up. It's almost as if we are born with complete creative freedom and then we do a mental turnabout and any level of maturity becomes one of overwhelming self consciousness. Plenty of people have a fear of dance much like a fear of public speaking, but when I watch dancers like Elisha and Jahrel, I see a greater freedom than most of us will ever know.
In this light, I feel especially with modern and contemporary dance, the viewer is best in not over analyzing the dance itself, rather, it's best to allow yourself the experience of feeling your inner emotion or self interpretation of it. Easy for some, almost impossible for others, but this is the full artistic value in experiencing the performance mastery of dance companies like Fuzión Dance Artists.
Still, this duo speaks about the stereotypes of dance and that way more girls pursue dance than boys, which is frustrating. This also tips the table for male dancers in earning a living or even getting parts because there are so few male dancers compared to the amount of women. They both express that it is changing slowly, likely with TV dance shows and I would guess even the amount support dancers needed for music acts these days, has helped. As Jahrel puts it, "Dance is a cool thing today."
For Fuzión Dance Artists, Leymis, like other dancers, must balance life between being not only a dancer and dance company founder, she is also a wife, mother and teacher. She shares, "I'm still dancing, I'm 38. That's really exciting, you know_a career in dance, but I actually did not think I would still be dancing... I knew that I would be doing something dance related right now" She pauses, and it's easy to tell she's just very happy it is still such a big part of her life. Leymis is fortunate to have not only loved dance as a child, but to have been part of the Magnet School System in Florida, a public school program that allowed her to learn dance where her parents might have not otherwise been able to afford it. She also points out her own personal body type hurtles, a little thicker in the bottom as she puts it. She didn't see her body type on stage until she saw the dance company Urban Bush Women and she shouts in validation, "Yes!, I can be a dancer, there is a place for me!"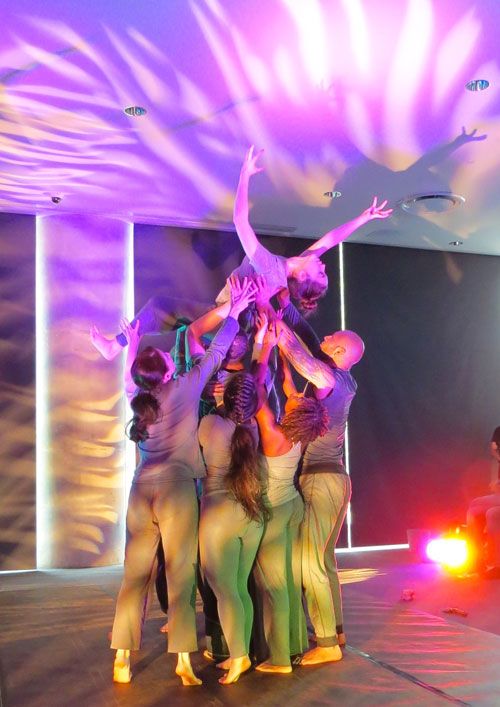 Leymis still always thought she would be limited in what her body could do, so she decided to become a choreographer and she went to graduate school still feeling like she was playing catch up even though she started when she was twelve. I mention this being the artist in her and she agrees by saying, "Right, it is the artist's thing of wanting to grow and learn and continue to be inspired, and that's why I feel the way this [dance] company is set up, I'm really inspired by the people I work with. They inspire me, they have a voice, and I love dancers of different shapes and sizes, ... I love seeing an individual's strength and encouraging that and challenging them." .... "For me, the whole idea with the [dance] company was wanting a community where we could encourage, nurture and empower." I would say Leymis has successfully accomplished this goal.
The Future
Sarasota has been good to Leymis and her company. It's a city that has grown out of the arts as much as any city you will find and it's a city especially supportive of dance, with one of the country's top ballet companies and multiple venues. Leymis is "Really blessed", as she puts it.
The first time I saw Fuzión Dance Artists I couldn't believe that this
existed in our little city of Sarasota -- I had to check to make sure I
wasn't in New York or LA! The performance I saw was edgy, surprising,
emotional, and wholly satisfying. I've always been obsessed with dance, and
having just moved to Sarasota, both my wife Monique and I were excited about
this discovery. The next thing I knew I was on the board, and now
President of this really interesting dance company.

For many of you, seeing a Fuzión Dance performance will realign your thoughts
about what modern dance can be. We are fortunate to have Fuzión Dance Artists
here in Sarasota, and hope you'll join us in nurturing and supporting this wonderful
dance company.

Shane Chalke
President
Fuzión Dance Artists
Her company has a system of working with its dancers and apprentices which keeps it fresh and an awareness about them. They reach for and try new things. There is also the health and healing aspects of dance and Fuzión Dance's program offers a variety of physically integrated dance and movement modalities to people in different stages of their lives and abilities, including an ongoing twice weekly Dance for Parkinson class at the Parkinson Place.
As their exhilarating performance at The Dalí Museum comes to an end and the artists of Fuzión Dance take their bows, creative co-directors Leymis Bolaños Wilmott and collaborator for this dance, Eliza Ladd, take questions and comments. At first there is silence, as if one has swallowed a full glass of water and needs a breath. But like a therapy session, the questions and comments do come. One can only be happy to see that they continue until time runs out. And while there are questions, there are easily as many comments from an audience trying its best to explain how the performance made them feel. This has to be the best forms of flattery a dance company could get, past the enthusiastic applause! Validation of years of hard work, creativity, collaboration, artistry and the love of dance. This is Fuzión Dance Artists
For more information or is visiting Sarasota, please visit http://fuziondance.org/
Artistic Director/Co Founder of Fuzión Dance Artists. She is a recipient of the 2008 Arts Leadership Award for Artistic Achievement from the Sarasota Arts Council, the Sarasota Artist Fellowship, and was nominated by Sarasota Magazine as best choreographer in a musical for Miss Saigon presented at the Players Theatre. Wilmott received the esteemed Dance Magazine award for Southeast Best Choreographer and was listed in Sarasota Magazine as one of the top 28 Most Powerful People In The Arts. She was one of five choreographers chosen to participate in the Choreographer Intensive at Jacobs Pillow Dance Festival.
In addition to a variety of community collaborations and performances at local venues, Fuzión has also been presented at the Alabama Ballet Center for Dance, John F. Kennedy Center, Merce Cunningham Studio Theatre, and the Ailey Citygroup Theatre.
The company's educational outreach complements performances by year-round offerings of diverse school performances, master classes, and weekly dance classes, and builds partnerships with local art and community organizations. Since 2007 Fuzión has reached approximately 10,000 students in K-12 in the community. Additionally, the company offers a variety of physically integrated dance and movement modalities to people in different stages of their lives and abilities, including an ongoing twice weekly Dance for Parkinson class at the Parkinson Place.
Update:Fuzión Dance Artists have changed their name to Sararsota Comtemporary Dance