Ian Ethan Case - Conduit to the musical universe.
Each of us has our own internal drum beat. It comes from our heart and it's directly connected to life itself. If you layer that heartbeat with the finger styled voice of a rhythmic acoustic guitar, you have begun to scratch the surface of percussive instrumentalist Ian Ethan Case. Calling Case a guitar player is a bit like simply calling the Pope a man of religion. Case is an architect of rhythm, a soul searcher of sound. Not just any sound, the right sound, at the right moment, for the right duration, and I dare that right sound to be illusive. Because Case leaves no stone unturned in his journey of making the music in his head a vibe-al study for us. Trust me, your heartbeat will want follow his tempo!
Not without technical wizardry, Ian and his instruments may be in the spotlight, but his wife, Stephanie, works her magic behind the collaborative curtain, allowing Ian's performance to be artistically organic, both audibly and visually, without ever appearing mechanical. Their sound is mesmerizing. The live performance is holistic and will take you to worldly places.
Both Cases were young athletes; he a cross country skier, she a marathon runner. Human performance was very important to them. Both were also artistic; he musically, she graphically. To their great fortune, and ours, they found each other, and in their dedication to musical expression, they are currently musical nomads, homeless-ly traveling from gig to gig with fulfilling praise from audiences on both sides of the pond.
In my time with Ian a few things perpetually surface. The first, which is at least a little surprising to me from an artist who seemingly sounds like a one man band, is that Ian yearns to be a member of a band. The go it alone for the two of them is a matter of economics and the way things are for now. But wanting to play with others is a reoccurring theme of our conversation and not a recent feeling. The Cases will be getting that chance with a new collaborative CD titled, "Earth Suite" coming September, 2017.
Second, is Ian's thoughts on creativity. As best I can word it, Ian feels he is a conduit for music. In a sense, he doesn't give credit to himself necessarily as a composer, as much as he feels the music is out there in the universe, he's the one who hears it, and his quest is to have us be able to hear it too. This has him endlessly searching for the right interpretation of the music he hears in his head. I ask how much of any song performed live is note for note, verses improvisational? His answer nets a ratio of 75/25, but that 25% improv has much to do with the room, the audience and a host of other little things which I'll just call, feel.
Boston based for seven years, the Ian and Steph were doing regular gigs and mini tours. When they released the CD "Run Towards The Mountains", they got a couple of videos done with the help of friend and videographer Duncan Wilder. Soon after came their first longer distant tour up the west coast and on the tail end of this trip, two sizable breaks took place. First, Candy Rat Records (.com) owner, Rob Poland saw one of the videos and contacted Ian. Second, the video was shared and went viral through Facebook with millions of views world wide. The net result of these breaks was the Candy Rat would then re-released the CD under their label and Ian was no longer a secret. "We got a burst of attention and inquiries from that one video that totally took off.", Ian tells me, and this would allow them to begin a dream of having both he and Steph making music a full time.
With any artist there is a dream of making it, which can be defined in so many ways. Certainly one definition is doing more than just barely surviving doing something you love. But recognition among an audience and even peers, is a very validating experience. Ian shares, "It was kind of comical in a way, it's just so over the top, it's just night and day. One day you're just practicing and nobody knows about you, and then all of a sudden, like, James Taylor's bass player [Leland Sklar] is sharing your stuff, and it's just like it all happens at once over a few weeks. Companies were offering to send me stuff, like music companies, um... We got all expense gigs in Maui and other stuff." I can see Ian's mind caught in a state of total reflection as he mentally relives that exciting period in time.
Ian's childhood was one of growing up somewhat remotely in New Hampshire. Since the age of seven their was an intense blend of cross country ski racing, competing all over the country, and then music. He throws out a number of training 800 hours a year, which certainly limited his musical growth, but the passion was there. He admits to not having a lot of exposure to music, and sort of thinks even not having many friends due to being in the country. When asked about the age Ian began playing guitar, he surprises me that he actually began playing piano [Suzuki method] at age 5, and then at 7, after seeing his first live drum performance, "I got majorly obsessed with drums!".
Now, while Ian's parents wouldn't get him his first drum set for a few years, it seems they did us all a favor, because if Ian Ethan Case is anything, he is resourceful. It is in my opinion, one of his musical trademarks. "I would spend all day, playing to records and stuff on whatever I could find. You know, to hit? I made this whole homemade drum set out of saw blades, a pie plate with dimes in it, and a big GatorAide bottle. Whatever I could find to make the right sounds." he explains. There's little question that this one developmental period in time of young Ian's life, would eventual become his artistic style, and those rhythmic sounds he hears in his head today are like old childhood friends. His sound is nothing short of instinctual.
So where does the guitar fit in? Ian shares that he exclusively played drums until his early teens, when as parental chance would have it, his Mom pulled a 3/4 size classic guitar out of his grandfather's attic. It was in very poor shape and knowing only a few cords herself, she showed Ian, and as he put it, "It just blew my mind". It would eventually be his older musician cousin, much like an uncle to Ian, who would offer some early instruction. Soon after though, his parents moved the family to Lake Tahoe, California where Ian split his time between competitive skiing and music. In the end though, music won.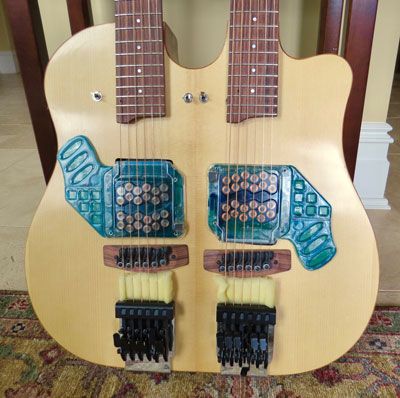 Innovative tools of Ian's trade, on the left, his guitar nicknamed "THE BEAST" featuring Vo-96 acoustic Synthesizers with Hipshot String Benders. On the right is Ian's custom made Kalimba made from a gourde.
We come to the point again, of Ian's music or compositional philosophy. As an artist myself, I find it quite interesting. "The further I get along with the music, the more I realize... [he pauses, collecting his thoughts] Even though I think of music as being something that's kind of already there, my job as a musician is to just be a window to it. I'm not like, creating it, you know? I don't buy into that line of thinking, that's like, it's all about the artist and them expressing their emotions or something. I mean that's like to me, not nearly as compelling or true [a little laugh] as like that thing of discovering, in the same way that Einstein discovered some things about the universe that were true. That's what music is to me. It's as if there's all this stuff there that a certain amount has been discovered, and then a whole bunch of other stuff that hasn't. So we get to go in there in find things, and everything you find helps you better understand how everything fits together."
This brings us back to Ian's childhood, his resourcefulness and his discipline with training. Ian knows he and others like him, have to pay their dues, put in the time and from that comes moments of musical alignment. Where things just happen. He explains, "I'm just trying to be a transparent window to whatever music I hear and I don't think of that as coming from me. But different songs, after they've been out of me a couple years, I sometimes realize, oh, that piece was exactly... [pausing for thought] There's a correlation, there's a reason why I was maybe tuned in to hear that piece, because it had something to do with that feeling of going outside everyday and running for three hours in the Mountains." I share with Ian that we are a product of who we are and as such, obviously there is then no surprise why his current CD is titled, "Run Towards The Mountains".
Though Ian moved around through colleges and such, including Berkley School of Music, finding a double neck guitar was life changing and cemented his musical path. His signature finger style, percussionist approach, was the evolution of playing many types of instruments and even over dubbing all of them to have a complete sound. Ian shares of the double neck though, "It was like the first time I found I could sort of play more of what I was hearing in my head without any over dubbing. I could play live and get some of that harmonic fullness and multi layered texture." This was what he was searching for in hopefully one day playing with others.
I ask about that irony of wanting to play with other musicians and yet having built this incredible style and sound in being a one man band. Ian makes it clear to me, that it may be the path that got him to where he is today, but he very much wants to play with others, sighting it makes more sense, it's more fun and is a more rewarding experience. He says what people hear now is the tip of the iceberg.
With the arrival of the upcoming "Earth Suite" CD, Ian is quoted in saying, "I feel music at its best is something that transcends the whole physical world, it's bigger than all of us. But, as a way to visualize this, I feel like nature is the best metaphor." This exciting collaborative project will have the Cases working with musicians, Amir Milstein, Bertram Lehmann, Eugene Friesen, Jamey Haddad, G Maxwell Zemanovic, Jharis Yokley, Jeff Willet, Tony Connaway and Yun-Yang Lin . All are hard at work and I for one can't wait. It's due out this fall.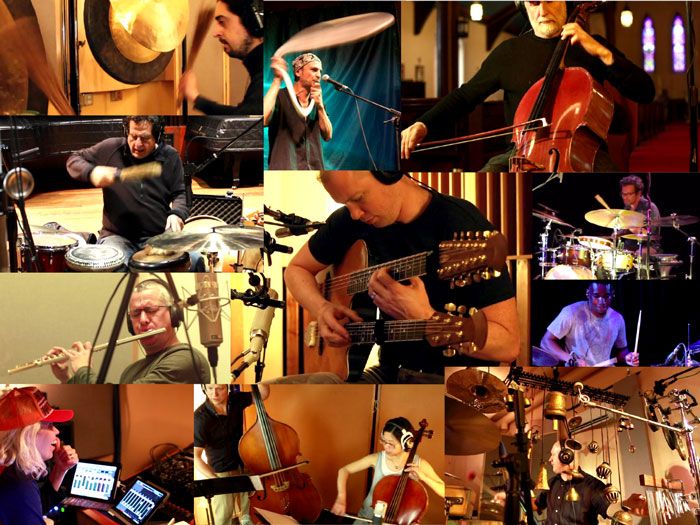 The musicians of "Earth Suite" due out this fall.
For now Ian says, "For sure having Steph involved is completely the reason that I can give audiences more than they were expecting in terms of the different instruments, layers, and fuller arrangements. Basically it all comes down to serving the music. Its not about what we want do so much. I'm hearing these songs. I know what they need and I try the best I can to communicate it, to help people feel the music and enjoy it too!"
For more infornation about Ian go to Ian Ethan Case or Candy Rat Records