Book Cover Art is Real Art
Original version #2 image
In my thirty plus years of being a fine artist and creative consultant, I have covered a lot of creative ground, but for some reason, none felt so important or even high pressured as working on a book cover.
Paintings? I've done my career share's worth. Print publishing and reproduction projects? Oh yeah, with two different publishers, self-publishing and for countless clients. Specialty projects of all kinds? You bet, no shortage of them in my portfolio, illustration, presentation pieces, and more. I've even co-designed book covers for two previous books I've done. So why then was the third one so different?
Well, it goes like this. This book was filled with nothing but words. Okay, there are some tiny chapter beginning illustrations for fun. But this book, Live An Artful Life, is my story and my philosophy on the benefits of living a creative or artful lifestyle. It is cover to cover words, and what is the old saying about pictures and words? That a picture is worth a thousand of them! Well then, when you have over 30,000 words between them, try then to design the picture which, in only a matter of seconds, will represent their worth.
The power of art is to make an emotional connection. An image is not artist created to be passed by without a thought. It's there to touch you. It's there to move you. It may be mood altering or life-altering, but art may open a door to a new journey as well. This I've come to find, are what book covers are all about. They are there to, in only a matter of seconds, present themselves as a door, not really a cover. The door leads you into the house the book lives in. For strangers or passers-by to open that door, they want to have trust in it. They want that door to instantly speak to them by saying, this is who or what lives here and you are not only invited to enter, we would be pleased to have your company.
With this book, I decided I was too close to it, and had so many hours invested in it, that it only made perfect sense to turn to a professional book cover illustrator. The process was one of creative reversal. The shoe was on the other foot, so to speak. Just as with the commissioning of art, you must do your due diligence and then trust the process and the artist. But you must also trust your own creative intuition.
With the first try came an emotional meltdown on my part. I literally hated version #1. So much so that I questioned my choice in illustrators. But we had a good talk and I felt we moved a big step forward in understanding each other. By the time the conceptualization of version #2 came along, I think I was gun-shy and would allow it to be the one. Now, remember version #2 in a sense, was an undeveloped piece of art. That lead to ideas #3 and #4.
Now at this point, I have to really take you into the four words of the title to help you understand where I was trying to go. LIVE AN ARTFUL LIFE, four words. The title is a mantra to live by. The book is all about understanding the mantra. I personally didn't feel with version #1 that any part of the four words was portrayed by the image. With version #2 though, I was missing the vision of where the concept could go. Yes, it may have been because of how thrown I was with version #1, but let's just say I didn't give it a proper chance. Version #2 did speak of LIFE, but it in its truly undeveloped stage, said nothing about ARTFUL.

So along come versions #3 and #4, which both in their own way were trying to find this live an artful life balance. Fooling with them both, LIVE might show itself, more than LIFE, and ARTFUL may have been trying to keep up. There I was, with the pressure of 30,000 words on me, all trying to be properly represented, that I found myself not liking either #3 or #4 and slowly slipping back to version #2. As crazy as you might think this is, I'll share that often as I understand it, this process within book publishing companies can take months! I was self-publishing and it took about one month. But once I saw version #2 with a clear vision, I was locked on with laser-like focus, and Glen Edelstein, the illustrator and I became one. As the cover was reaching its full potential and close to complete, I still found ARTFUL to be a little weak in its presence. I first made the request for it to be done in color. It was then requested of me to not only choose what color should go where but to pick Pantone selections for each. Once back in Glen's skillful hands, the cover was now 98% done, but I still felt ARTFUL was not perfect. The weight or thickness of the colored outlines was too thick on each of the letters, so I asked for it to be reduced by half. Glen was honestly and fairly reluctant but did so, and my gut paid off. It looked great and we both knew it. Our teamwork had paid off.
What followed was being able to see people's validating eyes as they see and hold the book. I can feel them trust the door and an eagerness to walk through it. This is the power of art. This is what art is supposed to do. To want to take the journey of discovery. To ask what if?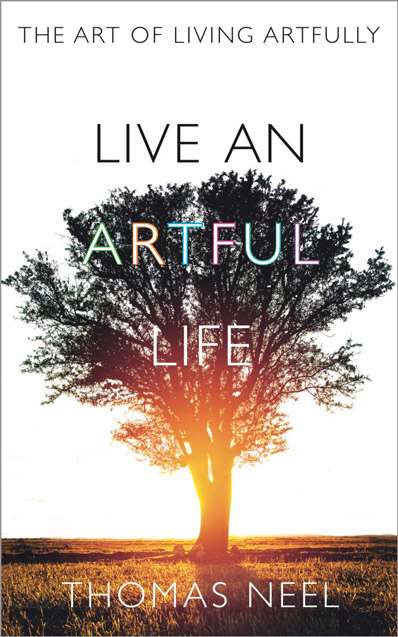 Read Tom's Blog every Tuesday!