Live Music is Alive. Live Performance is Too!
The Contra-Tiempo Urban Latin Dance group in action.
We live in an amazing artistic world. There are millions of humans who devote themselves to creativity and presenting that creativity to others. Just imagine for a moment a world with no art or artists. Honestly, I can't imagine it.
The wondrous world of art though is so amazing because of how it continually manifests itself through those who explore their soul and share their soul visually, audibly and kinetically. Some, as with myself, are known for their visual creations. Others tell a story through dance. Others choose a path likely to be the most universal language we know - music.
My wife Linda and I, over just the past few weeks, have seen modern dancers from Los Angles at The Glaize Theatre, a jazz orchestra at Armstrong Concert Hall, a singer, and band at Buchanan Hall, and two street performers, a saxophonist and a multi-instrumentalist and singer at Charlottesville's farmer's market. Previous to that past few weeks we saw a play and at the end of this week, another one is scheduled, followed by a house concert in two weeks. It's all live and there's no shortage of it. Live music is alive and it makes us feel that way when we hear it.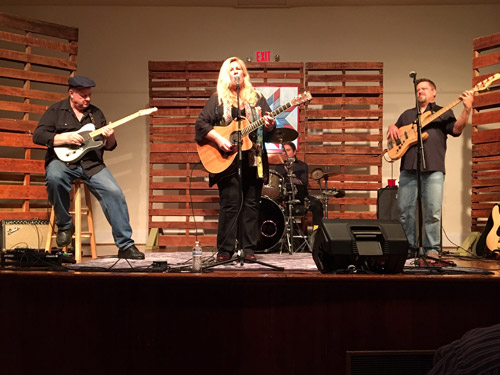 Supporting live music in all of its forms and levels of professionalism is important. From paying $10 to $20 or more for a ticket to pitching a couple of bucks in a guitar case lying on a sidewalk. It all makes our wonderful artistic world go around and be a little bit healthier. I will say, going to big concerts with multi-million dollar acts can be fun. But please don't miss out on the levels of talent below all that show business. There are a lot of artists you can still get close enough to see their skin, and thus, you can also really feel beneath their skin because of it.
The Contra-Tiempo Urban Latin Dance Theater group that we saw at The Glaize Theatre were awash with talent and their performance so textured and layered. Best of all was the intimacy felt because of the theatre's size. This was brought to a climax when after the group's final bow, they asked the audience of about 150 people to come join them and dance on the stage floor. It was a wonderful experience that could only happen at this level. So please celebrate, enjoy and seek live music as a way to live your artful life.