When Is It Time To Sell Your Work?
Okay, so you have been creating artwork or taking lessons for a year or so and you're thinking you might like to sell your work. Is it time? Boy, this can be a hard question to answer. I've found that sometimes new artists attempt or even successfully sell their work too early and here's why. Yes, you may be a protégé, gifted beyond belief, but for the most part you still haven't likely found yourself, or found your feet in all of this. Just because you are making art, even art you and your friends like, doesn't mean it's time.
In the beginning growth is rapid and plenty of artists look back on their early work in distaste. They see their mistakes and their growth and many wish they could hide those early pieces while they were so engrossed with learning.
Secondly, the minute you sell a piece of work, you are technically in business and the more you sell, the more you cement your style, what you're known for and to do this prematurely is surely not a good thing.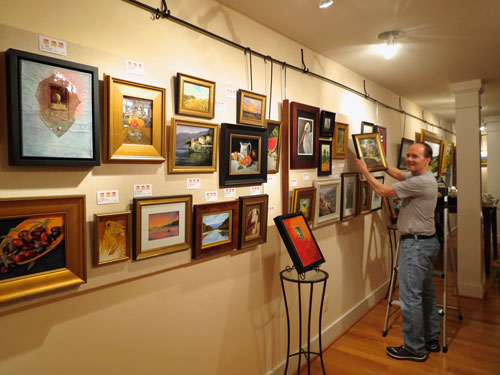 Gallery owner hanging an art show
Often the best way forward is to participate in a group show, or even better an exhibit. Shows are about the sales of art and exhibits are really about showing art. In the beginning it's best to start slow, get your feet wet with a few shows of this type and see what happens. See how you deal with the results, a piece or two selling, or nothing selling which can be very deflating for some artists.
Also, be honest with yourself about the quality of your work. Being honest DOES NOT mean being hard on yourself. Just try to make some honest assessments of your work based on comparisons of other artists you may know or respect. Going this route, when the time is right, it will feel right and you'll be on your way! Good luck!
Live an artful life,
Tom