Your Studio Is A Launching Pad For Creative Flight!
What makes an artist an artist? Creativity right? Creativity is a bit like hurling a rocket into space. It requires fuel - inspiration, imagination, ideas. It requires energy or something to light the fuel - your burning desire. It requires a trajectory and target - your style, subject matter, narrative. It also needs space - a place for it to be in the universe when it leaves the ground.
But to get there, creativity first needs a launching pad and that is your studio. Painter, potter, sculptor, jeweler, singer, dancer, musician and more, artists need that place where the magic begins. A place where the creative rocket is built, the fuel is added, the energy builds and the rocket begins its journey. Without all of this, you have a dud. To create, begin with creating your studio and yes, I know we all have different resources by which to do this, but it can be done on a budget. Even small spaces can be transformed into places that get your mojo working and help build the rocket.
Geoff and Lori DeMark converted their garage into studio space
No matter the size of the space, find those little things that can add to it that make you feel comfortable while working. Your space might have a few personal photographs, a vision board, a place for your sketch books. You can find fun pottery for brushes, maybe something from an artisan friend. Make the space personal, but also functional. In the stories I've done about artists, I'm yet to find a studio that didn't require a bit of adaptation and several have been amazingly small, like less that 20 square feet, yet netting wonderful works of art.
Jennifer Nelson in her small creative studio space in an upstairs eave
If you need natural light, find that small space next to a window or recreate natural light as best you can with artificial lighting, and if those options don't ultimately work, head outside. Plein Air painters have been working in studios that are no more than about 6 square feet for years, but that studio is constantly on the move and always placed and graced with a great view and the perfect light.


Linda Hendrickson painting en plein air
For those who become their art through movement or sound, [dancing, drama, singing] certainly studio space becomes more challenging, but try your best to be inventive. Even in public spaces, bring something like a small easel and sign saying "be creative" or a photo of you dancing, or one of your cd's to mentally personalize your journey and space.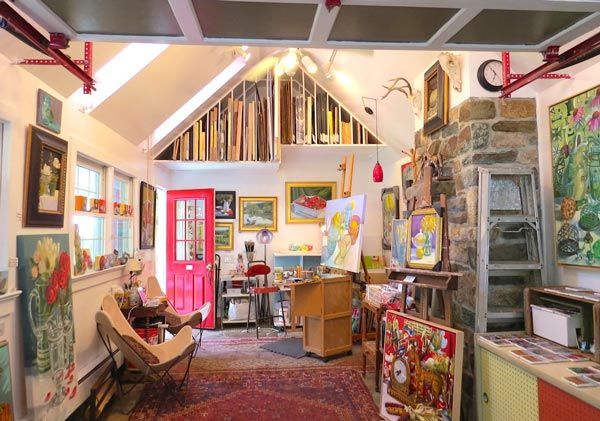 Dana B. Thomspson's studio
Last, always be thankful for what space you have and launch your rocket into the largest space you can.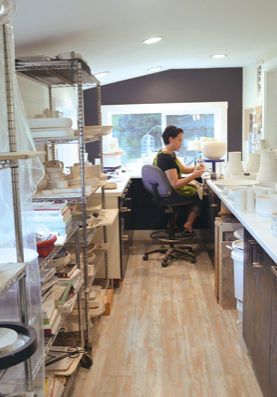 Kristen Swanson working in her studio
Live An Artful Life!
Tom