Being Commissioned is Providing a Service
I've been selling my paintings for 29 years now, and of those 29 years, for over two decades worth I have offered commissions as a service to my clients. I use the word service, because I want you to make no mistake, that is what being commissioned is and customer service is what it is all about.
Most artists I've met should not offer commissions and in fact, most, I think do not. The main reasons not to is the loss of control and/or fear and to be frank, the loss of control is usually about fear anyway. The fear comes from not knowing what you are getting yourself into. That waking up one morning feeling of, OH MY, what have I done? The loss of control is in my opinion derived in two parts. Yes, it is that you may feel you will not be doing what you want to do, but also that you may only doing it for the money and now the money part of it is far from worth it.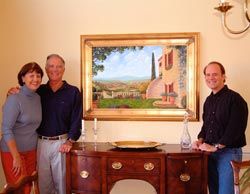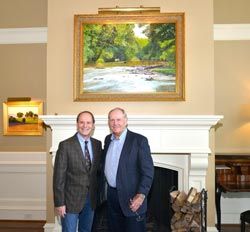 Tom with happy clients Tom with golf legend Jack Nicklaus
I would like you to rethink the commission process as one of service, which means, listening to and pleasing others. If you have no desire to please someone by painting for them, then do not offer commissions. You are not only creating what you wish, you are more specifically creating what they wish. I will share that I have derived amazing amounts of pride and joy from my years of doing commissions, but I have also found myself honored to have done so. I have painted for couples celebrating their 45th wedding anniversary, or 50th year retirement celebration, for notable celebrities and have creating works of art I would have never of thought to have done without the wishes of my clients. Commissioning is a service of my creative business and customer service is my business.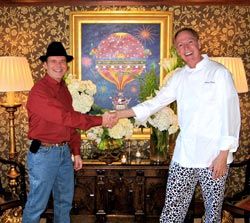 Tom with Patrick O'Connell Tom at Lockheed Martin for commission
Here a few useful tips. 1) Don't paint what you don't paint, which means, if you paint small realist paintings, don't jump head first into doing a big mural. 2) Listen, listen and listen to what your client is asking. If your don't understand or agree with what they are asking you, then ask them to clarify. Know what you are suppose to do with the goal of making them happy. 3) That includes when they need the art. If you can't realistically provide them with what they are asking for, don't take the commission just because you want their money. You'll ruin it for you, them and every other artist by creating a bad experience. 4) Let the commission take you places and grow from that experience. 5) Contracts have never been a key part of my business, but that doesn't mean you shouldn't explore them. 6) Upon showing the preliminary sketch to my current client, he said, "You have exceeded my expectations." That's what I always want to hear and you should too!
Live an artful life!
Tom