Master Mark-makers Maneuver Best Out of Each Other!
| Linda Hendricson
Finding people, "your tribe" can make all the difference in the world for a solitary painter. Years ago I was setting up a Pinterest account for the first time and noticed an artist posted my favorite pins -- Sheri Trepina. Then, much to my surprise, I noticed, she was no more than five miles from me!
I messaged her via Facebook, and she invited me to come to her studio for coffee the next morning! Wow! I had my husband drop me off, keep his phone on, and come back in an hour (I didn't know what I was walking into). We laugh wholeheartedly about our "Pinterest Blind Date" now, but what an impressive beginning for an art community. So how did our third Amigo, Shelle Lindholm, join us? I mentioned one of the local artists I was also interested in meeting was Shelle. It turns out Sheri already knew her! She was home with a nasty cold which prevented us from getting together that winter, but by summer we had fixed Wednesdays on our calendars as "Art Dates". I purchased an original Shelle Lindholm, "Three Amigos", appropriate Huh!
On Wednesdays, we take turns meeting in each other's studios and sharing something unique to our way of working. These times have been full of good food, aha moments and deepening friendships. Together we decided to try to get a museum show at the Hockaday Museum in Kalispell, MT. We are pleased after a summer of writing to be painting our way to a show opening February 2019. Each of us is aiming for 20 masterpieces to share with the world.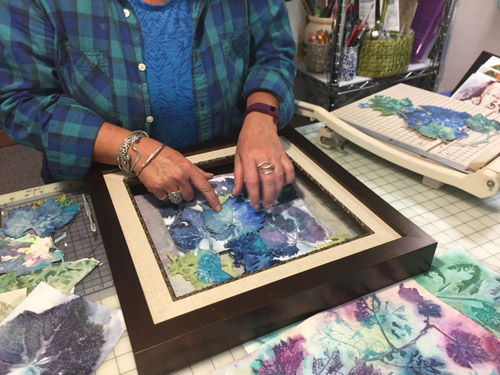 These ladies are full of ideas and, like me, believe by sharing we only increase our bounty. We all work very differently. Sheri Trepina begins by gathering leaves and blossoms; freeze-drying them, and then painting them and pressing them onto watercolor paper, cutting them out and collaging multiple forms onto paper. Her step by meticulous step results in luminously spectacular plant forms and inspired compositions that at once excite and calm the viewer. Her experimentation with gold and other metallics, fibers and sequin waste has blown us away with possibilities. Her lower level studio looks out to a super patio--where we often take lunch, includes a full kitchen, sitting area, plenty of flat surface space and all the "toys". We haven't even mentioned the gems she digs out of the computer by 6 am for us every morning!
Shelle Lindholm has a one of a kind way of capturing the whimsy of every earthly creature. She begins with her trusty Ticonderoga pencils and Copy Paper!! She scribbles her brand of marks, then highlights some of the lines only she can pick from the multitude, and suddenly you see a "lead darkened" river otter staring back at you. "Fast Eddies" are born! Her painting begins layer by layer, often with larger paper cartoons of her leaded critters.
Her cabinetmaker husband, Dave, creates her substrates and frames for her. Between each paint layer, she lays on a heavy coat of paraffin wax, then uses a razor blade to scrape down and reveal a previous layer of paint color. Shelle's way of working is almost like a batik with the final piece only visible to her until the end. Her studio is a dream surrounded by the great out of doors on three sides. Happy, her border collie often keeps her company!
I am honored to be a part of this trio and have shared my "doodle starts" where I pick a couple of colors, usually analogous, and let the paint fly where it wants, add bubble wrap, cellophane and more to create marks in the paint as it dries. Ideally, this step is repeated two or three times to form a toned ground I can't even duplicate. Sometimes this "doodle start" suggests the subject, like naming shapes in the clouds. Other times I have a few ideas about where the painting is going, this helps paint the background for me. Stamps and oiler boilers have been part of the fun when we've met at my home. We take over the kitchen island and always share our works "in progress."
To have a group of artists who are "believing mirrors" is an encouragement, and a push to produce and create excellence. My friends provide a new set of eyes, become brainstorming partners, and springboards to new heights. They are sources of unconditional love, people we can share burdens with (though we try to limit the heavy stuff). Shelle reminds us "There is the word 'pain in painting'." We are there for each other even/especially in the ugly stages. This adventure into learning with like-minded friends has been an eye-opening, heartwarming experience.
Do you have a friend who helps you reach new heights? More importantly, what can you do to be that sort of friend to someone else? If you have ideas along these lines, I'd like to This email address is being protected from spambots. You need JavaScript enabled to view it..
View the artwork of Linda Hendrickson here - Sheri Trepina here - and Shelle Lindholm here.
Shelle Lindholm, Linda Hendrickson and Sherri Trepina in front of Hendrickson's painting "Cherry Picker Griz"
Latest Blog Posts
Article Categories